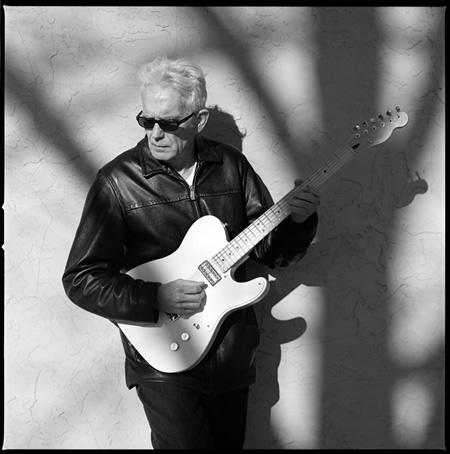 Johnny Dowd sounds like no one else. The Ithaca, NY singer-songwriter follows his own path, releasing a string of memorable albums that have gained him a avid cult following, mainly in Europe. His new record is called No Regrets, 13 songs about 15 women who got under his skin. Dowd is the undisputed master of junkyard Americana, using almost forgotten vintage equipment. The prominent sound is a vintage Sixties drum machine, giving the songs a late night B-movie soundtrack feel.
Kicking off with the menacing Betty, where he places a phone call to his high school sweetheart who never returned his leather jacket "afte the eternal love didn't work out" (I know where you live, Betty. If you like I could stop by, Dowd shows his female counterparts in a musical parade from hell that can't be labeled as family entertainment, but it is amazing stuff to listen to. Juanita / Rita is a song about twins that will make Lou Reed take a bow, with a nasty Sax part by Keir Neuringer as the icing on the cake.
By using five female vocalists, each song has a different personality. Ella is deceptively upbeat with a poppy sounding Mary B. Lorso. Kim Sherwood-Case adds lazy late night come- hither part to Abigail. With No Regrets Dowd delivers a dark concept album, that will be hard to follow. Mixing blues, Doo-wop, rock, pop and even Bossa Nova, this album is a dead-ringer for the top ten of 2012 Americana albums.

No Regrets is released on his own label Mother Jinx Records. Vinyl on Angry Mom Records. Release date: April 2.
Tracks:
Betty
Emily / Meryl
Billie
Sherry
Miranda
Susan
Rita
Juanita / Rita
Nancy
Ella
Abigail
Linda
Candy
Live dates:
03/23 The Comfort Zone (Canadian Music Festival), Toronto, Canada
04/21 Lot 10 - CD and vinyl release party, Ithaca, NY (w/ Teardrops)
05/03 Altstadt, Eindhoven, The Netherlands
05/04 Paard, The Hague, The Netherlands
05/07 Patronaat, Haarlem, The Netherlands
05/08 Q-Bus, Leiden, The Netherlands
05/09 DB's, Utrecht, The Netherlands
05/10 Cactus Muziekcentrum, Brugge, Belgium (Kamarama Festival)
05/11 Winston Kingdom, Amsterdam, The Netherlands
05/14 El Lokal, Zurich Switzerland
05/15 Chelsea, Vienna, Austria
05/16 K4, Nurnberg, Germany
05/18 Bassy Club, Berlin, Germany
05/20 Harksheide, Norderstedt, Germany
05/21 Cafe Video, Ghent, BE
05/22 Kulturrampe, Krefeld, Germany
05/23 Portland Arms, Cambridge, UK/li>
05/24 Cluny, Newcastle, UK
05/25 King Tuts, Glasgow, UK
05/26 The Greystones, Sheffield, UK
05/27 The Windmill, Brixton, UK (afternoon and evening shows)
05/28 The Ruby Lounge, Manchester, UK
05/29 The Basement, York, UK
Video: Johnny Dowd - Betty