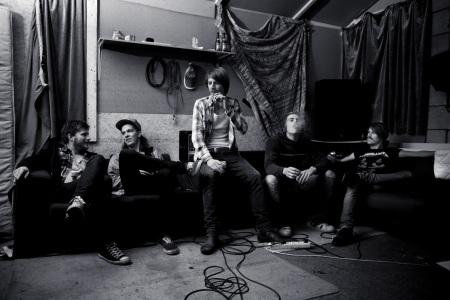 Dutch quintet John Coffey are loud. Really fucking loud. But underneath all the mayhem on their new album Bright Companions they have buried smart guitar lines and tasty keyboard fills. These guys know exactly what they want. John Coffey are not about destroying the house, but building a new one, slightly skewed but fun.
It's not punk, it's not rock as such it's a spicy mixture that make you thirsty and begging for more. If it's too loud, you're too old. Earplugs not included.
John Coffey:
Alfred: guitar
Carsten: drums
Christoffer: guitar
David: vocals, synths
Richard: bass

Bright Companions is released on Redfield Records. Buy it from the band's website.
Tracks:
Announce
Dirt & Stones
Bright Companions
Whispers
Me vs I
Oh, Oh, Calamity
Featherless Redheads
I, In the Year 18
I've Got a Bastard Virus and I Don't Even know where it came from
Romans
The Well
Live dates:
10/27 Amersfoort, The Netherlands @ Zanfoort aan de Eem (Popronde) Showtime: 20:30
10/28 Rust, Germany @ B-W (Finale COS Cup serie 2012)
10/06 Amsterdam, The Netherlands @ Paradiso (Support Blood Red Shoes)
10/09 Sittard, The Netherlands @ Music Machine (Popronde) Showtime 12:00 PM
10/10 Hannover, Germany @ Mephisto @ Faust
10/11 Zwolle, The Netherlands @ Hedon (Cortonville presents...)
10/15 Middelburg, The Netherlands @ Bar American (Popronde)
10/16 Eindhoven,, The Netherlands @ Dynamo (Popronde)
10/17 Osnabrück, Germany @ Kleine Freiheit (Last German Face Tomorrow Show)
10/18 Nijmegen, The Netherlands @ Valkhofzaal (Popronde)
10/20 Amsterdam, The Netherlands @ De Nieuwe Anita (Acoustic w/ Tommy Ebben)
10/24 Dusseldorf, Geramny @ Pitcher
10/30 Rotterdam, The Netherlands @ Club Vibes
12/01 Den Bosch, The Netherlands @ P79
12/06 Nuremberg, germnay @ Zentralcafé
12/07 Ruigoord, The Netherlands @ De Nachtmis 2012 (showtime: 02:00)
12/08 Eindhoven, The Netherlands @ SpeedFest 2012
12/14 Leiden, The Netherlands @ LVC (Triplex Festival)
12/21 Landgraaf, The Netherlands @ Oefenbunker
Video: John Coffey - Romans