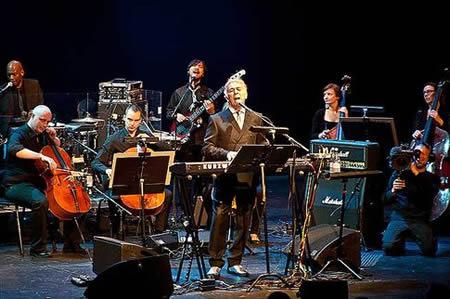 photo:
Olle Enqvist/ROCKFOT0
John Cale performed his Paris 1919 album live in its entirety at the Malmö Opera, Malmö, Sweden - November 21, 2011. With The Malmรถ Operaorkester. The show was filmed by Swedish TV.
The band:
John Cale: vocals, guitar, keyboards
Dustin Boyer: lead guitar
Micheal Jerome: drums
Joey Maramba: bass
Setlist:
Child's Christmas in Wales
Hanky Panky Nohow
The Endless Plain of Fortune
Andalucia
Paris 1919
Graham Greene
Half Past France
Antarctica Starts Here
Macbeth
Tentative listing for the second set, incomplete and unconfirmed.
Whaddya Mean By That
Captain Hook
Hedda Gabler
Riverbank
Do Not Go Gentle Into That Good Night
Secret Corrida
Catastrofuk
» John Cale setlists
(Thanks: Hans Anderson)