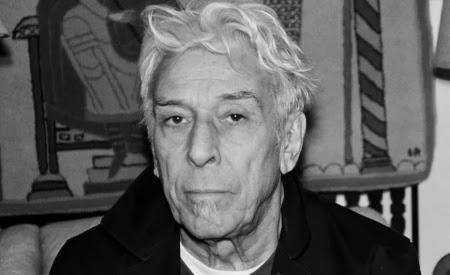 John Cale was interviewed by Matthew Allan for an article in The New Yorker, discussing his new album Mercy, Lou Reed, Nico, teh importance of being exposed to music as a kid through coal miners' union library, and the need to move forward. On the dark, almost apocalyptic mood of the songs on the new record:
This album started about two and a half years ago. I didn't want to go that route but in the end it was impossible to avoid it—what happened in the world took over. The medical side of the world and the noisy side of the world with guns going off. Some of these songs were not a direct reaction to what was going on, but it had all the elements of it.
He pays hommage to David Bowie with Night Crawling, reminiscing about roaming the streets together in the '70s . On Moonstruck (Sing for Nico):
In the case of "Moonstruck," I didn't really know it was about Nico until I finished it. And it was bothering me that I didn't quite know where it would sit in the album—but then all of a sudden there it was, I couldn't avoid it anymore. The main character in the song seemed bent on self-destruction, but all the while she actually left an artistic footprint that only grew as time went on. I wanted to illuminate her groundbreaking contributions to true independence. She craved respect but only on her own terms. That's when I knew it was about Nico. I was thinking a lot about how she evolved as a songwriter, and it slapped me in the face, thinking about these songs she wrote and how they just got better. And I started laughing about it—here was this German national writing songs in English. I was happy to see that she spent so much time developing something that was, I think, really for Jim Morrison. She was always happy to talk about his role in her development.
Mercy will be released on January 20 via Double Six / Domino.
Live dates:
02/06 Liverpool, UK @ Royal Philharmonic Hall
02/08 London, UK @ The Palladium
02/10 Bexhill On Sea, UK @ De La Warr Pavilion
02/11 Birmingham, UK @ Town Hall
02/12 Cambridge, UK @ Corn Exchange
02/14 Paris, France @ Salle Pleyel
02/16 Karlsruhe, Germany @ Tollhaus
02/17 Geneva, Switzerland @ Festival Antigel
02/19 Frankfurt, Germany @ Batschkapp
02/20 Dudelange, Luxembourg @ Centre Culturel Régional
02/22 Amsterdam, Netherlands @ Paradiso
02/23 Antwerp, Belgium @ De Roma
02/25 Hamburg, Germany @ Kampnagel
02/26 Leipzig, Germany @ Hauss Auensee
02/28 Berlin, Germany @ Veri Music Hall
03/01 Prague, Czech Republic @ Archa Theatre
03/02 Vienna, Austria @ Porgy & Bess
03/04 Weiss, Austria @ Stadttheater
03/05 Munich, Germany @ Muffathalle
06/03 Barcelona, Spain @ Parc del Fòrum
06/10 Madrid, Spain @ Argande del Rey
» john-cale.com
» John Cale tour dates