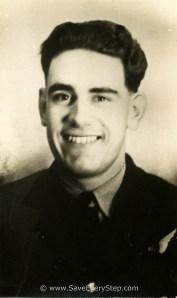 A bit of background for newcomers
Joe (aka 'Mac' to his RAF comrades) was my Uncle, but we never met. His precious letters have come into my possession some near-70 years after they were written. It is my honour to transcribe them, and the poignancy of hindsight about what happened to Joe makes this all the more difficult to write, but all the more important that I do. 
One letter will be posted to this Blog each and every Friday until they are done. Please see below for a link to Joe's full story and the other letters in this series so far.
At the time of this letter, he is several months into his RAF experiences and is now at RAF Wratting Common in Cambridgeshire, as part of the crew's final stretch of training before active operations begin. He has recently written to tell his mother that he plans to marry Jean, the girl from Liverpool whom he met less than four months ago. His mother's response was not enthusiastic, understandably, and Joe's letter touches the heart strings…..
Letter 75; 24th October 1944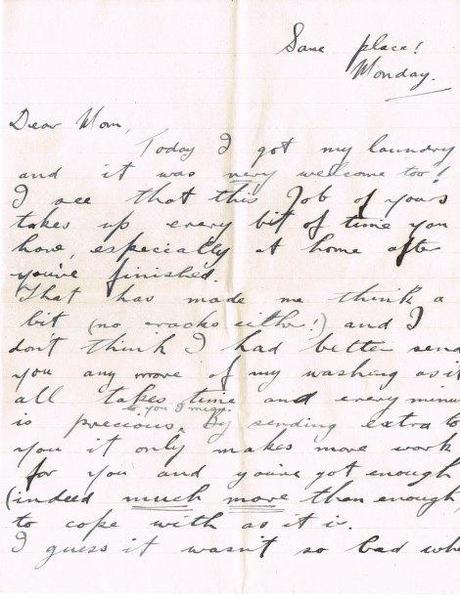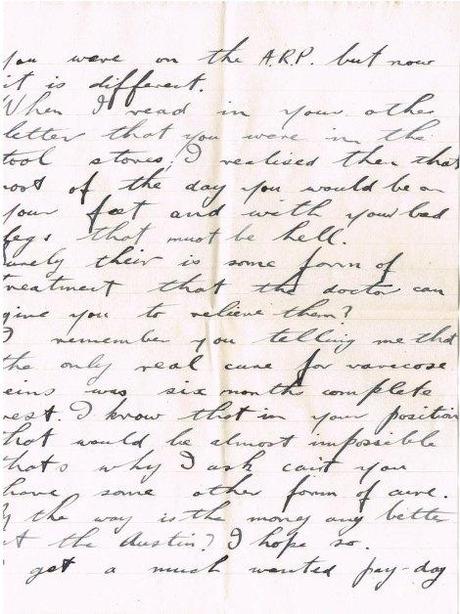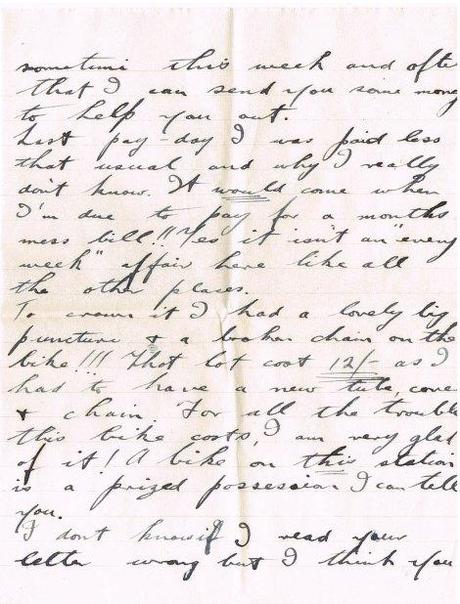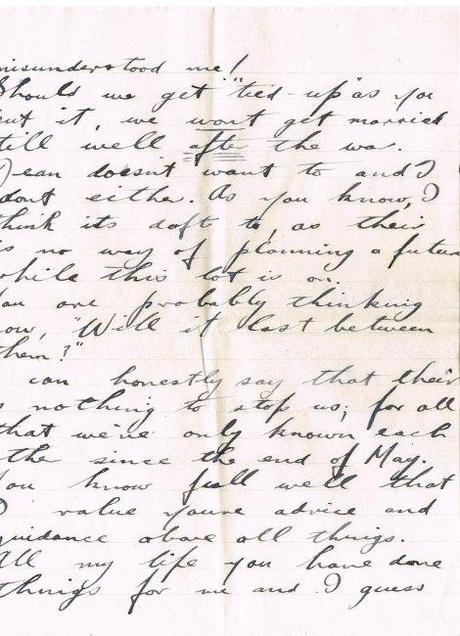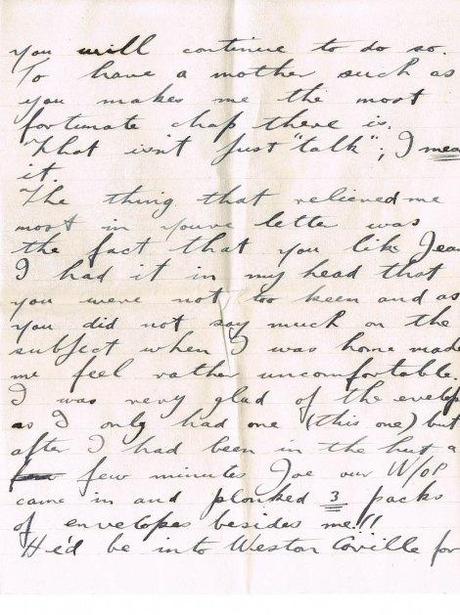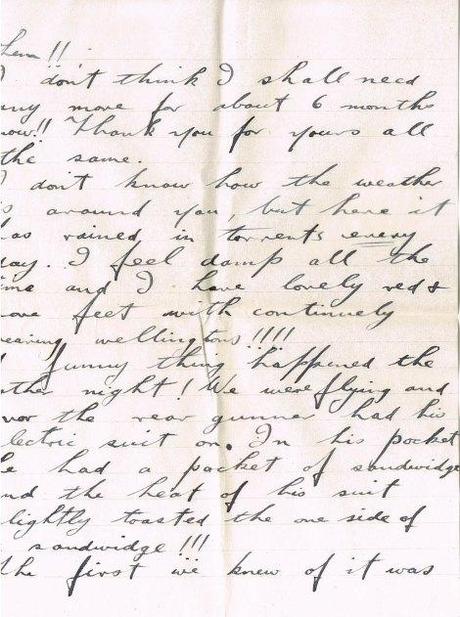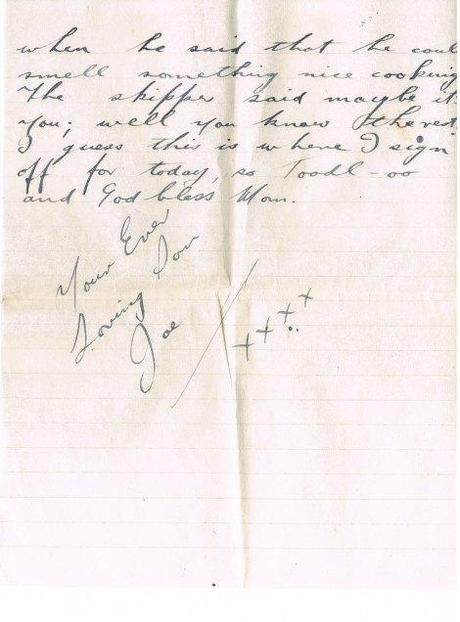 Letter transcript:
"Same place. Monday.
Dear Mom,
Today I got my laundry and it was very welcome too! I see that this job of tours takes up every bit of time you have, especially at home after you've finished. That has made me think a bit (no cracks either!) and I don't think I had better send you any more of my washing as it all takes time (to you I mean) and every minute is precious. By sending extra to you it only takes more work for you and you've got enough (indeed MUCH MORE than enough) to cope with as it is.
I guess it wasn't so bad when you were in the A.R.P. but now it is different. When I read in your other letter that you were in the tool stores, I realised then that most of the day you would be on your feet and with your bad legs that must be hell. Surely there is some form of treatment that the doctor can give you to relieve them? I remember you telling me that the only real cure for varicose veins was six months complete rest. I know that in your position that would be almost impossible, that's why I ask can't you have some other form of cure. By the way, is the money any better at the Austin? I hope so.
I get a much wanted pay day some time this week and after that I can send you some money to help you out. Last pay day I was paid less than usual and why I really don't know. It would come when I'm due to pay for a month's mess bill!! Yes, it isn't an 'every week' affair here like all the other places. To crown it I had a lovely big puncture and a broken chain on the bike!!! That lot cost 12/- as I had to have a new tube, cover and chain!! For all the trouble this bike costs I am very glad of it! A bike on this station is a prized possession I can tell you!
I don't know if I read your letter wrong but I think you misunderstood me! Should we get 'tied up' as you put it, we WON'T get married 'til well AFTER the war. Jean doesn't want to and I don't either. As you know, I think it's daft to, as there is no way of planning a future while this lot is on. You are probably thinking now, "Will it last between them?" I can honestly say that there is nothing to stop us; for all that we've only known each other since the end of May. You know full well that I value your advice and guidance above all things. All my life you have done things for me and I guess you will continue to do so. To have a mother such as you makes me the most fortunate chap there is. That isn't just 'talk'; I mean it.
The thing that relieved me most in your letter was the fact that you like Jean. I had it in my head that you were not too keen and as you did not say much on the subject when I was home, made me feel rather uncomfortable.
I was very glad of the envelopes as I only had one (this one) but after I had been in the hut a few minutes Joe our W/Op came in and plonked 3 packs of envelopes beside me!! He'd been in to Weston Coville for them!! I dont think I shall need any more for about 6 months now! Thank you for yours all the same. 
I don't know how the weather is around you, but here it has rained in torrents every day. I feel damp all the time and I have lovely red and sore feet with continually wearing wellingtons!!!!
A funny thing happened the other night! We were flying and Ivor the rear gunner had his electric suit on. In his pocket he had a packet of sandwiches and the heat of his suit slightly toasted the one side of a sandwich!!! The first we knew of it was when he said that he could smell something nice cooking. The skipper said maybe it's you; well you know the rest!
I guess this is where I sign off for today, so Toodle-oo and God bless you.
Your ever loving son, Joe xxxx"
Lovely. Such a heart-warming, thoughtful and respectful letter to the mother he clearly holds so dear. He acknowledges that he is young and she is wise, but clearly loves Jean and wants to be with her, in time. I was touched when I read this by Joe's compassion for his mother's situation, and offer of financial support, a theme which continues regularly throughout the entire series of letters between the two.

To read more about Joe's letters please follow this link. There you will find the full selection of letters to date, as well as more information about his fascinating yet ultimately tragic story. He was our family hero. He IS our family hero. If I knew how to complete an effective RAF salute, I would salute you now, Joe. Long may your memory live in our family stories. I hope to post a new letter from Joe's correspondence with his Mother here every Friday until they're done. It will be a turbulent and heart-wrenching journey. Subscribe to the Blog to make sure you don't miss any of it.
If you enjoyed this post, please share it using the buttons below!