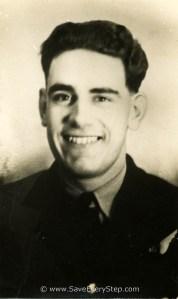 A bit of background for newcomers
Joe (aka 'Mac' to his RAF comrades) was my Uncle, but we never met. His precious letters have come into my possession some near-70 years after they were written. It is my honor to transcribe them, and the poignancy of hindsight about what happened to Joe makes this all the more difficult to write, but all the more important that I do. One letter will be posted to this Blog each and every Friday until they are done.
Please see below for a link to Joe's full story and the other letters in this series so far.
If you've been following Joe's letters, you may be interested to know that I have now successfully made contact with the surviving families of two of Mac's former crew members, rear gunner Ivor Turley & pilot Harry Warwick, as well as with the family of Joe's girlfriend, Jean. It has been a real thrill to discover each other and we are in correspondence regarding our combined stories and memories of the crew. 
This is the first of the surviving letters which Olive (Joe's mother) wrote to him. Joe is now 7 months into his RAF experiences and is now stationed at Upper Heyford in Oxfordshire.
Letter 53 – 8th August 1944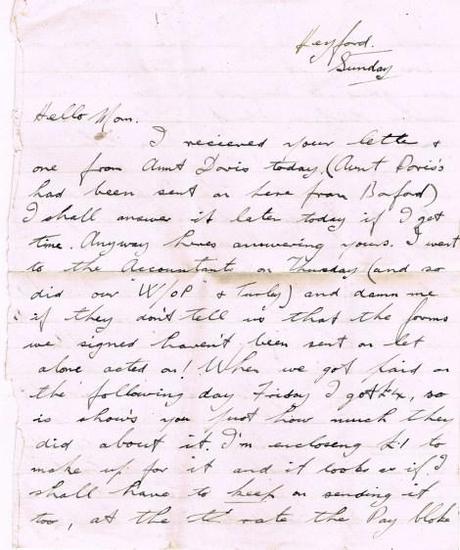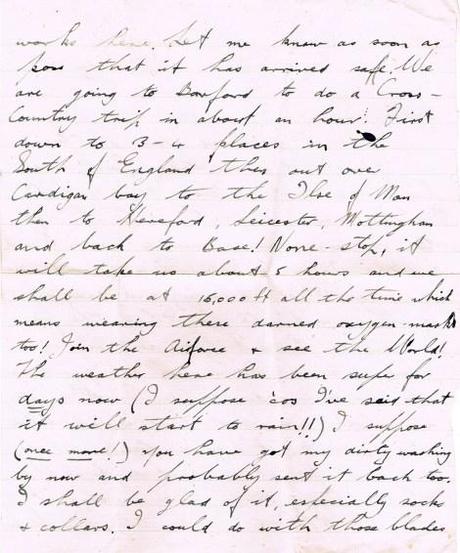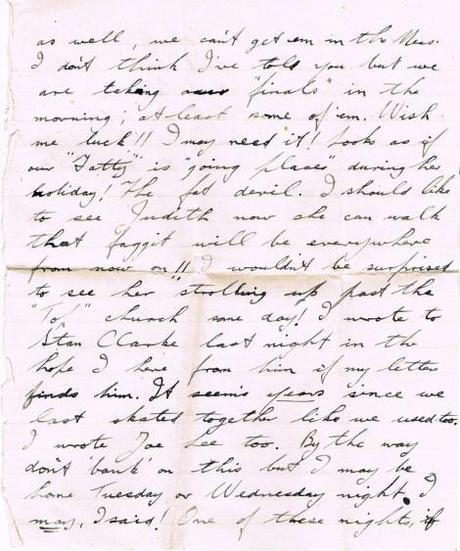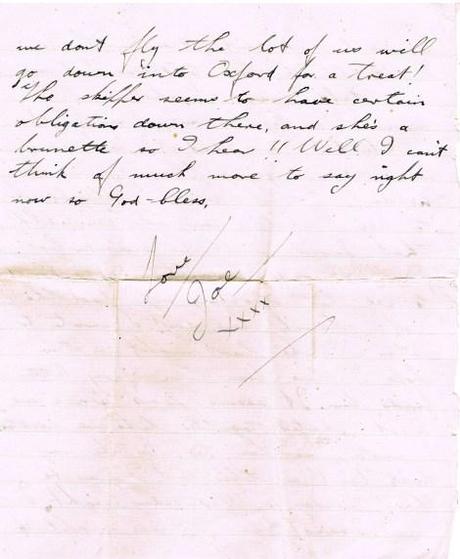 L
etter transcript:
"Heyford, Sunday.
Hello Mom.
I received your letter and one from Aunt Doris today (Aunt Doris's had been sent on here from Barford). I shall answer it later today if I get time. Anyway, here's answering yours. I went to the Accountants on Thursday (and so did our W/Op and Turley) and damn me if they don't tell us that the forms we signed haven't been sent on let alone acted on! When we got paid on the following day Friday I got £4, so it shows you just how much they did about it. I'm enclosing £1 to make up for it and it looks as if I shall have to KEEP on sending it too, at the rate the Pay bloke works here. Let me know as soon as poss that it has arrived safe.
We are going to Barford to do a cross- country trip in about an hour. First down to 3-4 places in the South of England then out over Cardigan Bay to the Isle of Man then to Hereford, Leicester, Nottingham and back to base! Non stop, it will take us about 5 hours and we shall be at 15,000 feet all the time which means wearing these darned oxygen masks too! Join the airforce and see the world!
The weather here has been super for DAYS now (I suppose 'cos I've said that it will start to rain!!) I suppose (ONCE more!) you have got my dirty washing by now and probably sent it back too. I shall be glad of it, especially socks and collars. I could do with those blades as well, we can't get 'em in the Mess.
I don't think I've told you but we are taking our 'Finals' in the morning; at least some of 'em. Wish me luck!! I may need it!
Looks as if our 'Fatty' is going places during her holiday! The fat devil. I should like to see Judith now she can walk, that faggit will be everywhere from now on!! I wouldn't be surprised to see her strolling up past the 'Top' church one day! I wrote to Stan Clarke last night in the hope I hear from him if my letter finds him. It seems YEARS since we last skated together like we used to. I wrote Joe Lee too. By the way, don't 'bank' on this but I may be home Tuesday or Wednesday night. I MAY I said! One of these nights, if we don't fly the lot of us will go down into Oxford for a treat! The skipper seems to have certain obligations down there, and she's a brunette so I hear!!
Well, I can't think of much more to say right now so God Bless,
Love Joe xxxx"
More exams looming, but precious time to study I am guessing. The relative incompetence of the Accounts staff does make one wonder how well oiled a 'machine' the RAF actually was!!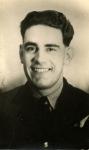 To read more about Joe's letters please follow this link. There you will find the full selection of letters to date, as well as more information about his fascinating yet ultimately tragic story.
He was our family hero. He IS our family hero. If I knew how to complete an effective RAF salute, I would salute you now, Joe. Long may your memory live in our family stories. I hope to post a new letter from Joe's correspondence with his Mother here every Friday until they're done. It will be a turbulent and heart-wrenching journey. Subscribe to the Blog to make sure you don't miss any of it.
If you enjoyed this post, please share it using the buttons below!
Tagged: 1940s, family, genealogy, history, Joe, lancaster bomber, letters, memories, nostalgia, Royal Air Force, stories, World War II, writing home