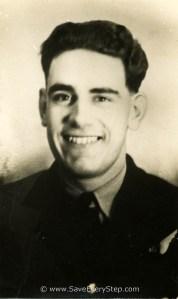 A bit of background for newcomers
Joe (aka 'Mac' to his RAF comrades) was my Uncle, but we never met. His precious letters have come into my possession some near-70 years after they were written. It is my honor to transcribe them, and the poignancy of hindsight about what happened to Joe makes this all the more difficult to write, but all the more important that I do. One letter will be posted to this Blog each and every Friday until they are done.
Please see below for a link to Joe's full story and the other letters in this series so far.
In this letter, Joe  is 6 months in to his RAF experiences and is wearing his newly acquired Sergeant stripes with pride. He is now stationed at Upper Heyford in Oxfordshire.
Letter 40 – 17th June 1944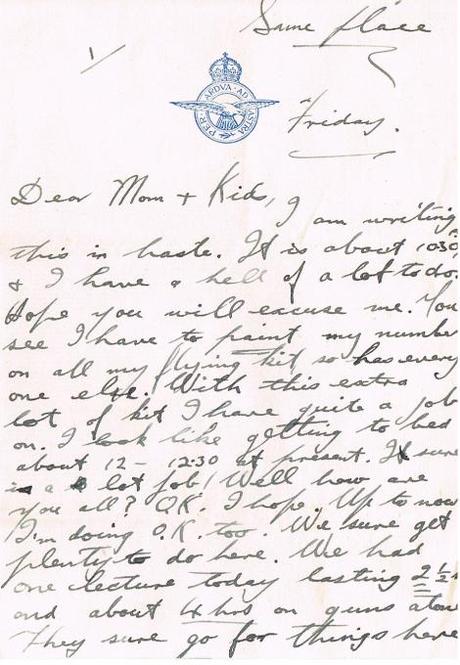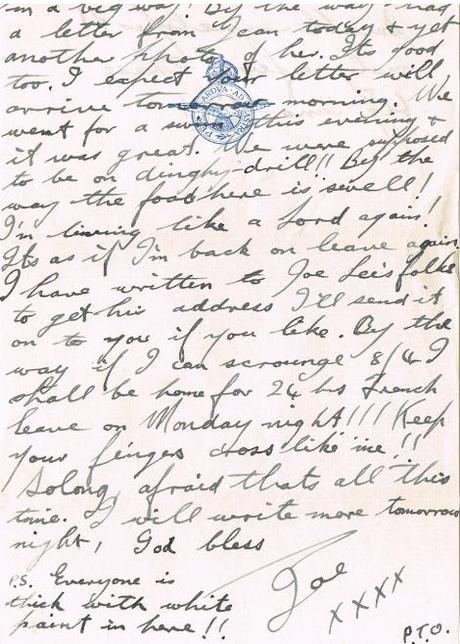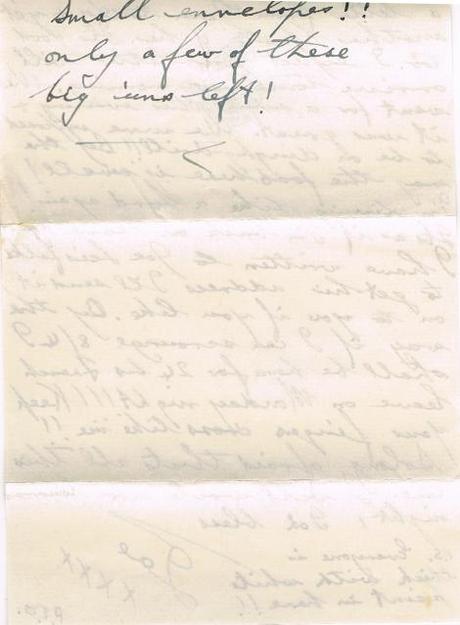 "Same Place.
Friday.
Dear Mom and Kids,
I am writing this in haste. It is about 10.30pm and I have a hell of a lot to do. Hope you will excuse me. You see I have to PAINT my number in all my flying kit, so has every one else. With this extra lot of kit I have quite a job on. I look like getting to bed about 12-12.30 at present. It sure is a lot job! 
Well how are you all? OK I hope. Up to now I'm doing OK too. We sure get plenty to do here. We had one lecture today lasting 2 and a half hours and about 4 hours on guns alone. They sure go for things here in a big way! By the way I had a letter from Jean today and yet another photo of her. It's good too. I expect your letter will arrive tomorrow morning.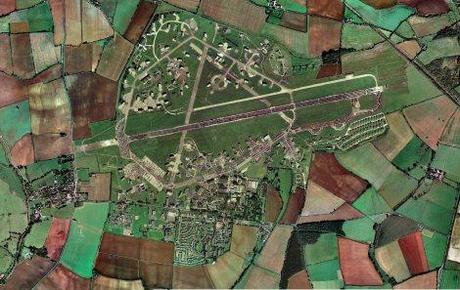 Upper Heyford by air
We went for a swim this evening and it was great. We were supposed to be on dinghy drill!! By the way the food here is swell! I'm living like a lord again! It's as if I'm back on leave again.
I have written to Joe Lee's father to get his address. I'll send it on to you if you like. By the way if I can scrounge 8/4 I shall be home for 24 hours French leave on MOnday night!!! Keep your fingers crossed like me!!
So long, afraid that's all this time. I will write more tomorrow night. God Bless.
Joe xxxx
P.S. Everyone is thick with white paint in here!!
P.P.S. Small envelopes?! Only a few of these big 'uns left!"
The move to Upper Heyford saw the two Joes separated. They had become excellent friends, and it looks as though they will try to stay in touch by letter. Jean is beginning to appear as a regular correspondent, and Joe is clearly happy about receiving her news and her photographs!!

To read more about Joe's letters please follow this link. There you will find the full selection of letters to date, as well as more information about his fascinating yet ultimately tragic story.
He was our family hero. He IS our family hero. If I knew how to complete an effective RAF salute, I would salute you now, Joe. Long may your memory live in our family stories. I hope to post a new letter from Joe's correspondence with his Mother here every Friday until they're done. It will be a turbulent and heart-wrenching journey. Subscribe to the Blog to make sure you don't miss any of it.
If you enjoyed this post, please share it using the buttons below!