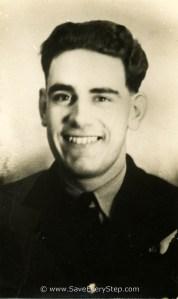 A bit of background for newcomers Joe (aka 'Mac' to his RAF comrades) was my Uncle, but we never met. His precious letters have come into my possession some near-70 years after they were written. It is my honor to transcribe them, and the poignancy of hindsight about what happened to Joe makes this all the more difficult to write, but all the more important that I do. One letter will be posted to this Blog each and every Friday until they are done. Please see below for a link to Joe's full story and the other letters in this series so far. At the time of this letter, he is several months into his RAF experiences and is now at RAF Wratting Common in Cambridgeshire, as part of the crew's final stretch of training before active operations begin.
Letter from Mum; 13th October 1944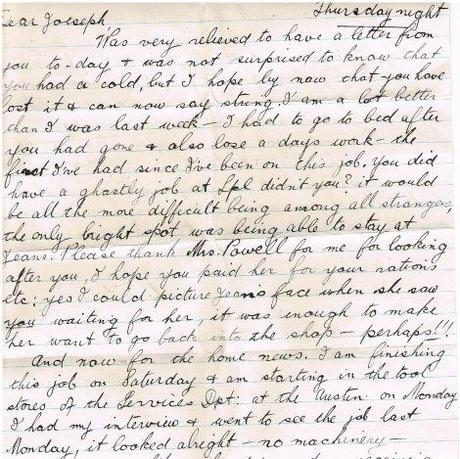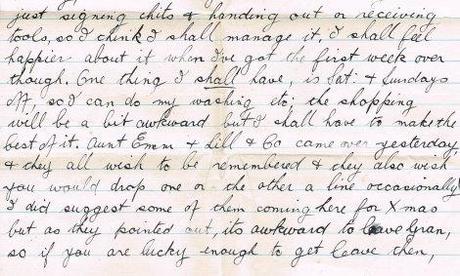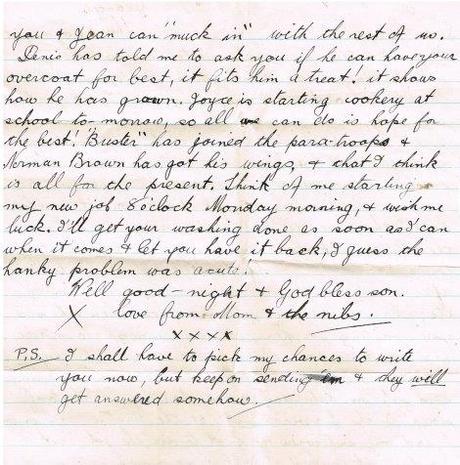 "Grange, Thursday night. Dear Joseph, Was very relieved to have a letter from you today and was not surprised to know that you had a cold, but I hope by now that you have lost it and can now say 'string'. I am a lot better than I was last week – I had to go to bed after you had gone and also lose a day's work – the first I've had since I've been on this job.
You did have a ghastly job at Liverpool didn't you? It would be all the more difficult being among all strangers, the only bright spot was being able to stay at Jean's. Please thank Mrs P for me for looking after you, I hope you paid her for your rations etc. yes, I could picture Jean's face when she saw YOU waiting for her, it was enough to make her want to go back into the shop – perhaps!!!
And now for the home news. I am finishing this job on Saturday and am starting in the tool stores of the Services Dept at the Austin on Monday. I had my interview and went to see the job last Monday, it looked alright – no machinery – just signing chits and handing out or receiving tools, so I think I shall manage it.  I shall feel happier about it when I've got the first week over though. One thing I shall have is Sat and Sundays off, so I can do my washing etc; the shopping will be a bit awkward but I shall have to make the best of it.
Aunt Emm and Lill and co. came over yesterday, and they all wish to be remembered and they also wish you would drop one or the other a line occasionally! I did suggest some of them coming here for Xmas but as they pointed out, it's awkward to leave Gran, so if you are lucky enough to get leave then, you and Jean can 'muck in' with the rest of us.
Denis has told me to ask you if he can have your overcoat for best, it fits him a treat! It shows how he has grown. Joyce is starting cookery at school tomorrow, so all we can do is hope for the best! 'Buster' has joined the Paratroops and Norman Brown has got his wings, and that I think is all for the present.
Think of me starting my new job 8 o'clock Monday morning, and wish me luck. I'll get your washing done as soon as I can when it comes and let you have it back. I guess the hanky problem was acute!
Well, goodnight and God bless, son.
Love from Mom and the nibs. xxxxx
P.S. I shall have to pick my chances to write you now, but keep on sending 'em and they WILL get answered somehow."  
Olive and Joe's 3 younger siblings, 1950s
Olive's role with the ARP is ending as the war draws closer to an end. She still needs to support the family, and her new job at the 'Austin' is actually at the local car factory, center of much employment in the area. It does sound like a man's world, however, so that should be interesting! We should not underestimate how tough it must have been working full time with three kids at home, especially in a time when the shops were NOT open on weekends or late, there was no car and no husband to help ease the workload.The 'nibs' (kids) were often left to fend for themselves before and after school as Olive was required to work fairly long hours and travel by bus/tram.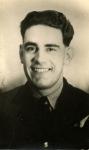 To read more about Joe's letters please follow this link. There you will find the full selection of letters to date, as well as more information about his fascinating yet ultimately tragic story. He was our family hero. He IS our family hero. If I knew how to complete an effective RAF salute, I would salute you now, Joe. Long may your memory live in our family stories. I hope to post a new letter from Joe's correspondence with his Mother here every Friday until they're done. It will be a turbulent and heart-wrenching journey. Subscribe to the Blog to make sure you don't miss any of it.
If you enjoyed this post, please share it using the buttons below!