Back after a Christmas break!
One of my Uncle Joe's letters will be posted to this Blog each and every Friday until they are done. Please see below for a link to Joe's full story and the other letters in this series so far.
At the time of this letter, Joe is at RAF Feltwell in Norfolk for the crew's Lancaster Finishing School training, less than a month away from his first Operation sortie.
Letter 83; 24th November 1944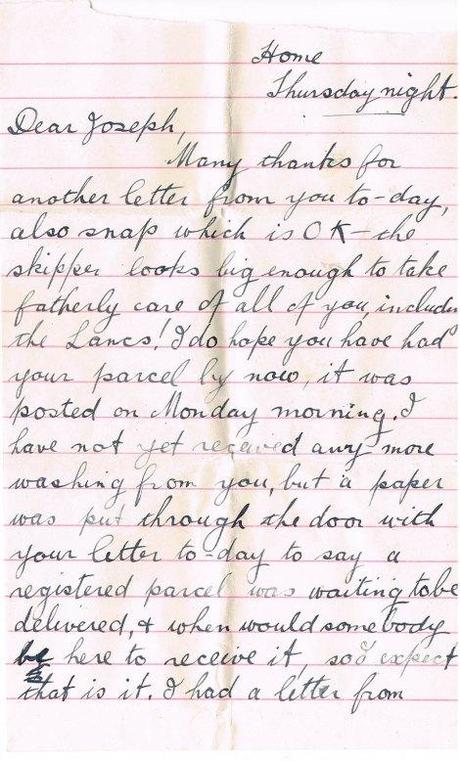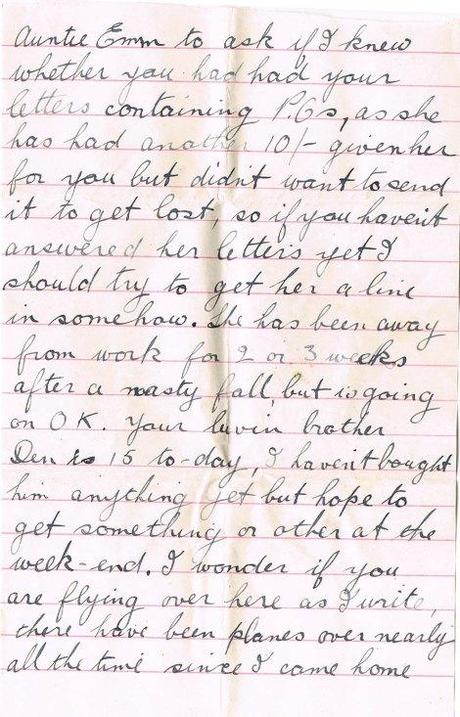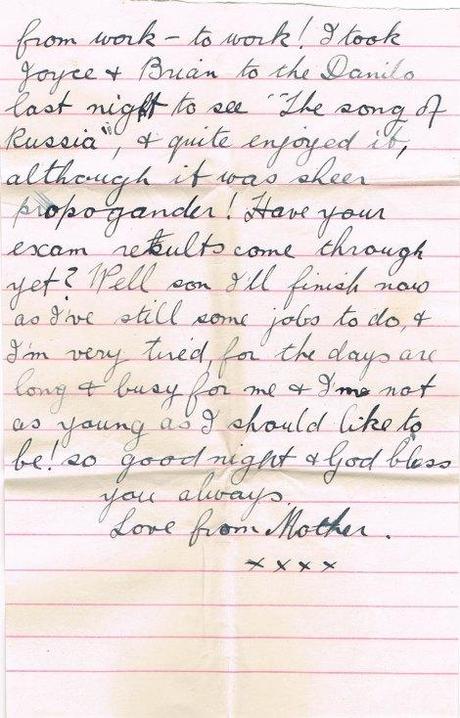 Letter transcript:

" Home, Thursday night.
Dear Joseph,
Many thanks for another letter from you today, also snap which is OK – the skipper looks big enough to take fatherly care of all of you, including the Lancs! I do hope you have had your parcel by now, it was posted on Monday morning. I have not yet received any more washing from you, but a paper was put through the door with your letter today to say a registered parcel was waiting to be delivered, and when would somebody be here to receive it, so I expect that is it.
I had a letter from Aunty Emm to ask if I knew whether you had had your letters containing P.O's, as she has had another 10/- given her for you but didn't want to send it to get lost, so if you haven't answered her letters yet I should try to get her a line in somehow. She has been away from work for 2 or 3 weeks after a nasty fall, but is going on ok. 
Your lovin' brother Den is 15 today, I haven't bought him anything yet but hope to get something or other at the weekend.
I wonder if you are flying over here as I write, there have been planes over nearly all the time since I came home from work – to work!
I took Joyce and Brian to the Danilo last night to see 'The song of Russia', and quite enjoyed it, although it was sheer propaganda!
Have your exam results come through yet? 
Well son, I'll finish now as I've still some jobs to do, and I'm very tired, for the days are long and busy for me and I'm not as young as I should like to be!
So Goodnight and God bless you always.
Love from Mother xxxx"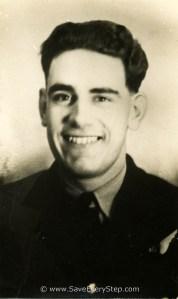 The sound of the planes over Olive's head must have been like torture. All she could do was get on with her life and chores, write the letters and do the laundry for Joe, then hope for the best. As the date of his first Tour get closer, the tension is sure to rise for the family.

To read more about Joe's letters please follow this link. There you will find the full selection of letters to date, as well as more information about his fascinating yet ultimately tragic story. He was our family hero. He IS our family hero. If I knew how to complete an effective RAF salute, I would salute you now, Joe. Long may your memory live in our family stories. I hope to post a new letter from Joe's correspondence with his Mother here every Friday until they're done. It will be a turbulent and heart-wrenching journey. Subscribe to the Blog to make sure you don't miss any of it.
If you enjoyed this post, please share it using the buttons below!