A bit of background for newcomers
Joe (aka 'Mac' to his RAF comrades) was my Uncle, but we never met. His precious letters have come into my possession some near-70 years after they were written. It is my honor to transcribe them, and the poignancy of hindsight about what happened to Joe makes this all the more difficult to write, but all the more important that I do. One letter will be posted to this Blog each and every Friday until they are done.
Please see below for a link to Joe's full story and the other letters in this series so far.
If you've been following Joe's letters, you may be interested to know that I have now successfully made contact with the surviving families of two of Mac's former crew members, rear gunner Ivor Turley & pilot Harry Warwick. It has been a real thrill to discover each other and we are in correspondence regarding our combined stories and memories of the crew. 
In this letter, Joe  is 6 months in to his RAF experiences and is wearing his newly acquired Sergeant stripes with pride. He is now stationed at Upper Heyford in Oxfordshire.
Letter 50 - 26th July 1944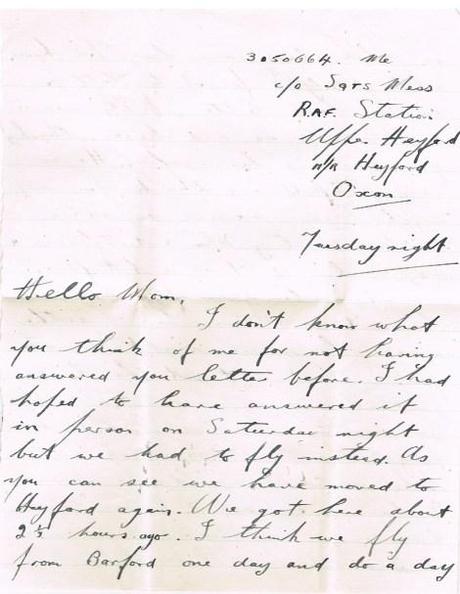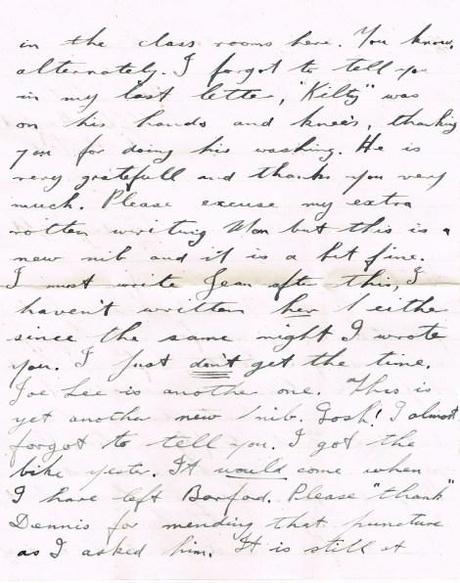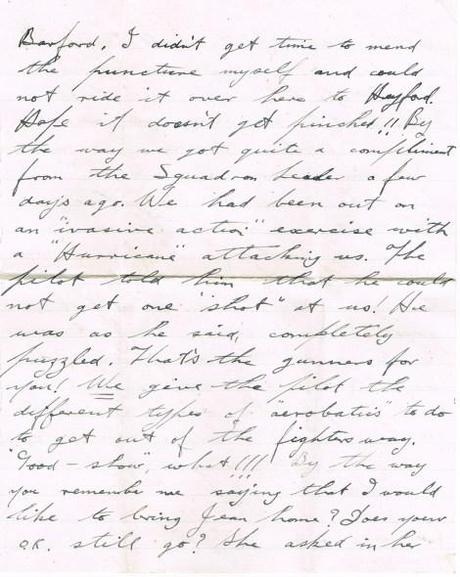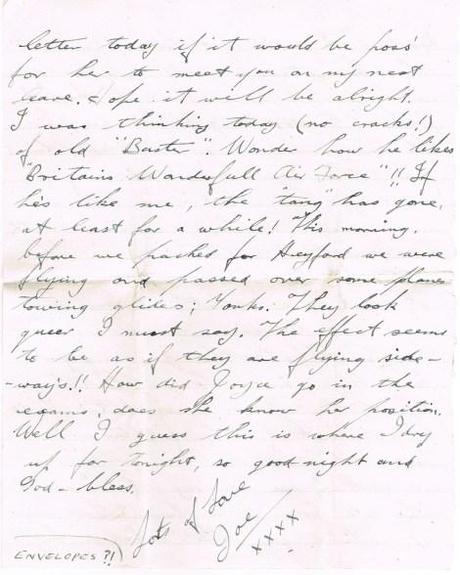 L
etter transcript:
"3050664 Me
c/o Sgts Mess
RAF Station
Upper Heyford
Nr Heyford, Oxon.
Tuesday night.
Hello Mom.
I don't know what you think of me for not having answered your letter before. I had hoped to have answered it in person on Saturday night but we had to fly instead. As you can see we have moved to Heyford again. We got here about 2 1/2 hours ago. I think we fly from Barford one day and do a day in the classrooms here.
I forgot to tell you in my last letter, 'Kilty' was on his hands and knees, thanking you for doing his washing. He is very grateful and thanks you very much. Please excuse my extra rotten writing Mom but this is a new nib and it is a bit fine. I must write Jean after this, I haven't written her either since the same night I wrote you. I just DON'T get the time. Joe Lee is another one. This is yet another  new nib. Gosh! 
I almost forgot to tell you – I got the bike yesterday. It WOULD come when I have left Barford. Please 'thank' Dennis for mending that puncture as I asked him. It is still at Barford, I didn't get time to mend the puncture myself and could not ride it over here to Heyford. Hope it doesn't get pinched!!
By the way we got quite a compliment from the Squadron Leader a few days ago. We had been out on an 'evasive action' exercise with a 'Hurricane' attacking us. The pilot told him that he couldn't get one shot at us! He was, as he said, completely puzzled. That's the gunners for you! WE give the pilot the different types of 'aerobatics' to do to get out of the fighters way. "Good show", what!!!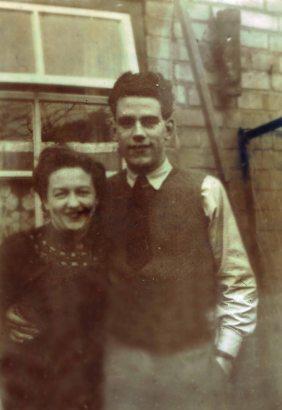 Joe with girlfriend Jean, 1945
I was thinking today (no cracks!) of old 'Buster'. Wonder how he likes Britain's Wonderful Air Force!! If he's like me, the 'tang' has gone, at least for a while! 
This morning before we packed for Heyford we were flying and passed over some planes towing gliders; Yanks. They look queer I must say. The effect seems to be as if they are flying side-ways!!
How did Joyce go in the exams, does she know her position? 
Well, I guess this is where I dry up for tonight, so good night and God bless.
Lots of love Joe xxxx
ENVELOPES?!"
Looks like the crews are being moved around a lot between the two bases of Heyford and Barford. You can always rely on your kid brother to fix a puncture in your hour of need eh? Joe's spirits seem high and he is clearly pleased with the compliment they were paid by their Squadron Leader. Joe's relationship with Jean is now hotting up, but will the request to meet his mother be well received?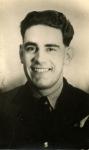 To read more about Joe's letters please follow this link. There you will find the full selection of letters to date, as well as more information about his fascinating yet ultimately tragic story.
He was our family hero. He IS our family hero. If I knew how to complete an effective RAF salute, I would salute you now, Joe. Long may your memory live in our family stories. I hope to post a new letter from Joe's correspondence with his Mother here every Friday until they're done. It will be a turbulent and heart-wrenching journey. Subscribe to the Blog to make sure you don't miss any of it.
If you enjoyed this post, please share it using the buttons below!
Tagged: 1940s, family, genealogy, history, Joe, lancaster bomber, letters, memories, nostalgia, Royal Air Force, stories, World War II, writing home