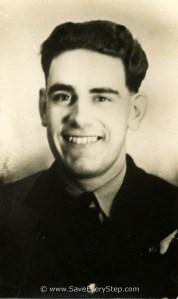 A bit of background for newcomers
Joe (aka 'Mac' to his RAF comrades) was my Uncle, but we never met. His precious letters have come into my possession some near-70 years after they were written. It is my honor to transcribe them, and the poignancy of hindsight about what happened to Joe makes this all the more difficult to write, but all the more important that I do. One letter will be posted to this Blog each and every Friday until they are done.
Please see below for a link to Joe's full story and the other letters in this series so far.
At the time of this letter, which is written by Olive, Joe's mother, he is several months into his RAF experiences and is now at RAF Wratting Common in Cambridgeshire, as part of the crew's final stretch of training before active operations begin.
Letter 66; 22nd September 1944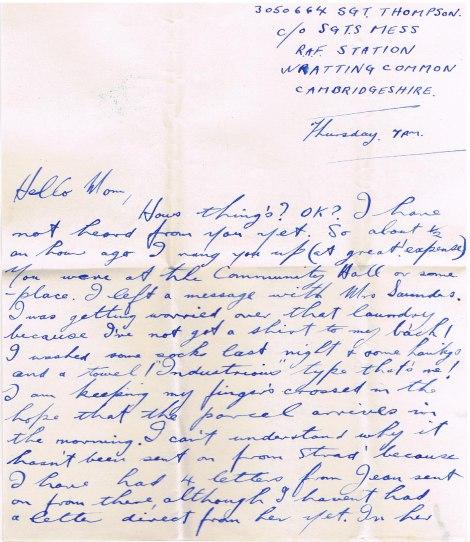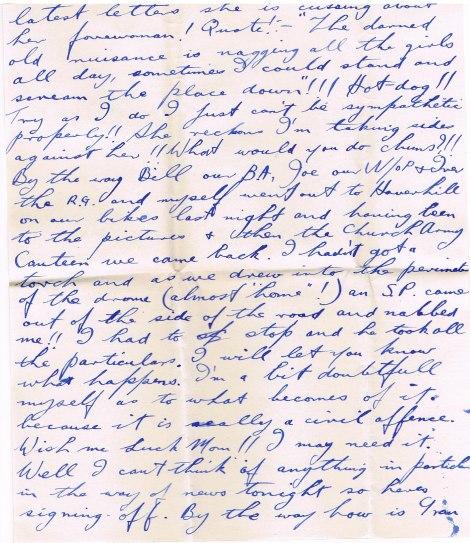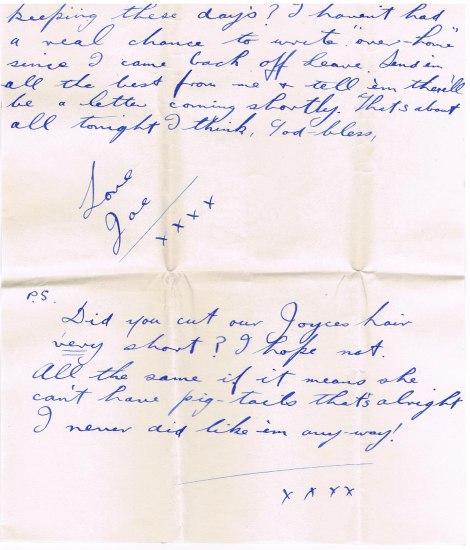 "Hello Mom,
How's things? OK? I have not heard from you yet. So about half an hour ago I rang you up (at great! expense). You were at the Community Hall or some place. I left a message with Mrs Saunders. I was getting worried over that laundry because I've not got a shirt to my back! I washed some socks last night and some hankys and a towel! "Industrious" type, that's me! I am keeping my fingers crossed in the hope that the parcel arrives in the morning. I can't understand why it hasn't been sent on from Strad' because I have had 4 letters from Jean sent on from there, although I haven't had a letter direct from her yet.
In her latest letters she is cussing about her forewoman! Quote: "The darned old nuisance is nagging all the girls all day, sometimes I could stand and scream the place down"!!! Hot dog!! Try as i do I just can't be sympathetic properly! she reckons I'm taking sides against her!! What would you do chums?!!
By the way, Bill our B.A., Joe our w/Op and Ivor the R.G. and myself went out to Haverhill on our bikes last night and having been to the pictures and then to the Church Army Canteen we came back. I hadn't got a torch and as we drew into the perimeter of the 'drome (almost 'home') an S.P. came out of the side of the road and nabbed me!! I had to stop and he took all the particulars. I will let you know what happens. I'm a bit doubtful myself as to what becomes of it because it is really a civil offense. Wish me luck Mom!! I may need it.
Well I can't think of anything in particular in the way of news tonight so here's signing off. By the way how is Gran keeping these days? I haven't had a real chance to write 'over-home' since I came back off leave. Send 'em all the best from me and tell 'em there'll be a letter coming shortly. That's about all tonight I think. God Bless,
Love Joe xxxx
P.S. Did you cut our Joyce's hair VERY short? I hope not. Al the same if it means she can't have pig-tails that's alright. I never did like 'em anyway!"  
Sitting here in Millennium Britain, it's difficult to imagine that cycling without a torch light could have been such a serious or worrying offence, but there's no doubt that Joe is feeling anxious about what might happen to him. I wonder that the lack of clean laundry didn't bring down Bomber Command, never mind the Nazis!!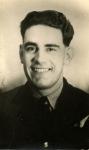 To read more about Joe's letters please follow this link. There you will find the full selection of letters to date, as well as more information about his fascinating yet ultimately tragic story.
He was our family hero. He IS our family hero. If I knew how to complete an effective RAF salute, I would salute you now, Joe. Long may your memory live in our family stories. I hope to post a new letter from Joe's correspondence with his Mother here every Friday until they're done. It will be a turbulent and heart-wrenching journey. Subscribe to the Blog to make sure you don't miss any of it.
If you enjoyed this post, please share it using the buttons below!