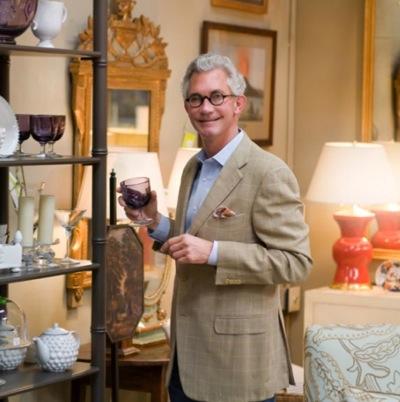 The design world has lost one of its great talents and he will be greatly missed not only in LA but throughout the world. I only knew of Joe Nye socially and through his work, but I always have adored him from afar.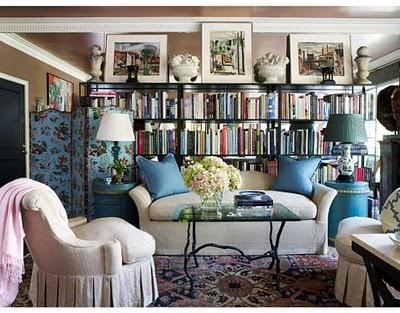 I once paid him a visit at his office, on a summer morning. He met me at my car, looking dashing in his velvet smoking slippers, silver hair brushed back away from his rosy face, signature round horn rimmed glasses perched on his nose and that great grin spread wide across his face. He opened the door and held out a hand to help me out of my car. Such an elegant gentleman.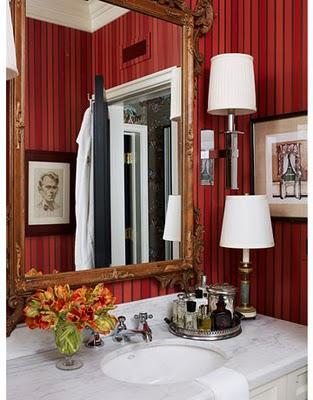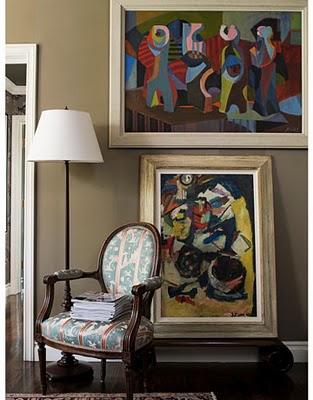 "Integrity, personality, and idiosyncrasy
will always be stylish

."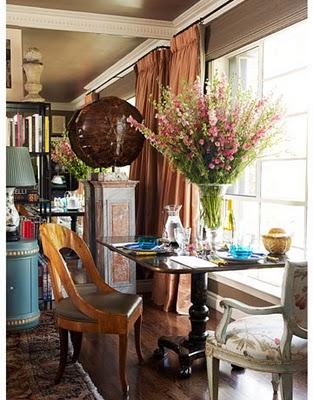 Once inside, he gave a tour of his pristine offices all the while chatting, charming and lovely with a wry sense of humor. In my eyes, the quality that made his work so exquiste, was his ability to layer and mix so many elements yet have it all come out perfectly placed and necessary.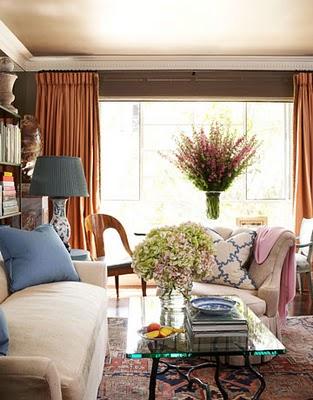 "I love stuff. I want to come home to more. Being around a lot feels good to me."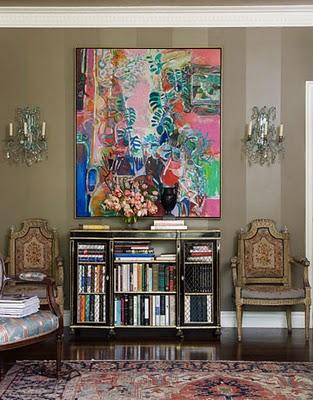 This is true talent. As it is with stark, modern spaces, being able to achieve a beautiful balance is not as easy as it looks, there is method and an inherent 'eye' behind the discipline.  Many can edit until a space is sparse, but it's rare one can edit while filling a space with a profusion of color, texture and movement, maintaining a completely balanced outcome.  
"
My mantra is mixing humble with grand.
If everything in a house is at the same level of taste and importance, it comes off looking like an upper-middle-class tract house."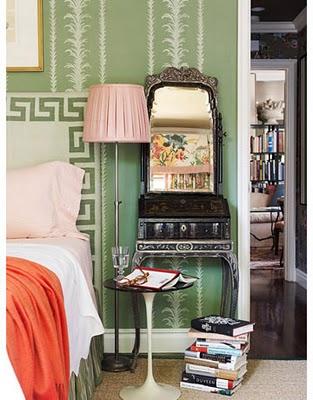 " I recently contemplated doing my bedroom ceiling with raffia wallpaper, but my friends all told me to "Stop decorating!"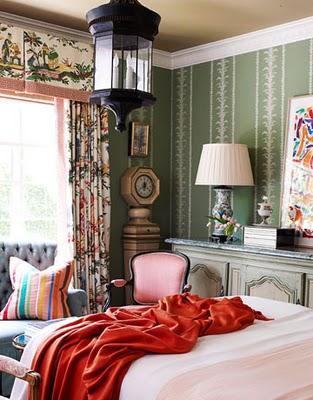 ................................................................
The West Hollywood Home of Courtney Haas, by Joe Nye: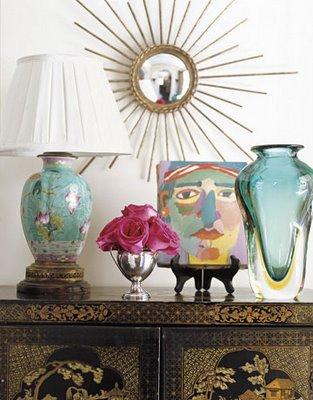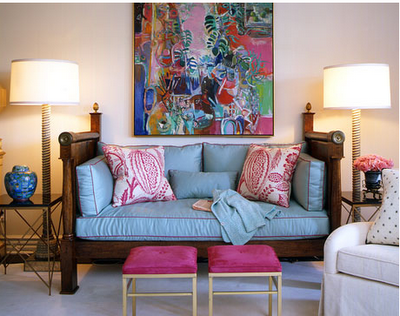 an antique mahogany daybed is flanked by a pair of floor lamps from Downtown. Throw pillows covered in Pali from Manuel Canovas. Painting over daybed by Robert Frame.
"She owned a piece of porcelain that was bright turquoise and she said, 'I really love this color, can it be the catalyst?' One thing led to another and we came up with turquoise and raspberry pink, a combination we both love."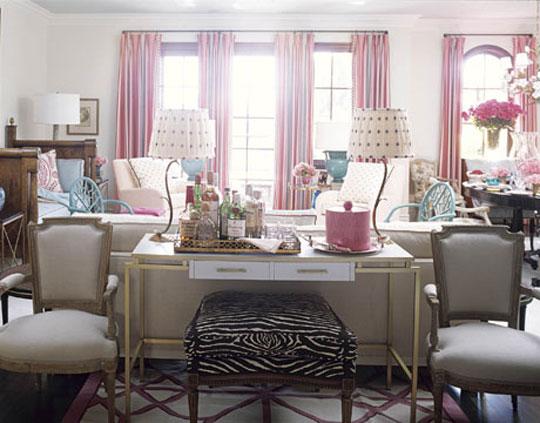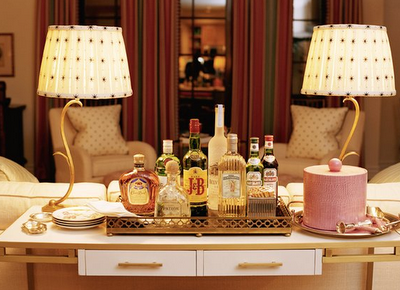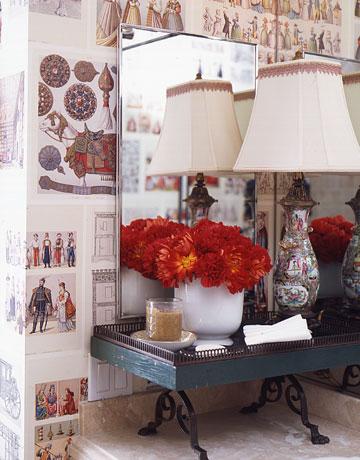 "The wallpaper in the powder room was an idea I stole from the decorator Steven Gambrel — he had done that same thing with a book called Albertus Seba's Cabinet of Natural Curiosities, where he took the book apart and used the plates to paper a wall. Because my client is such a fashion girl and we had a sad second bathroom to make pretty, I bought that Taschen book called The Complete Costume History and I had my brilliant master wallpaperer cut it up. We figured out the arrangement of the plates on the floor first. I think it looks as good as an $1,800 roll of de Gournay."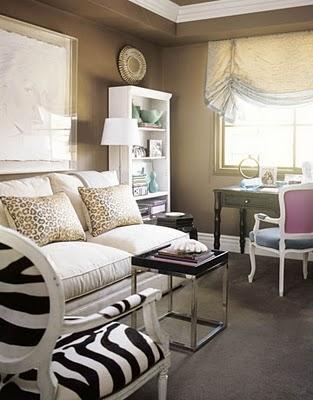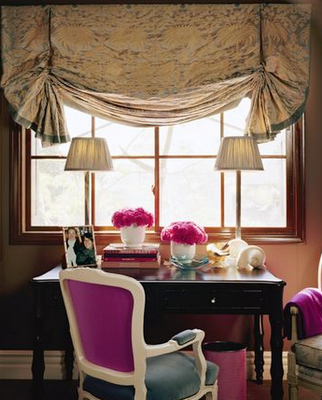 "This is an old decorator's rule, but it's important to remember:
For every piece of furniture with a solid base,
including a skirt, you need to balance it with something leggy, more delicate."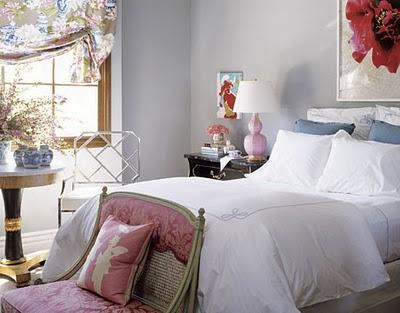 walls are painted Benjamin Moore's November Skies. The bed is from West Elm and the bed linens are from Williams-Sonoma Home. The French settee came from Chapman Radcliff. Double-gourd pink bedside lamp was handmade by Christopher Spitzmiller, through Hollyhock. The lavishly patterned window shade fabric is Manuel Canovas's Bragance in taupe.
"In her very feminine bedroom, I used a beautiful 1920s copy of a Louis XVI settee and we put a pretty serious Scalamandré raspberry silk damask on there. I wanted to make the room girly without being silly."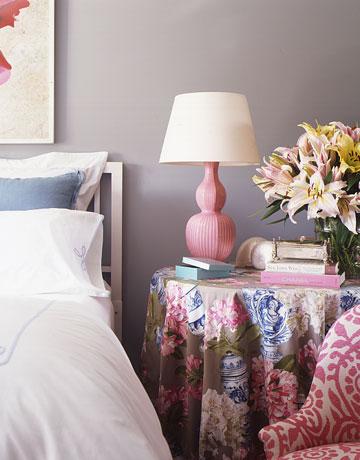 "This job was really done on a budget. Her mother and father had given her some fine antiques, like a French Directoire daybed and a painted chinoiserie cabinet. But there's also stuff from flea markets and Crate and Barrel. There's pedigree going on with no pedigree. We did spend a lot on beautiful fabrics."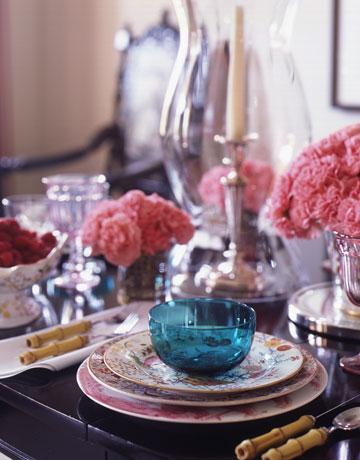 English handmade charger plates from Deborah Sears. Salad plates from Bardith, New York. Dinner plates are Antique Davenport from Hollyhock. Turquoise bowl from Evans & Gerst.
"[What makes a room great is]
the last 10 percent. 
People get the big stuff done
and they ignore the accessories."
That day that I came to his office, he was finalizing a book he had been working on about floral arrangements. He said to me, that he wanted people to understand that one can make the best arrangements by simply using the flowers from the grocery store. One need not spend gobs of money when if you use a little ingenuity, it's all there in front of you. When I asked, he told me his favorite grocery store flower was the Carnation. Because of that conversation, I always think of Joe Nye when I see Carnations.  And because of Joe Nye, I use Carnations often; cut short and bunched in a beautiful highball glass.
 Such a loss to our design world and to the world in general. He will forever remain one of my great sources of inspiration. Rest in Peace, Joe Nye.
All photo credits: House Beautiful