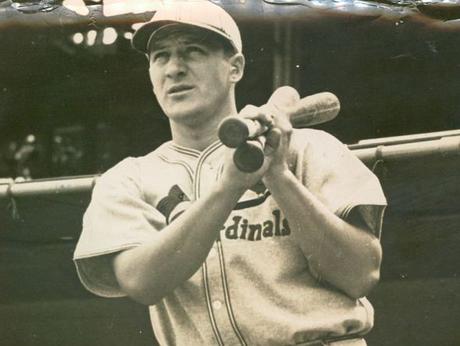 Medwick (Wikimedia Commons)
Joseph Michael Medwick was born on November 24, 1911 in Cateret, New Jersey. His parents, John and Elizabeth Medwick, were Hungarian immigrants, having immigrated to the United States in 1893.
He attended Cateret High School, where he was a star athlete in track, baseball, basketball, and football. In fact, Medwick was offered scholarships to play football at the college level. He turned down the scholarships, however, in favor of pursuing a career in baseball, signing with the St. Louis Cardinals.
After spending a few seasons in the minor leagues, Medwick made his Major League debut on September 2, 1932 at the age of twenty. He had an unusual waddle, earning himself the nickname "Ducky" or "Ducky Wucky," though Medwick (understandably) preferred his other nickname, "Muscles." With the Cardinals, he earned a reputation as a hard-nosed and mean-spirited player. Fortunately for Medwick, he also proved to be an excellent hitter, producing a batting average of .300 or better for most of the seasons he played as a major leaguer, finishing with a lifetime average of .324.
During the early 1930s, the St. Louis Cardinals became known as the "Gas House Gang," a nickname that reflected not only their enjoyment in playing baseball, but also the aggressive style with which they played. Their uniforms, always dirty, came to resemble the grease-stained clothing worn by car mechanics — hence the nickname. Besides Joe Medwick, prominent members of the Gas House Gang included Frankie Frisch, Ripper Collins, Leo Durocher, Pepper Martin, and brothers Dizzy Dean and Paul Dean.
Joe Medwick was perhaps the most aggressive of the aggressive Gas House Gang members, not hesitating to brawl even with his own teammates. He was known to punch his own teammates for infractions such as scolding him for a lack of hustle (Ed Heusser) or walking in front of him too many times while being photographed (Tex Carlton). Pitcher Dizzy Dean once commented, "Dawgonnit. That Medwick don't fight fair at all. You argue with him for a bit and then he beats you before you've even had a chance to speak your piece."
The most infamous display of Medwick's demeanor came during the 1934 World Series between the Cardinals and the Detroit Tigers — a Series that went into Game Seven. In the sixth inning of that deciding game, Medwick hit a triple into centerfield, sliding into third base with his spikes high. Medwick then proceeded to start kicking at Tiger third baseman Marv Owen, resulting in punches being thrown. Umpire Bill Klem broke up the scuffle, though neither player was ejected. However, when Medwick jogged out to left field in the bottom of the inning, Detroit fans made their feelings known by throwing fruit and pop bottles in Medwick's direction. From his box at the ballpark, Commissioner Kenesaw Mountain Landis called a meeting with the umpires, the two managers, and Medwick. When it became evident that Medwick felt no remorse for his actions, Landis decided to remove Medwick from the game. The Cardinals went on to win the game, and the Series, 11-0, but the incident did nothing good for Medwick's reputation.
In June 1940, Medwick was traded to the Brooklyn Dodgers in a multiplayer deal, as the Cardinals were no longer willing to tolerate Medwick's temper. Just days after the trade, the Dodgers and the Cardinals faced off against one another, and St. Louis pitcher Bob Bowman beaned Medwick in the temple. Brooklyn players rushed the field, believing the beaning to be intentional, as Bowman and Medwick had exchanged words in the hotel elevator just that morning. Bowman ended up being escorted from the game by policemen. Medwick, meanwhile, was carried away on a stretcher.
Medwick was found to have a concussion as a result of the beaning, though he stubbornly made his way back into the Dodger lineup just four days later.  The beaning, however, would reignite interest throughout the league in the use of batting helmets, and Spalding Sporting Goods took advantage of the incident to start advertising a batting helmet with ear flaps.
For the rest of the career following the beaning, Medwick displayed a noticeable drop in power at the plate, though he did continue to rack up multiple seasons with a .300 or better batting average. He bounced around between teams, including the Dodgers, the New York Giants, and the Boston Braves, before finishing his major league career where he started, with the St. Louis Cardinals. Medwick played his final Major League game on July 25, 1948, though he continued to play minor league baseball until 1951.
Over the course of his career, Medwick was named to the National League All-Star team ten times. In 1936, he set a National League record with 64 doubles. In 1937, won the National League's Most Valuable Player award, as well as the Triple Crown.
Joe Medwick was elected to the Baseball Hall of Fame in 1968. He died of a heart attack on March 21, 1975 in St. Petersburg, Florida.