So I had an interview with some cast members of Joe Manganiello's new documentary La Bare.
These guys left nothing to my imagination as they talked about the life and culture of being a dancer at a very popular male strip club in Dallas.
BackGround:
La Bare is the most popular male strip located in Dallas, Texas and has been entertaining ladies from all over the world for decades. I sat down with Channing, Cesar, and J.D – three real life entertainers who work at La Bare and star in this documentary.
I started off asking Channing, who is the youngest of the three, his experiences becoming an exotic dancer and what a rookie can expect when they enter the business.
It's more than just women, money, and a good time, like the famous line from Magic Mike; these men train and diet like professional athletes, promote themselves like entrepreneurs with business cards and clientele list, hours of choreographed training– and they don't take kind to newbies who think they can get by with doing the running man on stage.
"First thing you have to do, is go to the gym and stay quiet at first so the veterans don't give you shit. Don't bum rush it,…watch the veterans until you find your ground."
Cesar chimes in, "it's [strip clubs] a pretty open field, if you have a decent body…and you're brave enough to get on the stage every night. The fact is, our doors are always open."
And anyone can test their bravery on amateur night, which is described by the guys as its own animal where everyone from bad bet pickers to Chippendale hopefuls sign up for a chance to prove themselves. Many, like Channing and Cesar started out as servers, before taking a chance on a Thursday night in front of 30 or so women and co workers!
Channing, also known as the shirtless wonder, had a nice awkward experience that rivaled his high school musical days, (no duh?) and Cesar was just glad he hit all the beats on stage.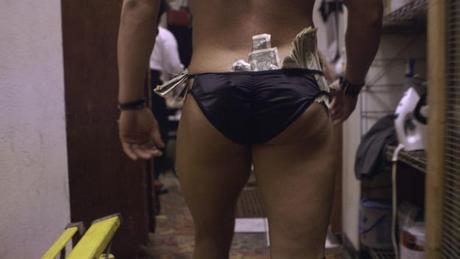 Courtesy of La Bare Film
So what is the real difference with female dancers and male dancers? I asked J.D, since he commented in the film that women with big titties and decent looks could easily get a job as dancer.
"It has to do with the clientele, there's no comparison– everything is different except both are wearing underwear."
The truth is that La Bare dancers do more than just dance. They interact with their audience, sometimes taking women on stage to be part of show and that takes a lot of confidence. Confidence that takes experience and motivation to find.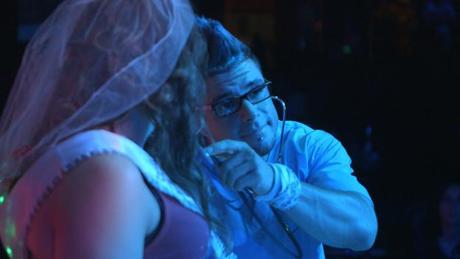 Courtesy of La Bare Film – Cesar playing "doctor"
They are not just pole dancers– not that anything's wrong with that.
"…I've taken a pole dancing class, its nothing to downplay."– Cesar.
This kind of lifestyle seems like a whirlwind fantasy, but really what you may not know about the men of La Bare, is that they have families. They are fathers, sons, and maybe even grandfathers who go through the same 9 to 5 reality you go through.
Even the strongest of them, is still as frail as the next human.
"So how do you find that boundary between 'fantasy' and 'reality'?" I ask.
Cesar- "Because of the nature of the business and flirtation, its very difficult to have blended relationship in the clubs. It can be difficult because people want more of your time and attention and its kind of difficult keeping your balance in those regards."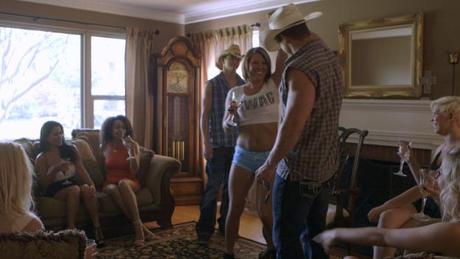 Courtesy of La Bare Film
So what's next?
J.D – "Supposedly a TV Show on the way, it's highly possible."
Fans, go to theaters Friday June 27, 2014 to watch La Bare. I'll be visiting the club that night! ;-)
Meet the guys from La Bare on their Facebook pages!
Cesar
J.D