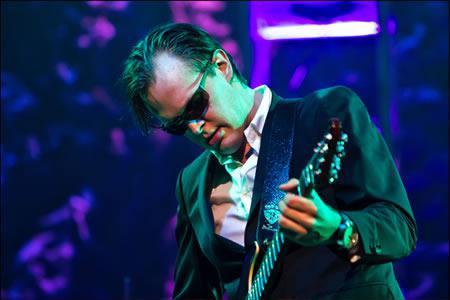 photo: Arnei Goodman
Prolific blues guitarist Joe Bonammasa's new album Driving Towards The Daylight drops May 21 (May 22 in the USA). It's his seventh album in six years. The title track can be picked up for free.
The album was recorded at Studio At The Palms in Las Vegas, NV, The Village Recorder in Los Angeles, CA and The Cave in Malibu, CA. Musicians: Brad Whitford (guitar), Blondie Chaplan (guitar), Anton Fig (drums and percussion), Arlan Schierbaum (keyboard), Michael Rhodes (bass), Carmine Rojas (bass), Jeff Bova and The Bovaland Brass, Pat Thrall (guitar), and Harrison Whitford (guitar).
em>Driving Towards The Daylight is available for pre-order from his website and his record label Mascot Records.
Tracks:
Dislocated Boy
Stones In My Passway
Driving Towards The Daylight
Who's Been Talking?
I Got All You Need
A Place In My Heart
Lonely Town Lonely Street
Heavenly Soul
New Coat Of Paint
Somewhere Trouble Don't Go
Too Much Ain't Enough Love (w/ Jimmy Barnes)