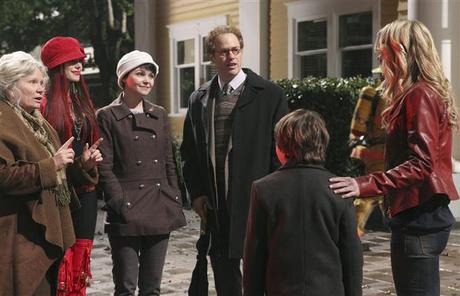 Photograph by: Handout , ABC
Once Upon a Time closes the book on its opening chapter this weekend (May 13) with a tale called "A Land Without Magic," in which Prince Charming tries to break free from the clutches of the Evil Queen and be reunited with Snow White. Unbeknownst to him, she's already taken a bite from the Queen's poison apple, and is about to fall into a deep sleep.
For Raphael Sbarge, the New York-trained stage actor who plays the dual role of Storybrooke town psychiatrist Archie Hopper and fairy-tale character Jiminy Cricket, Once Upon a Time is proving to be that once-in-a-lifetime, "pinch me" experience.
In the real world, the filmed-in-Vancouver Once Upon a Time is ending its inaugural season as the Cinderella of first-year network dramas. Once Upon a Time has earned the highest ratings in 23 years in its time period for its parent network, Disney-owned ABC.
In person, Sbarge is both ebullient and effusive as he talks about being an actor who was once more familiar with Hamlet and Henry IV than childhood fables.
"It's achieved something unique in the television landscape," Sbarge said. "It's really captured people's imaginations."
Once Upon a Time tells the two-tiered story of a land of fairy tale characters, resurrected and revived from the classic Disney tales of yore, and the residents of a sleepy, present-day town who've fallen under a spell, and have forgotten their pasts.
Ironically, Once Upon a Time's success in its time period follows that, decades earlier, of ABC's The Wonderful World of Disney, which enchanted and captivated an entire generation of viewers on Sunday nights in the late 1960s, throughout the '70s. The Wonderful World of Disney aired in Canada, too, on CBC-TV.
Once Upon a Time, in turn, has broken fertile new ground in Canada for CTV, in an early-evening time period that, throughout the season, led into The Amazing Race, one of the most-watched weekly programs across the country.
Little of that was on Sbarge's mind, though, when he signed onto the production. The first inkling he had that Once Upon a Time would be special was at a private screening of the series' pilot episode, for cast and crew.
"It was one of those classic did-you-just-see-what-I-saw moments," Sbarge recalled. "There was a kind of combined effect, after we saw the pilot, where we just sat there, speechless. That was a really special moment, and I'll never forget it.
"Everyone involved in the show is really proud of it. There's a certain spirit about it; we all feel we're part of something special."
Sbarge was born into a theatre- and arts-oriented family in New York City — his father, an artist and stage director, named his son after the Renaissance painter — but he quickly adopted Vancouver as his second home.
Once Upon a Time would not have been the success story it is today, Sbarge insists, had it been filmed anywhere else.
"When I read the pilot script initially, I thought, 'This is fantastic, this is amazing, but they're never going to be able to pull it off.' I've been in shows that made promises and just never hit the mark. When I saw the final airing, it so surpassed my imagination and wildest expectations, I was simply floored.
"The production team in Vancouver has done such an incredible job. I know they're proud of it, and they should be. Because they're really delivering feature-quality television every week. It's no easy feat. The costumes, the camera department, the production design — it's incredible what they do. I'm so thrilled it's happening in Vancouver; it really is the perfect city for it. The show has been a success, and a lot of it is down to them."
Sbarge had worked in Vancouver before, but he never lived in the city for any length of time. Until now. Once Upon a Time looks as if it won't be going anywhere, or writing any closing chapters, any time soon.
"I'm crazy about Vancouver, I just love it. I knew it was supposed to be one of the more livable cities in the world, and it is.
"The weather is obviously something you have to get used to, but I'm from New York City: I prefer the weather (up north). In addition to that, there's the air, the vistas; there's just such a variety of things to do. The people are lovely. It's an international city; it reminds me of London, of Europe. I love being able to walk where I need to go — it's just a really wonderful city."
Some of Sbarge's most intense scenes have been opposite Lana Parrilla, in the dual role of town mayor Regina Mills in present-day Storybrooke and the Evil Queen in the fairy-tale kingdom.
"She's very truthful with what she does," Sbarge said. "She's very prepared; she's a wonderful actress. She really pours her heart and soul into it. She cares deeply, and you always hope for that as an actor. In the scenes where we go head-to-head, it's like a really rigorous game of tennis. You're straining, 'Whoa!' and she hits it back, 'Whoa!' And that's exciting. The actors, to a person, are really fine. I feel like I'm on an all-star team. You can be a good ballplayer but unless you're on a good team there's only so much you can do. We really work well together."
Once Upon a Time took a huge gamble, Sbarge believes, by updating time-honoured but possibly dated fairy-tale characters for a present-day audience.
"It hit the zeitgeist in the right way, at the right time, I think. It is, by it's nature, a big show. They promoted the heck out of it. It was either going to come out big or be a big belly flop. The fact that you had Disney characters integrated into the show also meant that you had a responsibility to that tradition. We all felt the enormity of that task.
Sbarge would not give anything away about the finale, or the stories to come. Except to say…
"Clearly, the battle lines between good and evil are drawn."
Like one of Storybrooke's spellbound characters, Sbarge has to pinch himself every so often to make sure he isn't dreaming.
"I'm so grateful. The best part of it is that my kids are seven and nine and I get to watch it with them every Sunday. I get to cuddle with them, and we get to watch the show. And for me, that is such a dream."
source