Set in the royal Chateau Challain in France, this Jewish fairytale styled shoot enchanted us! A talented team of vendors took advantage of this gorgeous venue and its luxurious areas to create perfect settings for a lovely inspiration styled shoot. The gardens of the venue were just ideal to stage a ceremony and make a vision come true. The stylish and ultra-elegant couple were dressed in unique outfits inspired by the Victorian period which were perfect for the overall style and idea. The reception was set in an indoor area of the Chateau Challain with royal, classy and rustic sense. A white table adorned with floral designs, white flowers, candlesticks, and gold details created a mesmerizing result. As final touch they added snow white ostrich feathers hanging from the chandeliers... so dreamy! Feast your eyes on this opulent beauty through the following photos!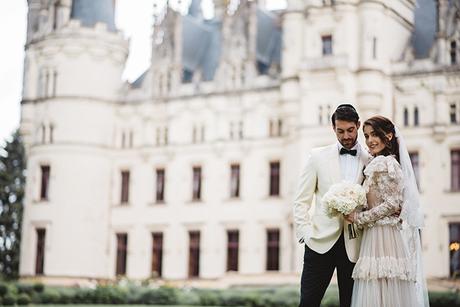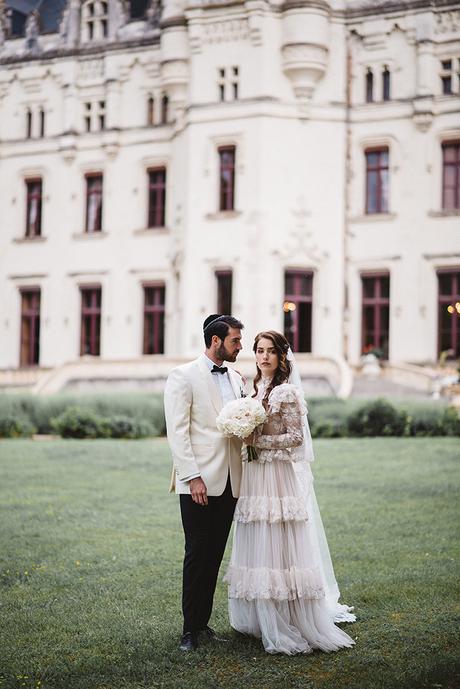 From La Fête : "The starting point for planning this shoot was the colour. We knew that we wanted to incorporate shades of purple, from dark to light, without being a completely monochromatic shoot. As time went on, we chose to focus on white as a dominant shade, with lilac for the bridesmaids' outfits, gold accents and green, through our use of foliage.
Once the colour palette was set, we began to think of the style of shoot we wanted to create. Because of our French heritage, we have always been immensely inspired by our country's history and after seeing a piece of lilac Toile de Jouy fabric, we were set on a regal theme, with Louis XVI and Napoleonic inspirations."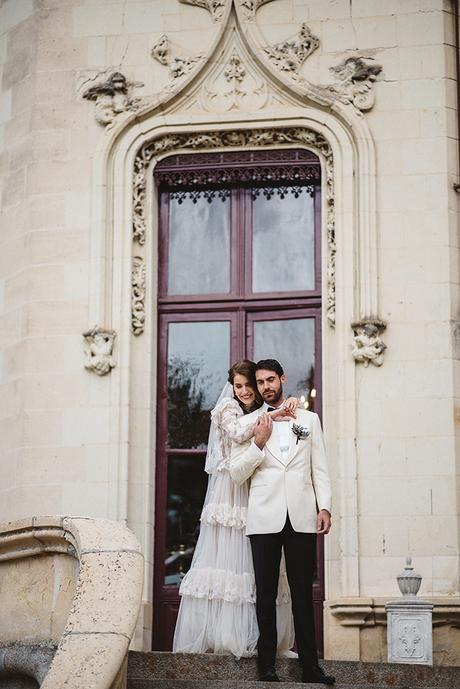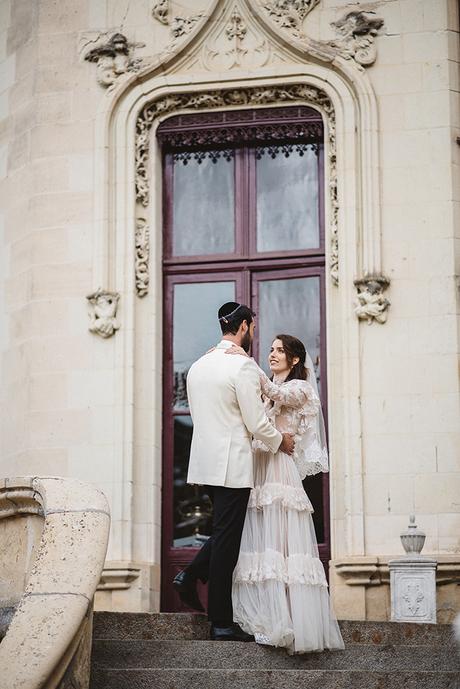 "We began researching châteaus in France and came across Château Challain: immediately we knew that this fairy tale castle needed to be the backdrop to our project. As well as the château itself, we had access to the grounds, which was perfect to stage our ceremony. Château Challain's team were truly instrumental in making our vision come to life."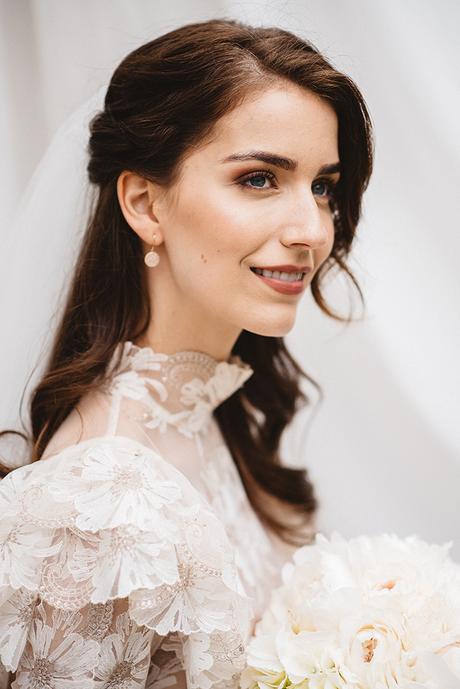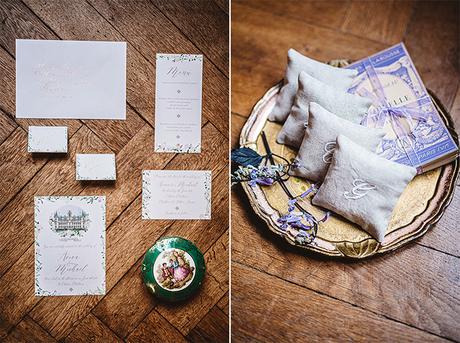 "Our stationery by the fantastic De Winton Paper Co. combined both nature in the delicate floral border and the majesty of the venue, with a bespoke watercolour illustration of Château Challain. It was also key for us to include a ketubah in our photo shoot, which followed the floral and romantic theme of the day."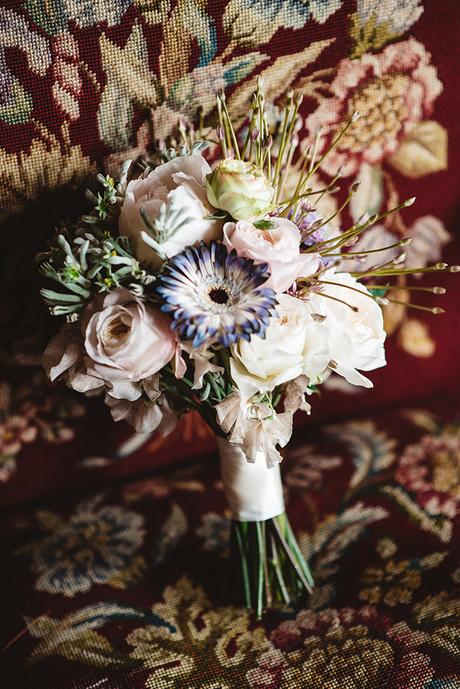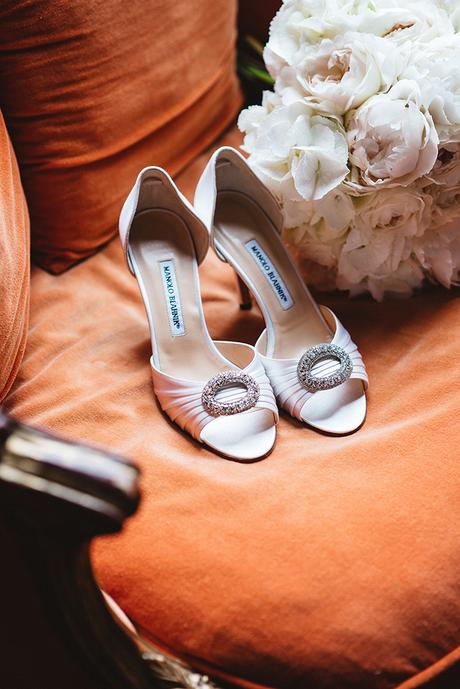 "When it came to outfits, we wanted our bride and groom to be conservative yet unique, with the detail of our bride's Katya Katya gown heavily inspired by the Victorian period, for a regal yet understated elegance. We chose for our groom to be in a traditional white jacket, paired with a black embellished kippah with silver thread. The bridesmaids brought the lilac touches we originally wanted in their embellished Motee Maid dresses, while the groomsmen contrasted in their navy blue and bright blue suits."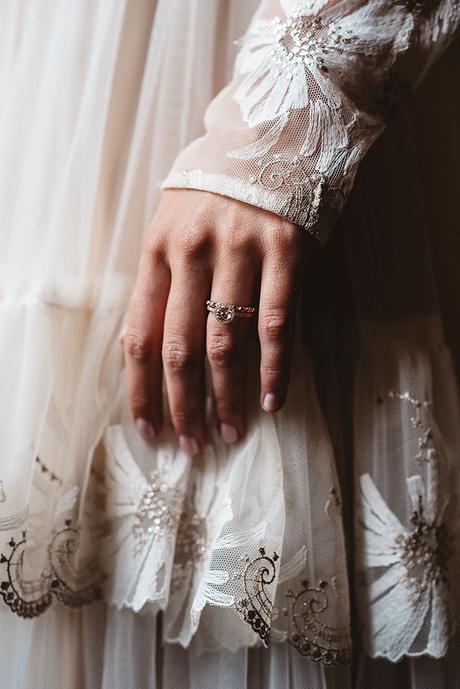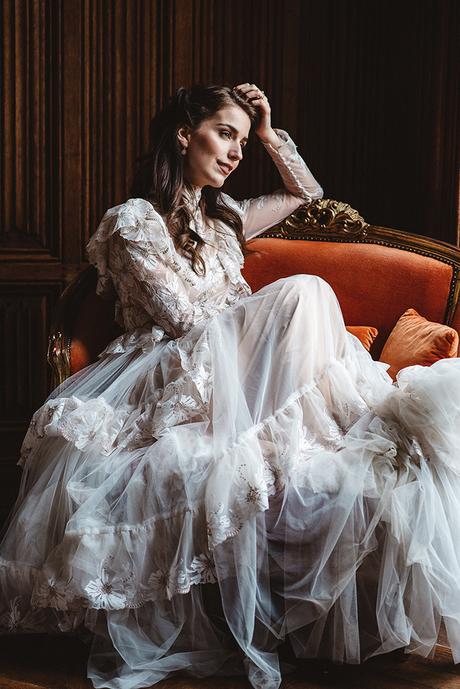 "In keeping with tradition, we chose not to adorn our bride with jewellery for the ceremony. As for the bridesmaids, the only jewellery was simple hoop earrings and embellished hair accessories. After the ceremony, we added a pair of simple diamond disc earrings to our bride, which were discreet enough to not compete with her high lace collar."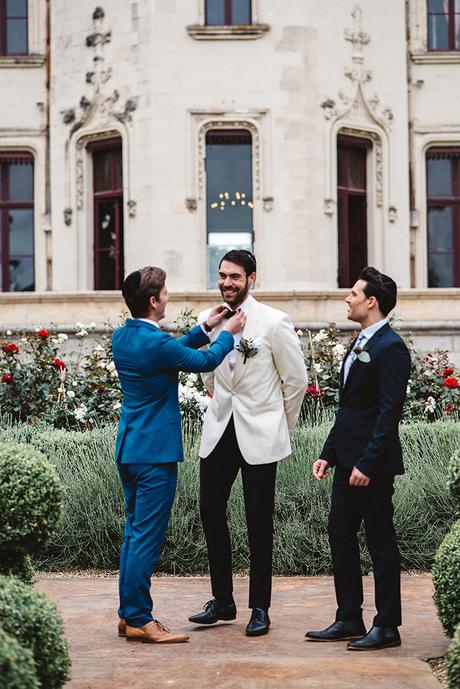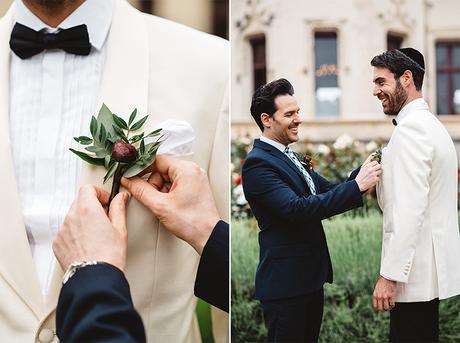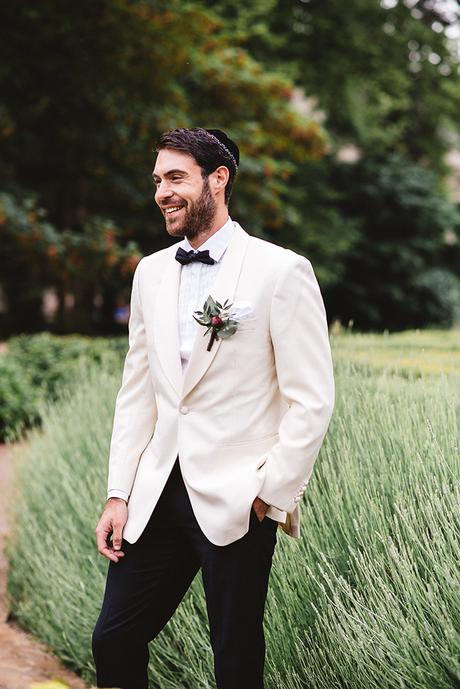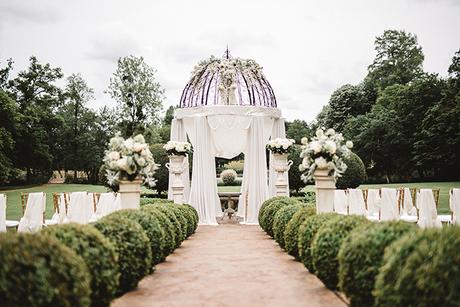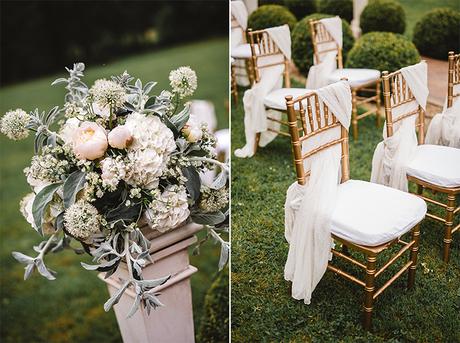 "We opted for a half updo for our bride, with soft, glamourous waves falling onto her shoulders, for a natural yet coiffed feel. For her makeup, we wanted to mark her beautiful eyes with a copper-toned smoky and plenty of mascara. Eva from Eva Beauty Art made sure to give our bride a flawless matte complexion, finishing it off with a neutral pinky brown lipstick. As for the bridesmaids, the makeup was naturally elegant and fresh, complemented by a softly waved bob with a headband and an elegant updo with an embellished comb."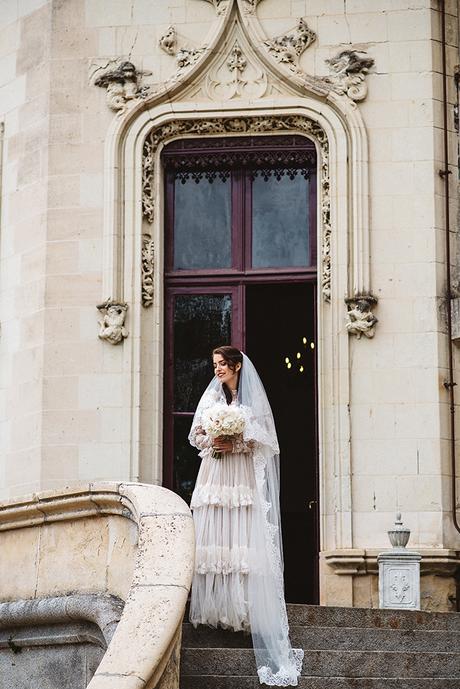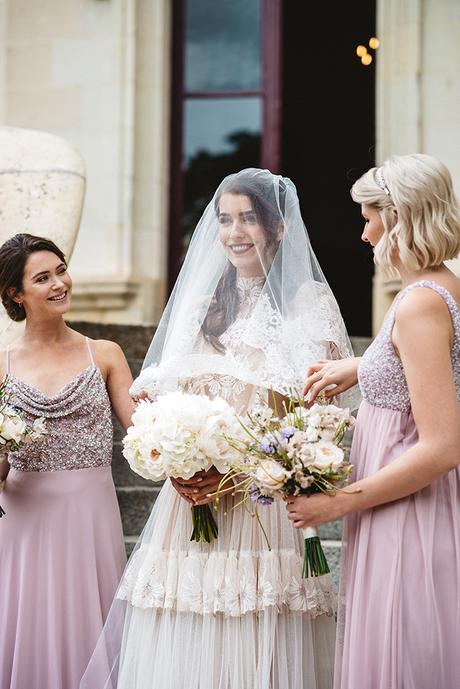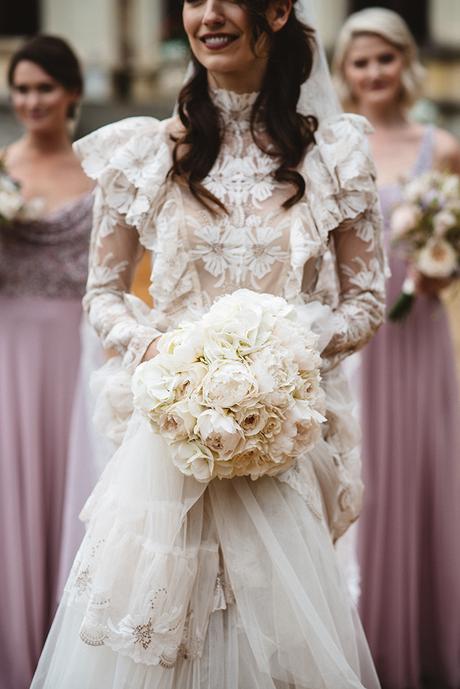 "The flowers supplied by Mister Brett Events at Château Challain were an integral part of this shoot. We opted to stick with a palette of white and green, including peonies, hydrangeas and roses."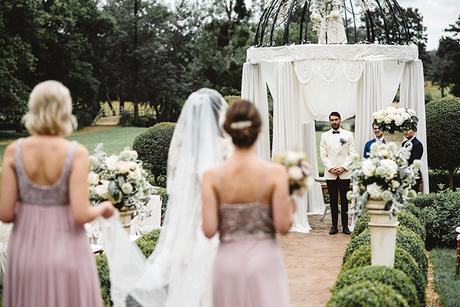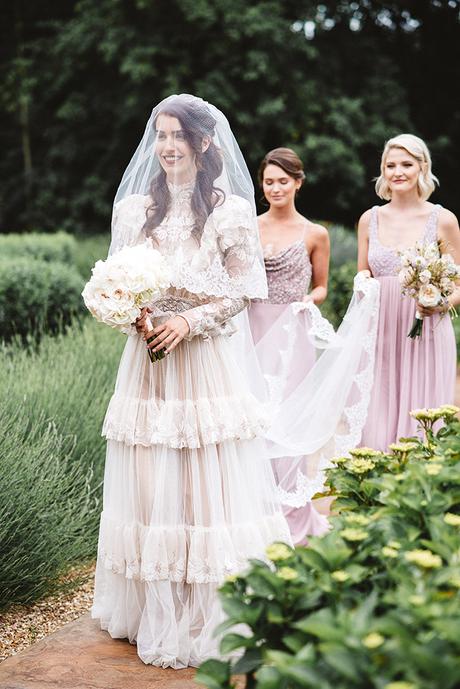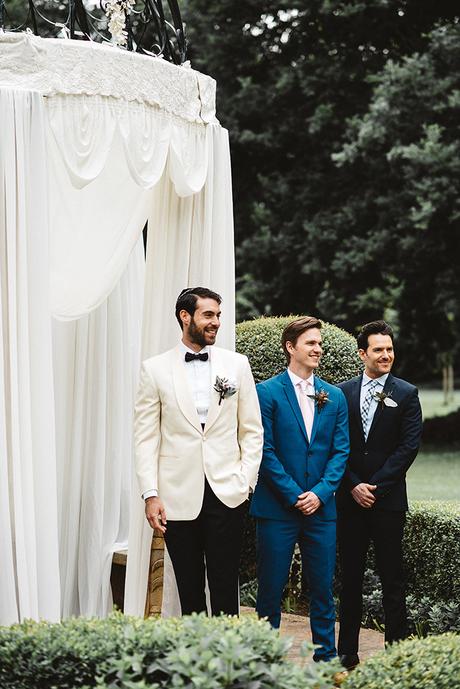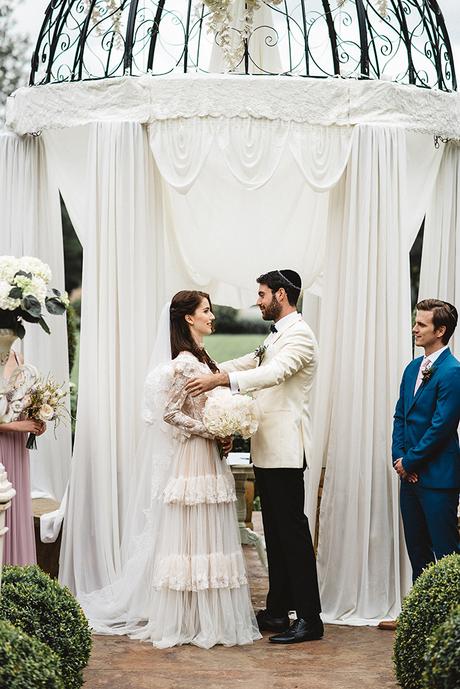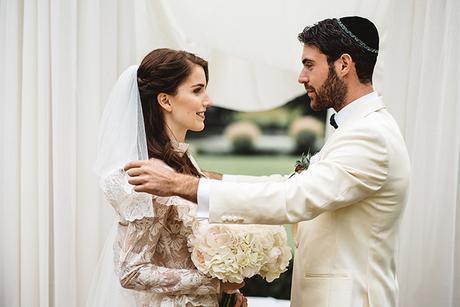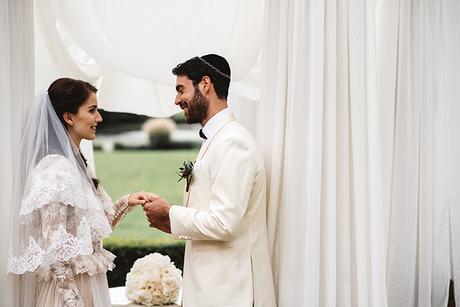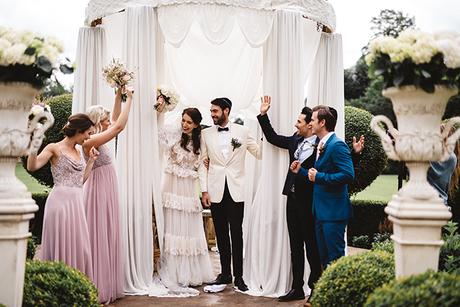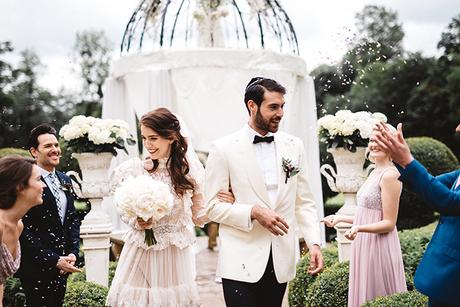 "In order to not have a fully white table, which could look relatively stark in such regal surroundings, we opted to accent it with gold and greenery from the flower displays. The setting also includes snow white ostrich feathers hanging from the chandeliers, as a unique touch."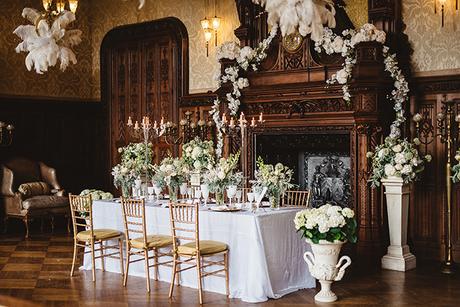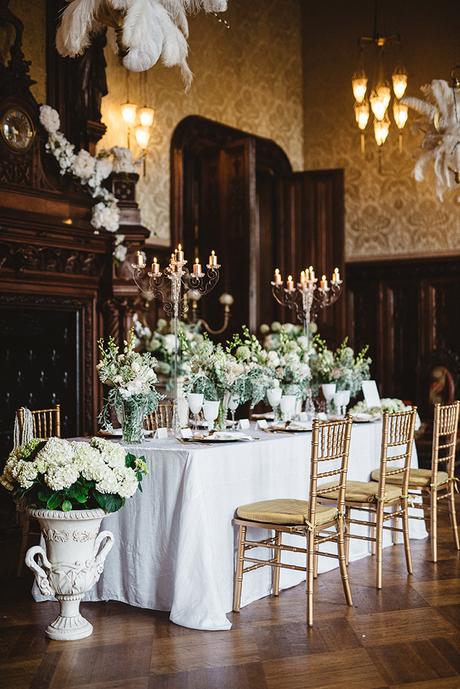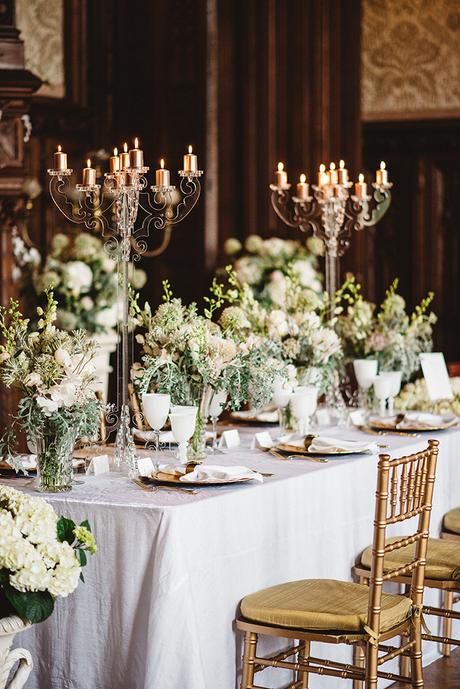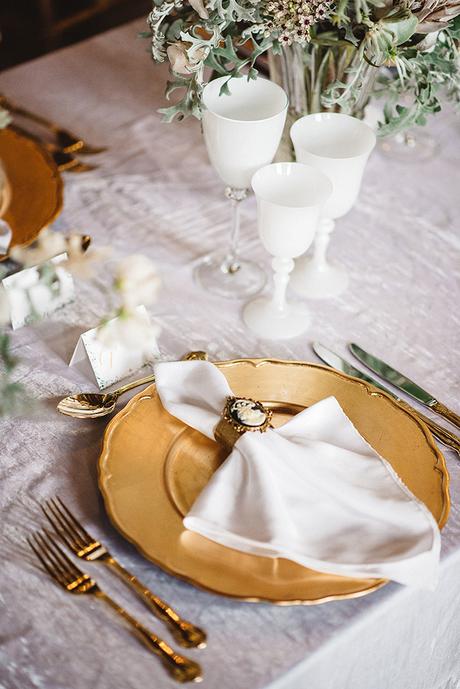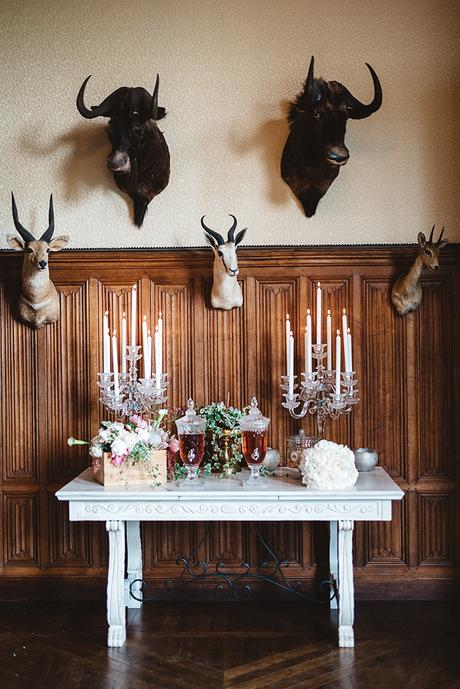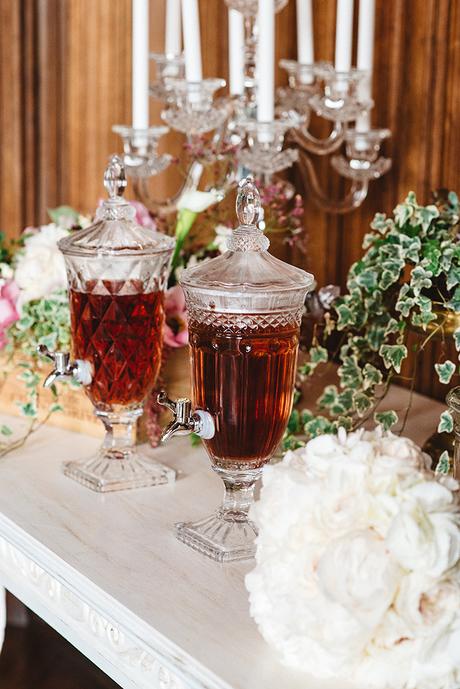 "In keeping with our overall theme, Dealicious Gateaux created for us a stunning three-tiered dove grey and white cake with piped lace detailing and cascading sugar flowers. We especially love the floral and elegant shape of the two bottom tiers."