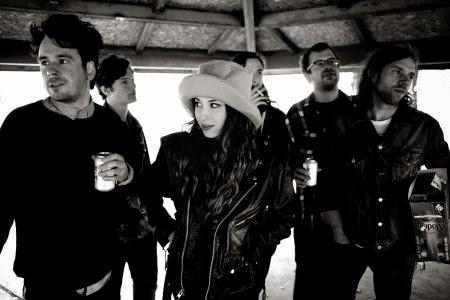 Jessica Hernandez & The Deltas are a hybrid band, incorporating soul, jazz, orchestrated pop and vaudeville. The Detroit based sextet have new EP, Demons. Leading lady Jessica Hernandez has a powerful voice, a gentler version of Amy Winehouse or Holland Greco with a Latina phrasing. The songs lean heavily on the percussion, trombone and keyboards. Stand-out tracks are the sexy Picture Me With You and the jazzy Big Town, with Hernandez in full torch singer swing.
Jessica Hernandez: vocals, guitar, keys, percussion
Michael Krygier: guitar
Taylor Pierson: keys
John Raleeh: trombone
Stephen Stetson: drums
Benjamin Sturley: bass

The Demons EP is released via Richard Gottehrer's label Instant Records. Release date: November 12th.
Tracks:
Demons
Caught Up
Big Town
Shadow Boy
Picture Me With You (Carnie Threesome)
Live dates:
11/08 Cincinnati, OH @ MOTR Pub
11/09 Rock Island, IL @ Rozz Tox
11/11 Burlington, IA @ The Washington
11/12 Minneapolis, MN @ 7th Street Entry
11/13 Madison, WI @ Frequency
11/14 Chicago, IL @ Cobra Lounge (Dusty Grooves Night)
11/15 Milwaukee, WI @ Riverwest Public House Cooperative
11/16 Grand Rapids, MI @ Mulligan's Pub
11/27 Detroit, MI @ St. Andrew's Hall (presented by The River/CIDR)
12/04 Columbus, OH @ The Basement
12/05 Lexington, KY @ Cosmic Charlie's
12/06 Atlanta, GA @ The Earl
12/07 Nashville, TN @ The HiWatt
12/09 St. Petersburg, FL @ Local 662
12/10 Orlando, FL @ Will's Pub
12/12 Chapel Hill, NC @ Local 506
12/13 Charlotte, NC @ Evening Muse
12/14 Baltimore, MD @ Metro Gallery
12/15 Philadelphia, PA @ Milkboy