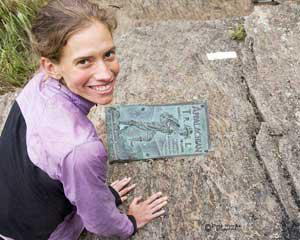 Jennifer Pharr Davis, a North Carolina hiking specialist is trying to break her own speed record of 57 days, 8 hours, 35 minutes  as she attempts to go from Maine to Georgia on the 2,181-mile Appalachian Trail.
Davis, who began her trek in mid-June is also mindful of the men's record of 47 days, 13 hours, 31 minutes.
The 2,181-mile footpath is almost as familiar to her as the walkway in front of her Asheville home. Davis hiked end to end (called a thru-hike) from south to north in 2005 before setting the speed record three years later going north to south.
Read more:
Outdoors: Woman eyes speed record walking
Checkout the updates on Jennifers Tumblr
Becoming Odyssa