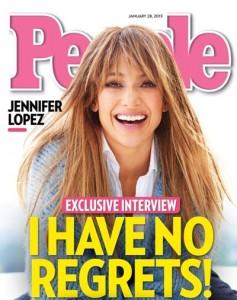 Okay, let me see if I've got this straight: Jennifer Lopez is all twitched out over the way she looks on this PEOPLE Magazine cover yet has no regrets over the strategically placed doily dress she wore to the Golden Globes on Sunday?
Really?
Lopez feels that the cover photo makes her look old and her camp (don't you love the way a person has a camp?) thinks she looks old and haggard.
Gee, where was this camp and their opinions when Lopez slipped into that Zuhair Murad gown that left little to the imagination?
While J.Lo has been no stranger to barely there clothing choices, at what point does it just stop being cute…if it ever was cute?  And at what age does one stop being so overt with their sexuality in their clothing and embrace another way of going about it?  J.Lo is no old bat at the young age of 43, but, isn't parading around barely covered something that we accept more from a desperate young woman who has only learned how to use her body and in-your-face sexuality to get attention?  I'm not saying that J.Lo pack it in and not embrace her own feminine sexuality, however, let's talk about a class act like Helen Mirren for a second.  She is considered a very sexy woman and always looks appropriate.  Age does not mean you abandon looking smokin' hot, but, as your age evolves it's best when your style goes along with it, I think.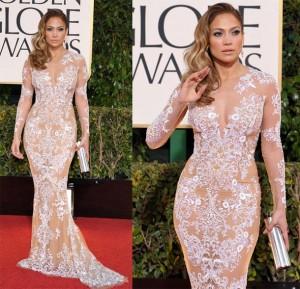 Or maybe I'm just over-reacting.
Anyway, let's talk about this PEOPLE cover.  Is it that bad?  She looks natural, she's smiling, her hair isn't perfect but it looks like…hair.  What?  What is so bad about this photo that has caused Jennifer Lopez to be that upset?  Plus, she thinks she looks cranky.  Cranky?  What cranky person smiles from ear-to-ear? Do I think it is the very best photo in the world of her.  No…but I don't hate it either.
I don't know  what you're talking about, J.Lo, but I do know a ton of women who would be thrilled to look as good as you do at 43.  That's all I'm saying.