I wasn't able to attend as many sessions at this year's Melbourne Writers Festival as I would have liked, but I was fortunate enough to be in the studio audience for 'Jennifer Byrne Presents' – not her usual 'First Tuesday Book Club' but a one on one interview/conversation with Christos Tsiolkas.
Byrne was comedian, interrogator, therapist, confidant; she asked the probing questions, pushed Tsiolkas past his comfort zone and into more personal territory. The interview had depth and interest and wasn't just about 'The Slap' though, with the miniseries based on his award-winning novel coming to the ABC later this year in an eight part drama, it was discussed.
For those of you who have read 'The Slap', whether you loved it or hated it I'm sure it sparked some thought, if not debate, on gender, sexuality, ethnicity and the raising of children. 'The Slap' is not about the actual 'slap' at all; as Tsiolkas said, it was merely a device used "to explore how badly we treat each other", even those – or perhaps especially those, we profess to love.
Tsiolkas says he writes "to make sense of what is going on in the world; to better understand it." When he wrote 'The Slap' he drew on his life for his craft. He was, in his own words, an 'outsider' – gay, migrant, poor.As Byrne pointed out he is no longer 'outsider', the readers have embraced him, also he's loaded.He acknowledges that after the huge success of the book and the change in his economic circumstances he feels he can no longer use that voice with the same authenticity.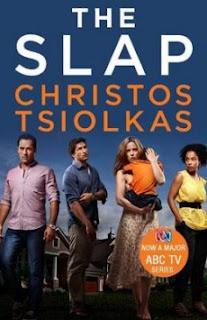 He talked about the different stages of his writing life, how he is now in the 'middle passage' and the writer he is now, reading the writer he was in his twenties, can see the mistakes and the rawness of the writing, but is also envious of the power and the energy within it.
Once an activist, though "never a very good one", Tsiolkas is still passionate about today's issues, in particular – refugees and asylum seekers. He talked about first-world problems and the insidious undercurrent of the Australian culture; how our sense of entitlement prevents us from giving thanks/showing gratitude for our good fortune. "We want the very best of life," he said, "the best of everything, but we don't want to have to do anything for it."
'First-world problems' – he said this several times and for me it says, get some perspective; stop taking life (and yourself) so seriously; show a little gratitude for the freedoms you enjoy. Compared to many places in the world, and he talked about his homeland in Greece, which is really hurting at the moment, Australia really is lucky.
One last note.
Byrne is a consummate interviewer - the information she brought forth from Tsiolkas, at times laboriously (he wasn't the most articulate interviewee; many writers aren't), was deep and personal and as a writer myself I left with something special; the desire to write. In short, he made me want to write, but more importantly, he made me want to write more deeply.