Guys, guess what! I've found MY DRESS!!! I'm so excited, and so happy, and so unbelievably relieved. Finding the dress, THE dress, somehow makes everything so much more real. This is the dress I'll be wearing when I walk down the aisle next year – eek!
I started writing this post last week, and back then it was a very different post indeed. The dress question was playing on my mind. I know it's early days, and I know there's plenty of time, but once I'd started looking I'd started to worry about ever finding the right dress. I saw so many dresses that were beautiful, but just weren't right. Most of the time I couldn't even say what it was about them I wasn't sure about, but I just knew they weren't The Dress.
A week ago I had a little bit of a dress melt down, and started searching the internet like a mad woman, scrolling through bridal boutique selections, booking appointments anywhere it looked like it might possibly have something that could be my dream dress. Why did all the dresses I loved on Pinterest turn out to be only available in America, or why did they all seem to be about three seasons old? Turns out Pinterest isn't always the wedding planning miracle it promises to be – darn!
Anyway, I'm getting ahead of myself. I haven't shared anything about my dress hunt, so lets rewind just a little.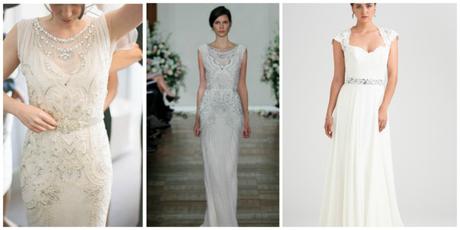 Some early contenders…
My first dress appointment was at Pan Pan Bridal in Edinburgh. I was in the city visiting my friend Lucy, and she booked me an appointment to go and play with the pretty dresses! This was probably the most fun appointment of the dress shopping experience. Maybe its because it was the first place I'd visited and I never really expected to find a dress there. Or perhaps it was the only place where I was offered a glass of champagne! It was a great chance to try on all sorts of different styles. Everything from huge princess dresses and tulle skirts, to beaded shifts and slinky satin slips. My early favourites were a Caroline Castigliano, with a little lace jacket, and a stunning beaded Jenny Packham.
Then the dress hunt came back down South. The first dress shop I went with my Mum to, was Teokath in Wimbledon. They had some beautiful dresses, but none of them really felt like me, a lot of the dresses felt very stiff and restrictive, and I just couldn't imagine wearing them all day. I don't think I could pull of the classic elegance that other brides seem to manage so effortlessly. Corsets made me feel hot, bothered and grumpy!
The same afternoon we dashed over to Winchester to visit Exquisite Bridal Couture. And this, it turned out, is where I would find my dress. Elaine had a completely different style to any assistant I've encountered. Rather than letting me pick from the rails, she sent me off into the changing room, and brought in a selection of dresses I probably would never have gone for myself. On her arm was a selection that included David Fielden, Catherine Deane, and Claire Pettibone. The dress I've chosen turned out to be one of these dresses!
Of course I didn't decide on it the first visit. Being entirely unable to commit straight away to such a big decision, and slightly terrified of making the wrong choice, I visited another couple of boutiques first. One of them, The Farnham Boutique, very temptingly designed and made the dresses in the very town I grew up in. I love their dresses, but I just couldn't get the other dress out of my mind.
So back we went to Winchester, this time with my brother's girlfriend Nikki in tow for a second opinion, and I tried on the dress again. Then some other dresses, then the dress again. When I was in it I didn't want to take it off. Nothing else made me feel the same. I wanted to walk around and dance in it.
I left the shop on a huge high. We treated ourselves to a celebratory dress-finding lunch at a gorgeous little bistro and ordered Prosecco. Bubbles were definitely called for! I couldn't stop grinning all day, and even now, after a few days cooling off time, I still find myself smiling every time I think about it.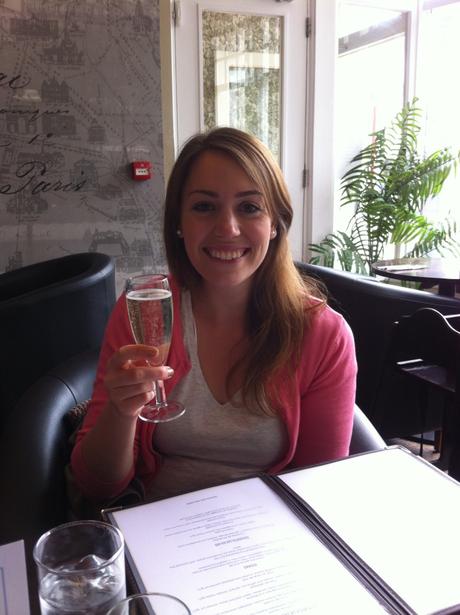 Bubbles!
I don't want to give too many dress details away, except to say I absolutely love it! Now I just have to resign myself to the 15 month long wait until I can wear it!
Jennie xx