I use Grammarly's plagiarism checker because I would hate to unintentionally echo someone else's thoughts in my blog. This is my blog for my thoughts and opinions, not someone else's (except in the comments).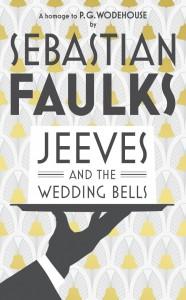 Jeeves and the Wedding Bells by Sebastian Faulks
Bertie Wooster (a young man about town) and his butler Jeeves (the very model of the modern manservant)—return in their first new novel in nearly forty years: Jeeves and the Wedding Bells by Sebastian Faulks.

P.G. Wodehouse documented the lives of the inimitable Jeeves and Wooster for nearly sixty years, from their first appearance in 1915 (Extricating Young Gussie) to his final completed novel (Aunts Aren't Gentlemen) in 1974. These two were the finest creations of a novelist widely proclaimed to be the finest comic English writer by critics and fans alike.

Now, forty years later, Bertie and Jeeves return in a hilarious affair of mix-ups and mishaps. With the approval of the Wodehouse estate, acclaimed novelist Sebastian Faulks brings these two back to life for their legion of fans.

Bertie, nursing a bit of heartbreak over the recent engagement of one Georgina Meadowes to someone not named Wooster, agrees to help his old friend Woody Beeching, whose own romance is foundering. That this means an outing to Dorset, away from an impending visit from Aunt Agatha, is merely an extra benefit.

Almost immediately, things go awry and the simple plan quickly becomes complicated. Jeeves ends up impersonating one Lord Etringham, while Bertie pretends to be Jeeves' manservant Wilberforce,— and this all happens under the same roof as the now affianced Ms. Meadowes.

~ Synopsis from goodreads
Before starting this review, I want to state upfront that I am the hugest fan of P.G.Wodehouse. I can confidently state that I have read every book he's written (and he's written many), and a few more than once. In fact, Wodehouse is an author I always revert to when I am in need of some light-hearted fun.
So how does a book claiming to be a homage to P.G.Wodehouse fare?
Surprisingly, quite well.
The author's name Sebastian Faulks seemed vaguely familiar to me. A quick search through the blog archives revealed why. He has written a Bond book as well.
I went into Jeeves and the Wedding Bells with some misgivings. How can a guy who writes for Bond write for Wodehouse? The two writing styles couldn't be more different. But here Faulks managed to surprise me with his versatility. He got Wodehouse's voice spot on.
Sure, there are a couple of anomalies – references to Wooster's parents, and World War 1 seem out-of-place in a typical Wodehousian world. But these changes to the template actually work quite well. Wooster comes across more human and less of a caricature, and I liked Wooster 2.0 very, very much indeed.
If there is a place this book falters a bit, it is in the story. A proper Wodehouse plot is extremely convoluted, with numerous threads that all need to be tied neatly at the end.
In this book, however, the plot is fairly simple and untangled easily without Jeeves having to tax his intellect too much.
In spite of this deficiency, I liked the book a lot. It's really funny where it should be while at the same time adding a little something (emotions! back story!) to the Wodehouse formula.
In short, this is a surprisingly good homage that I can recommend to Wodehouse lovers in need of a little light and sunshine in their lives.
Huge thanks to Penguin Random House for sending this book in exchange for an honest review.
Disclosure
This post has been sponsored by Grammarly. All opinions and ideas expressed here are my own.