Despite finally getting rid of its homosexual-pandering CEO Ron Johnson nearly 4 months ago, JCPenney's fortunes are still sinking.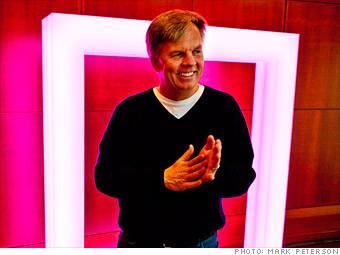 Ron Johnson
When Johnson took over as JCP's CEO in November 2011, he decided to "improve" the family store by pandering to homosexuals — a move that, on the grounds of simple market calculation, isn't smart. In April 2011, Williams Institute, a gay and lesbian think tank at UCLA School of Law, released a study that found Americans grossly overestimate the number of homosexuals in the United States. Instead of the common misconception that 25% of the US population are gay or lesbian, the truth is that it's probably less than 2 percent.
First, Johnson made Ellen Degeneres the company's spokeslesbian. Then JC Penney featured a lesbian couple in its Mother's Day promotion, followed by a Father's Day ad depicting two gay men and their children.
James Covert reports for the New York Post, July 31, 2013, that CIT — the largest commercial lender in the US apparel industry — has abruptly stopped supporting deliveries from smaller manufacturers to Penney stores.
Penney shares plunged more than 10% on The Post's report, closing at $14.60.
Insiders speculated that CIT got skittish after getting a peek at Penney's financials, which have been deteriorating as the department store scrambles to recover from a botched turnaround bid under former CEO Ron Johnson.
"CIT met with (Penney officials) yesterday," according to one source close to the situation. "I assume they got a thorough briefing and didn't like what they heard."
A second source, however, speculated that the tightening by CIT was more of an opportunistic move to raise what it charges to finance Penney accounts.
CIT's policy move — which only affects future orders and doesn't impact deliveries that have already been scheduled — comes despite an aggressive financing deal this spring arranged by Goldman Sachs, which raised $1.75 billion in cash backed by Penney's real estate.
Penney CEO Mike Ullman, who took the reins from Johnson in April, has moved to reintroduce the traditional sales events and coupons that Johnson had scrapped in favor of a disastrous flat pricing strategy. But sales this summer have been "lackluster," according to one executive at a major Penney supplier.
Penney, which stopped reporting monthly sales last year under Johnson, is slated to report second-quarter earnings next month.
David Tawil, co-founder at Maglan Capital, said CIT's move "just shows the growing concern over performance at JCPenney since they are not giving out monthly sales data anymore. No one wants to wait until the earnings come out to make decisions for merchandise that's shipping out for Decenber and further out."
Tawil and other industry experts said the practical effect of CIT's clampdown on Penney's inventory flow could be modest, as the bulk of Penney's stores are supplied by apparel giants such as PVH, Jones Group and VF Corp.
"The upshot could be that JCP ends up dealing without CIT," according to a source, noting that the retailer would likely be reluctant to extend collateral to resolve the situation. "They can just start working directly with the suppliers, paying them a little faster."
~Eowyn