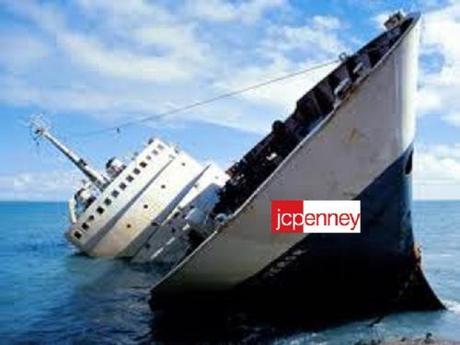 We saw this coming, ever since JCPenney CEO Ron Johnson's stupid policy to court homosexuals by hiring Ellen Degeneris to be the family store's spokeslesbian, and featuring lesbians (two moms) and gay men (two dads) in its Mother's Day and Father's Day ads.
Why was the policy stupid?
Because the policy alienated many Christians, who still comprise a majority of the U.S. population, whereas homosexuals are a mere 2% of the population.
Although JCPenney finally but belatedly fired Johnson, the damage was done.
Krystina Gustafson reports for CNBC, Jan. 15, 2014, that the struggling department store J.C. Penney announced today it will close 33 underperforming stores and slash 2,000 jobs, in a measure it says will generate annual savings of approximately $65 million.
Penney shares fell 0.9% to $6.95 in after-hours trading.
JCPenney CEO Myron Ullman said: "As we continue to progress toward long-term profitable growth, it is necessary to reexamine the financial performance of our store portfolio and adjust our national footprint accordingly."
Blah. Blah. Blah.
Here are the 33 stores that will be closed, arranged by the states they're in:
Alabama: Selma Mall, Selma
California: Arrow Plaza, Rancho Cucamonga
Colorado: Chapel Hills Mall, Colorado Springs
Connecticut: Meriden Square, Meriden
Florida: Lake Square Mall, Leesburg
Florida: Gulf View Square, Port Richey
Iowa: Muscatine Mall, Muscatine
Illinois: Stratford Square Mall, Bloomingdale
Illinois: Hickory Point Mall, Forsyth
Indiana: Five Points Mall, Marion
Indiana: Market Place Shopping Center, Warsaw
Maryland: The Centre at Salisbury, Salisbury
Michigan: Westwood Plaza, Marquette
Minnesota: Northland Mall, Worthington
Mississippi: Singing River Mall, Gautier
Mississippi: Natchez Mall, Natchez
Montana: Butte Plaza Shopping Center, Butte
Montana: N/A, Cut Bank
North Carolina: Vernon Park Mall, Kinston
New Jersey: Burlington Center, Burlington
New Jersey: Phillipsburg Mall, Phillipsburg
Ohio: Wayne Towne Plaza, Wooster
Pennsylvania: Exton Square Mall, Exton
Pennsylvania: Laurel Mall, Hazleton
Pennsylvania: Washington Mall, Washington
Tennessee: Northgate Mall, Chattanooga
Virginia: Bristol Mall, Bristol
Virginia: Military Circle Mall, Norfolk
Wisconsin: Forest Mall, Fond Du Lac
Wisconsin: Janesville Mall, Janesville
Wisconsin: Lincoln Plaza Center, Rhinelander
Wisconsin: Cedar Mall, Rice Lake
Wisconsin: Wausau Mall, Wausau