Earlier this month, JB Hifi launched the JB Hifi Prepaid Mobile Offer for the retail and online customers.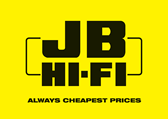 JB Hifi Prepaid Mobile Offer
The recharge offer is being made available via the Telstra network and seems to be built upon the Telstra low cost Simplicity plan.
All of the support and purchasing online works directly via the Telstra website. There are four recharge offers starting at $20, which gives you 50MB, $20 credit and call rates of 12c/min no flagfall and 12c Txt. Expiry is 30 days.
The next recharge options is $30, with 100MB data, $30 credit and 60 days expiry. Next is $50 with 200MB data, $50 call credit and 90 days. Finally we have $100 with 500MB data, $100 credit and 180 days to use it.
The offer is pretty competitive and given the low cost branding that JB Hifi already has, I would expect that it will do well. They certainly have the client base and foot traffic for it.
JB Hifi is not an MVNO, they have simply created an offer with Telstra that they can promote. Expect to see more of this from JB Hifi if it does well.