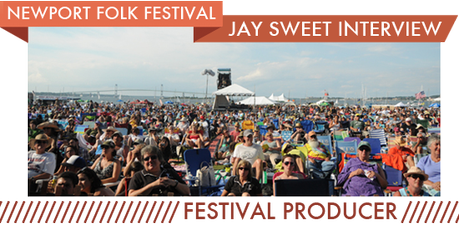 Newport is arguably one of the most historically significant music festivals in the United States. It's the place Joan Baez was introduced to the world, and, of course, where Bob Dylan changed the course of history by going electric. The Wild Honey Pie was lucky enough to sit down with the incredibly intelligent Jay Sweet for a fascinating conversation on the history and future of the festival and folk music as a whole.
The Wild Honey Pie: Tell me about the process of setting up the festival.
Jay Sweet: You know, the one thing that's different than I feel other festivals is [Newport's] selectivity. There is an inordinate amount of curation that goes into this festival. It's because the heritage has to be respected when thinking of artists that we tend to focus on: artists that are going to be lifers—that are in it for the long haul. We feel it's a continuation of a tradition that started years and years ago. And really, there are only three ways to get to play Newport Folk Festival; the first would be that you as an artist want to play Newport. Because of our budget constraints pretty much every artist that plays Newport plays for well under their normal fee. We're a non-profit, and for many, this is a bucket list type of thing. On the press white sheets for bands it will say, 'Edward Sharp has played Coachella, Lollapalooza, ACL, Bonnarro, and Newport Folk Festival. Well, one of those things is only 10,000 people a day, not 100,000 and it's amazing that this tiny festival from the tiniest state in the country will make it into a press release. So that's one, the artist has to want to play. Two, we want them to play. Third, the audience demand that they play. If the artist wants to play and the community, the folk as we call it, wants them to play—it doesn't matter if we want them to play, it's a no brainer.
TWHP: You talked a little bit about the history of the festival. How cognizant are you of the history of the festival when you are planning it versus just looking towards what you want for that year.
JS: I think that it's always in the back of your mind. It's not prominent because, especially in the last four years that I've been involved, I've really tried to learn a lot from the mentors that I've had, like George Wein who started the festival with Pete Seeger and Robert Jones the producer who's really the guy that I'm following in the footsteps of. So, it's always on my mind and whenever I make a decision I go to those guys. They don't make me have to validate my choice, but they definitely are amazing sound boarding because I can say, "You know I really think The Civil Wars" have a lot of Johnny Cash and June Carter and that they're really amazing song writers." And they'll say things like "Oh, I remember when Johnny and June came" and you know, tell me about what it was like when they came, and how important it was and what it meant to their career. And you know, the artists we have, I really don't think they are past artists. They are artists taking it a step further. I try to focus on artists that are taking the American song and moving it, pushing it forward.
TWHP: How do you think the festival has evolved in the more than 50 years it's been going?
JS: I think it's gone in cycles, and I think it's really a place where artists tend to take chances. Obviously there's the most famous one that everybody knows of: the Johnny Cash, the Janis Joplin the Bob Dylan, and then there's the Allison Krauss and the Indigo Girls and Ani DiFranco. You know, not many people would put a female fronted, lesbian artist up at the front, but then Ani DiFranco came with her freak folk. We really have been a very, very safe environment for artists to take a lot of chances. And it can also be very political. Obviously starting with Pete Seeger, the original black listed, independent, finger to the man, kind of artists all the way to the Steve Earle's of the world and now with Billy Bragg and Tom Morello. All theses artists speak about social injustices and other festivals wouldn't take the heat. It sounds crazy now, but even 10-15 years ago, when the major label industry was still the power house, this place would always take the misfits and the political discourse and allow it; give it a stage, give it a spot light and a microphone. And I think that's the one tangible thing that keeps evolving.
TWHP: In terms of modern folk music and modern artists, who do you see paving the way?
JS: That's a tough question. I really think that The Avett Brothers are doing amazing things. I think they're just incredible. I think The Decembrists really make it ok to be smart. Um, I think Gillian Welch is probably the foremost torchbearer, sounding like she could be from any time period. I mean she could be now all the way back, you know. All the way to say, The Low Anthem, I really like where they have gone. I think those are artists just doing because they can't do anything else, they are artists that are going to be around.
TWHP: Is there anybody in particular you are really looking forward to at this year's festival?
JS: Oh, gee. I am excited to see Middle Brother, you know, I love the collaborative efforts. Personally, I am very big on collaboration. It's good to have M. Ward back, it's good to have Tegan and Sara coming for the first time. They are playing their only date in America this whole tour at Newport. Those are some of the obvious names. I am really excited for River City Extension to come, and when I saw them they kind of blew me away. I'm also really excited to see PS 22 on the same day as Freelance Whales. To be honest, I'm not really excited about a band but the possibilities of collaboration. To me it's all about collaboration. I think of the 32 artists we had play last year, 12 of them ended up playing with another's set. And Yim Yames plated 6 sets. Andrew Bird sat in on 3 other sets and you know this is they type of thing that simply doesn't happen at other festivals. That's what people really come to appreciate and expect at Newport.
TWHP: Are there any dream headliners that you would like to one day see play the festival?
JS: It's funny, you are only the second person to ever ask me this. I'll tell you who I think it's a shame has not played—I think Eddie Vedder not playing, I think Beck being an original solo acoustic artist who was definitely carrying the flag for alternative folk for a while. I think not having Bruce Springsteen even though he has an album called The Pete Seeger Sessions has never decided to come- even with The Ghost of Tom Joad he didn't come. And then there's the most famous one, Neil Young, who was supposed to play with Buffalo Springfield in 1967 and two weeks before they were supposed to play somebody got laryngitis in the band and they cancelled.
TWHP: Folk music and especially Newport when it started was as much about the political movement as the music- or that was a very significant part of it- is that still a major part of the festival today and do you think that's still a part of folk music today?
JS: I do. I mean, the idea behind the original festival was that you can't have a festival that is just about political music. People think it's too polarizing. What the festival always did a good job of was saying, we're going to give just the same stage to someone who is singing about civil rights as someone who is singing about love. You know a chain gang, an actual prison chain gang, was chopping a log and singing old field songs in unison and then right after you have The Kingston Trio, the most popular group of the era. I think that's the blueprint- and I think political music is still very prevalent. Look, you've had Brett Dennen who can be very active, you've got Tom Morello and Billy Bragg. Once we had Brett Dennen, Pete Seeger, Tom Morello and Billy Bragg all sharing the same stage. I think it's important that there are a lot of people still saying what needs to be said, but I think what's really necessary is that they try to stretch the form. My definition of folk music is pretty broad to the point where I kind of always paraphrase Louis Armstrong who said, "It's all folk, I ain't never heard a horse sing no song." I think Bob Marley is folk music as much as I think Odetta or gospel is folk music, or the New Orleans style of Doctor John, because it comes from a very specific place and has a specific style. Folk is a much bigger umbrella term. It's not just a guy or a girl with a guitar signing a song about the past. It's a much wider term. The only thing that isn't folk music to me is pop music. I think folk means songs that are not just built to be one hit wonders. I think Human League or Soft Cell and think, "oh, that's a great song" but there is no way that band is going to have a 20-year career.