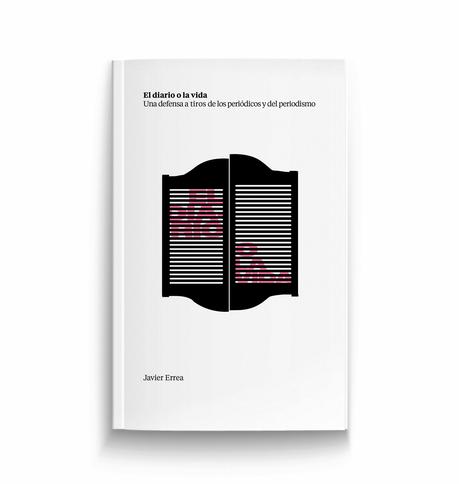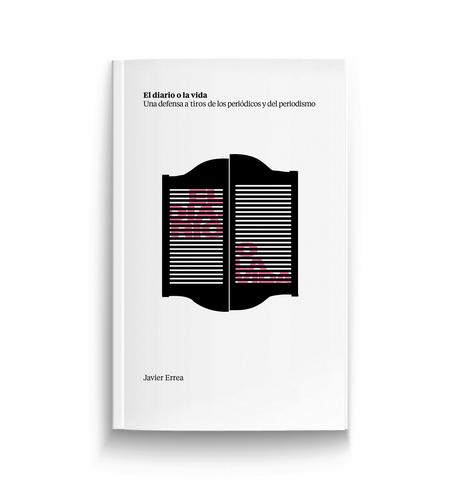 El diario o la vida
Una defense a tiros de los periodicos y del periodismo**
**
Translation:
Newspapers or death
Bullets to the rescue of newspapers and journalism
302 pages
Javier Errea's book is a love letter to newspapers, the type that are printed on newsprint, with the smell of ink filling the room and the black ink staying on your fingertips and on your sheets if you are reading in bed, which Javier would tend to prefer.  Javier's newspapers are never too far from the smell of aromatic coffee.  They have a beginning and an end which one can touch. Yet, they could be 16 or 120 pages, depending on how much they need to tell us on a given day.
Javier Errea's book is also like one of those notes written by adolescents on lined school notebook sheets, that one would fold and pass to a girl two seats to the left while the teacher is talking in the front of the room.  It's as if he whispers into our ears, interrupting himself to tell us how the Taj Mahal impreseed him ("its beauty is from another world"), how in Jujuy (Argentina) he learned that there are 8 types of corn, and, the best, when he draws a comparison between a designer's grid and the constantly flowing water of Brazil's Iguazu Falls  ("nature does not believe in grids. The water runs freely everywhere"). And, yes,  Mexico is "the most beautiful word I have ever heard.".
Between those heartfelt love letters and the sweet adolescent I-love-the-world notes, Javier shares his passion for life, for moments of contemplation (usually while flying above the clouds, which is a reason he laments that more airlines are proud to advertise they have wifi connections in the sky), and his admiration of contrasting societies, from Stockholm's minimalist elegance to Kerala's overabundance of everything "including newspaper readers."  "What envy," he writes.
There is only one visual image in Javier's book—the cover. It says it all. The cover image evokes memories of a  robust and heavily armed John Wayne as he pushes the door of the High Noon Corral, carrying two guns in his hands and ready to shoot anyone messing up with him.  In the old westerns, the first bullets usually aimed at a glass or a bottle, for effect.
In Javier's book,once we push those saloon doors we enter 302 pages of joyful accounts and what or who gets shot in this saloon is anyone who promotes the death of printed newspapers.  Prime targets: JeffJarvis and Arianna Huffington who "go around pretending to be gurus, while they have done nothing in life but talk".  And, Twitter, of course: "With Twitter one does not speak. One does not listen. In Twitter all we do is to shoot cannons and try to set records for followers. Pure vanity."

Where are the Errea designs?
Those expecting another design book full of images of pretty pages will be disappointed.  The richness of this book is in the observations. Javier wants you to read, to absorb, to experience good traditional storytelling, another reason why Javier Errea is such a successful designer.  He is first a journalist with a clear understanding that design can't do much unless the content is there. In his own writing, Javier discusses aesthetics and content in the same breath.  The two are never too far apart here.
Highlights of the book
Long Texts
"Everytime that I write something in my blog, my former classmates laugh at me and tell me that I suffer from word incontinence, that I don't understand today's styles. I suppose they are right.  In the era of Twitter, to limit yourself to 140 characters. Makes me impatient. Either I am not in agreement, or I simply don't like it."

The Internet
"The problem with the Internet is that it opens so many doors that one does not know which one to choose. And that is a very bad sensation, as it paralyzes or disperses the reader."

Unplugged
"To be forever connected does not make us better informed people. It makes us be obsessed with the connection. Without any doubt, over information is the same as misinformation….I must add that the 24/7 of news dispensing that many organizations are involved with has nothing to do with journalism."
Utopia and the ideal newspaper
"Tomorrow is Monday. I would love to find my newspaper, as always on the little mat outside my door, with a message that says: Today we have nothing worth telling. Have a good day. I would just proceed to take my shower.

"I would then talk to my colleagues in the office about the fact that the newspaper had no news. It would not occur to me to connect to the Internet to find out if this was true. But, Tuesday, that same newspaper of mine could have a message like this: nothing in international today, nothing in business news, but, alas, in the local section we have a story that will leave you with your mouth open.

"Yes, my ideal newspaper could have 16 pages one day and 120 another day.

"I imagine a newspaper that is alert to silence, mysterious and ecological. A newspaper that waits for the words to come, because they are deserving."

Así me imagino un diario: atento al silencio, misterioso y ecológico. Un diario que espera a que lleguen las palabras porque las merece.
Honoring those art directors
Errea admits that in all of his projects he has been fortunate to find the best art directors, and it is the chemistry that he has established with them that has led to his best projects. He proceeds to name all those art directors.

Paralysis and newspapers
"Newspapers have become like static statues in how predictable they are. They don't move one millimeter forward, I don't know if this is because they can't or because they don't know how, or because they simply are not interested."
About USA Today
"For me, USA Today was born without a soul.  It always appeared to me like a newspaper kit, formulaic, canned and cold, cold, cold.
"And suddenly USA Today has changed, substituting the square logo for a circle. Now the most studied newspaper in the world has lost its face."
Errea relates the circle to the worst that designers can do—and which I personally describe as " design masturbation"——or the frivolity that designers sometimes engage in, "defending the indefensible, pushing their idea, leaving their fingerprint beyond the most tangible values and common sense."

The Day Superman Left the Daily Planet
October 23, 2012 was a day that Errea lamented.  It was the day Superman left The Daily Planet to simply work in digital journalism.
"Oh, no," writes Errea. "This is all we needed."

A newspaper and its mission
"A newspaper serves to not stay quiet. A newspaper serves to arm itself with courage. A newspaper serves to decide. To get wet. And, if not, it's meaningless. It should never be lukewarm."
What constitutes innovation?
"Innovation is such a tired word in its use. I would add that it has lost its prestige. Every company, every government, all proceedings are "innovative", or so they say they are.  What is truly to innovate? The Metro of London has been triply innovative. There is an example."

On Typography
"One can tell sad stories with sad letters, and one can tell sad stories with letters that imply optimism. It would not be the same, but it could be.  There are as many styles of letters as there are moods.  IN any case, a newspaper owes much to its typography."

Stories
"The story: the most valuable raw material that a journalist can and should look for with all his might."

Good design
"Good design is clean design, which is the same as saying simple design, that which does not hide behind fireworks.  When the raw material is of quality, the only thing that readers ask of the newspaper is not to sprinkle it too much. Don't cover it with spices and sauces."
Javier the Poynter Fellow
Javier honors me with several mentions in this book. I first met Javier when he was a fellow at The Poynter Institute for Media Studies. He is now a teacher himself, so I don't have to explain to him the immense pride that I feel as I have followed his stellar career and now as I have read his engaging book.  Students like Javier Errea put diamonds on the crown of a teacher. My own crown shines brighter today because of Javier. For that, I thank you Javier. 
Eternamente agradecido y suerte con el libro.
(Forever grateful and good luck with the book!)
Coming tomorrow: an interview with designer/author Javier Errea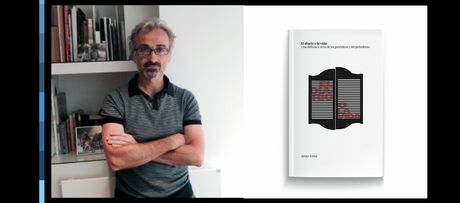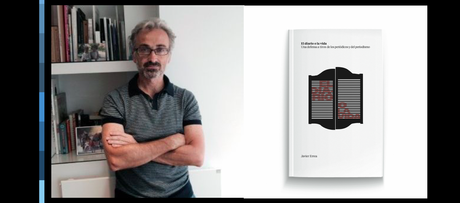 TheMarioBlog post #2070
Please enable JavaScript to view the
comments powered by Disqus.
comments powered by

Disqus