Interviews
87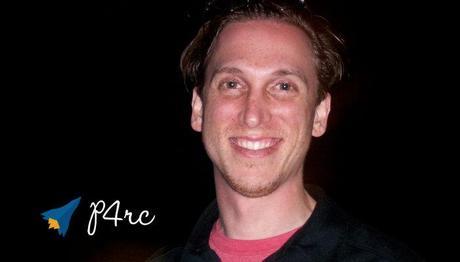 0 Flares
Twitter
0
">
Facebook
0
Google+
0
">
LinkedIn
0
">
Pin It Share
0
">
Buffer
0
Buffer">
Reddit
0
">
Email
--
Email to a friend">
0 Flares
×
Today we meet Jason Seldon the founder of P4RC, a service that allows mobile app and games to builds private-label loyalty programs that reward users with real prizes.
Jason is a serial entrepreneur and proud member of the Young Entrepreneur Council (YEC). He recently shared his advice on startup dedication and perseverance on YEC's Startup Collective community.
Q:
Please tell us a little bit about your company – what is P4RC all about?
P4RC builds private-label loyalty platforms for mobile apps and games. Our solution is similar to real-world redemption games – like Skeeball – where play is rewarded with prizes. Over the past couple years, we built a network of 400+ games, which proved that our product works extremely well to significantly increase user engagement, retention, cross-promotion and monetization. On average, we generate 55% uplift in total days of app use, with uplift as high as 1,000% observed. Additionally, 17% of users are successfully cross-promoted to another title. So we deliver both uplift in revenue and as well as savings in user acquisition costs for users of our product.
Q:
Please tell us a little bit about your background and how you started your company?
In 2010, I founded a mobile game start-up called Eye Interactive. We released 4 titles that got around 1.5 million total downloads, but the market was quickly shifting from paid apps to free-to-play titles. In that new freemium app market, developers only make money by acquiring engaged users that can be monetized via ads & in-app purchases. However, user engagement is a significant challenge. Most users don't make in-app purchases until they have launched an app at least ten times, but one-quarter of apps are used only once after download. As I was thinking about that challenge, I noticed that today's real world arcades almost exclusively include redemption games that deliver prize tickets to the user. As this was a highly successful model for getting users to spend more time and money in real-world arcades, my belief was that we could apply the same game mechanics to freemium mobile apps. So we launched P4RC to deliver that solution to mobile developers.
Q:
What are some of the projects you are working on right now?
We have now expanded our offering beyond the P4RC network to include a new private-label SaaS product, which allows us to build custom loyalty platforms for individual developers and publishers that include only their brand, their apps, and the rewards that they choose. So we will be launching some of those private networks for our customers very soon.
Q:
What are your plans for the future, how do you plan to grow this company?
We are currently building up the sales and marketing side of our business to start selling our new SaaS product.  So we are now raising a new round of funding to support this.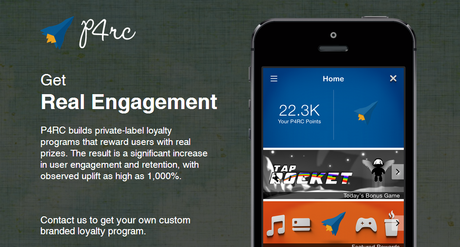 Q:
What were the top 3 mistakes or lessons learned starting your business?
In the founding of our business, I made a couple mistakes with respect to equity. In the initial enthusiasm with early partners, equity flowed generously to all members of the founding team, but the reality was that not everyone was ready to be a founder. Eventually, those who were truly committed stepped up while others went away, but I then needed to clean up the cap table and claw back equity, which can be a fairly painful process.  So the lesson is that you need to make sure that all members of the founding team are ready to put their time and money on the line in a meaningful way before the equity split is decided.
The second mistake was closely related to the first as instead of using stock options, the initial founding team was given actual stock. While this may seem like a way to make everyone feel like partners, it makes it quite a bit more complicated if people do leave the company. So stock options are a far easier from a management perspective.
I would say that a third initial mistake was a product focus on function over form. Even though many people talk about just getting a minimum viable product out there, products are still judged fairly harshly based on how they look regardless of how well they work. So in hindsight, I should have also spent a bit more time and money on the aesthetics of our first product. We did learn our lesson, however, and for our new SaaS product, we hired a professional design firm to develop a highly attractive look and feel.
Q:
Please share some advice for new entrepreneurs, someone who's just starting out.
Find vendors, such as design and development firms, that will take some portion of their payment in equity.  Startups need partners willing to have some skin in the game. This will help align their interests with yours while also reducing your cash burn. As a result, your vendors may go the extra mile to help you succeed and are less likely to nickel and dime you on cost.
Q:
Let's say that I am starting my own version of (P4RC )what advice would you give me?
Build a great team. If your business is successful, there will be many who will try to copy it. The best way to ensure you can stay ahead of such competition is to build a great team. People can copy your product, but they will never be able to replicate your team.
Q:
What are the top 3 online tools and resources you're currently using to grow your company?
A few I have used include:
(1) - Fiverr.com: I use Fiverr as an extension of my marketing team.  I have had many creative assets (such as this product video: ) produced by vendors on Fiverr.
(2) - Squarespace: I have used Squarespace to set up websites on several occasions.  It is fast, inexpensive, and the end results are very attractive.
(3) - Quickbooks online: This is a great bookkeeping solution for start-ups.  It is inexpensive, easy to use and can be upgraded as you grow your business.
Q:
What's your definition of success?
For a first-time entrepreneur, success is defined by a liquidity event with a solid ROI for your investors (even if the only investor is you).  This is the only way to truly establish your credibility as an entrepreneur.  After your first venture, the definition of success can change to loftier goals that push the human race forward, but first-time entrepreneurs need to focus on building the kind of credibility that only a successful exit can bring.
Q:
What are three books you recommend entrepreneurs to read?
(1) – "The Lean Startup" by Eric Ries
(2) – "Creativity, Inc.: Overcoming the Unseen Forces That Stand in the Way of True Inspiration" by Ed Catmull
(3) – "The Innovator's Dilemma: The Revolutionary Book That Will Change the Way You Do Business" by Clayton M. Christensen
Q:
What is your favorite entrepreneurship quote?
"You have to have a lot of passion for what you are doing because it is so hard… if you don't, any rational person would give up." – Steve Jobs
Q:
How can our community get in touch with you?
You can find me on twitter @jaseldon or on LinkedIn
0 Flares
Twitter
0
">
Facebook
0
Google+
0
">
LinkedIn
0
">
Pin It Share
0
Buffer">
Reddit
0
">
Email
--
Email to a friend">
0 Flares
×
The following two tabs change content below.




Co-Founder
at
Triplefy
ALL STARTUPS - Learning and Sharing Business IDEAS, ADVICE & MOTIVATION "BIG THINGS Have Small Beginnings." - You're invited to connect with me on LinkedIn email: herby @ billionsuccess.com




Latest posts by Herby Fabius (see all)
The Founder's Dictionary: Buzzwords Every Entrepreneur Should Know

- 05/11/2014

Paul Moskowitz Founder Boxxify: Never Miss a Delivery Again

- 05/03/2014