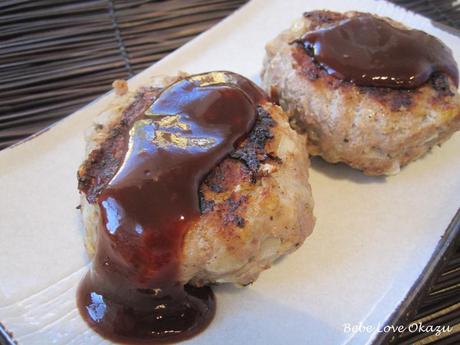 It's day three of the 2012 London Olympics and I'm slightly at a loss for words. Perhaps it's exhaustion from our busy weekend (which I will happily share in a separate post), or because our DVR wasn't working Sunday night when I couldn't stay up to watch swimming, or perhaps I'm feeling a bit off because my left knee is having unusual joint issues. Instead of my weekly gym date with my BFF Monday night, I opted to be a couch potato, rest my uncooperative knee, watch the Olympics and look through my inventory of un-posted, yet not forgotten food photos.
It's been a while since I shared a favorite childhood dish so I am sharing my Mom's Japanese hambaagu (that's Jenglish for hamburger). Japanese hambaagu is a classic Japanese family dish. I'm certain that every (non-vegetarian) kid in Japan has eaten hambaagu at one time or another. It's one of those dishes you find on the menu of every family restaurant or kissaten (cafe) in Japan, or a Japanese-American home in the U.S.
Oh, and just a sidebar, but if you go to a Japanese restaurant in the U.S. and they have "hamburg" on the menu. It's not misspelled. It's another term for referring to Japanese "hambaagu". Gotta love Jenglish!
The only difference from the hambaagu recipe posted below and the one my Mom used to make for us is that I use ground turkey meat, instead of ground beef, and I let the hambaagu steam just a little. Japanese hambaagu is a Japanese version of an American hamburger, yet without the bun, mayo and vegetables. A more accurate translation of the Japanese hambaagu, is meatloaf. Yes, I think hambaagu is more like individual meatloaf patties.
My Mom serves hambaagu with gohan (rice), miso shiru (miso soup recipe), a cooked vegetable such as broccoli or cauliflower gomaae (sesame dressing), and a salad. For our hambaagu sauce, we usually made it ourself, which was a mixture of our preferred amount of ketchup and okonomiyaki sauce or tonkatsu sauce. My Dad prefers his hambaagu with black pepper and mayonnaise. He likes to keep things real!
Japanese Hambaagu (Hamburger) Print
Recipe type:
Main
Author:
Bebe Love Okazu
Serves:
4
Ingredients
1/2 small onion, chopped
1 egg
1 pound ground turkey
1 slice bread (I use "shokupan" – Japanese sandwich bread) or 1/2 cup panko (Japanese bread crumbs)
1 tablespoon milk
Salt and pepper
1/4 cup okonomiyaki sauce (or tonkatsu sauce)
2 – 3 tablespoons ketchup
Directions
In a medium bowl combine: onion, egg, ground turkey, bread crumbs, milk, salt and pepper. Using your hands, mix until well-incorporated.
Make patties about 3/4 inch thick and 2 to 3 inches in diameter.
Heat olive oil on medium-high heat in a large pan with lid. Cook patties for about 5 minutes on each side. Pour a little water into the pan, just enough to cover the pan, and close with lid to steam the patty (about 2 minutes) until the water evaporates.
In a small bowl mix sauce ingredients: ketchup and okonomiyaki sauce or tonkatsu sauce. Or serve with ketchup, soy sauce or other condiment of choice on the side.
2.2.8