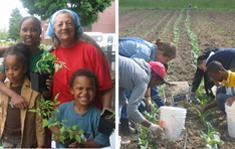 Under the mantra "bringing hope to people by growing and sharing healthy food, learning and teaching skills, and empowering community leadership," the young farmers who take part in a unique program are hoping it brings a them a little cash as well. Young people from Portland, Oregon are getting paid by Janus Food Works to farm and sell their produce. The program teaches about nature while also getting people out of their homes with hands on learning. One teenager in the video below says she now really looks at the vegetables in the super market when she goes shopping and is more careful in general about what she eats. This kind of program may help reverse the growing gap in knowledge about how food is produced in the modern age.
Janus Youth Programs has over 20 programs in addition to Food Works and has "operated community-based programs for children, youth and families in Oregon and Washington since 1972."
Check out the video below from Grist to see the young farmers working in the fields and the meal that was eventually served with the food they harvested:
The Perennial Plate Episode 67: Kids at a Farm from Daniel Klein on Vimeo.
[Image]