January is one of those months that virtually no-one is sad to see the back of. I've actually been enjoying January! With the exception of some minor things, it's actually been a stress free month - I hope it has been for you too! I was able to get January: Nailed this year with thanks to some lovely nail colours that I either bought or found at the bottom of my insane collection.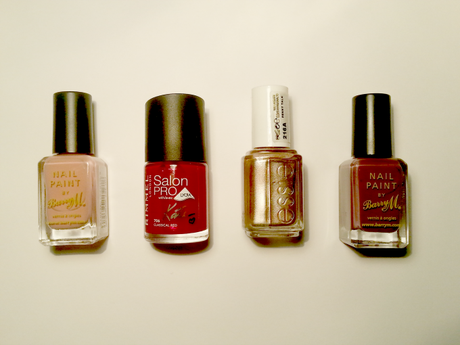 From left to right is Barry M "Ballerina", Rimmel Kate Moss Collection in "Classical Red", Barry M "Vintage Violet" and Essie "Penny Talk".
Barry M nail polishes are such good value for money (£3.95 for a regular shade). Normally I buy the Gelly Hi Shine polishes because I just love the finish and lasting power of those, but I decided to buy these original colours because the shades are so pretty.
'Ballerina' is a dusky pink color and "Vintage Violet" is a purple that I literally have never seen before. It's more like a mauve type colour, again my color explanations are rubbish so apologies for that! I don't have either shade in my collection so obviously, I had to have them - I've been wearing them throughout January and I just love them. Have you tried them? do you prefer the original ones to the gelly hi shine or vice versa? I still love the gelly Hi shine ones personally.
Kate Moss designed a range of nail polishes for Rimmel which includes "Original Red". I am a red nails and lips kinda gal - I just love the Hollywood glamour feeling I get from wearing red and so this deep red shade was right up my street. It lasted a good 2/3 days without chipping but I was more impressed with the shade rather than the lasting power. (It matches in with "Eva's Red" L'oreal lipstick just FYI).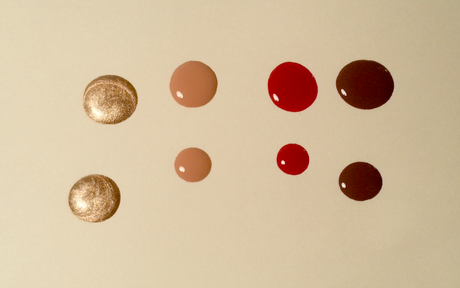 Last but by no means is an Essie shade that I have been loving for almost two years, yes you read that right - two years! I am not a fan of metallic shades at all if I'm honest but this coppery rose gold toned nail polish is just super pretty. I don't think it really goes well with my skintone but the polish is so pretty that I just don't care. Essie polishes are definitely some of my favorite - they're so pigmented and last ages. I love the shape of the bottle too - it's just square, but I like it!.
So I had January Nailed this year, I really stepped up my nail A game this month because my nails were such a disaster zone over Winter (again, dramatic). What polishes have you been loving in January?
All My Love
Holly
xxxxxxx