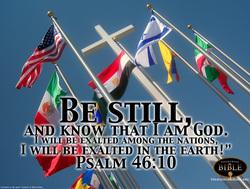 January 5th BIBLE READING
Genesis 11:1-13:4, Matthew 5:1-26
Psalms 5:1-12, Proverbs 1:24-28
"Listen to my cry for help, my King and my God, for I pray to no one but you.  Listen to my voice in the morning, Lord.  Each morning I bring my requests to you and wait expectantly."  Psalm 5:2-3
Wow, are we crying out each morning to our Lord?  Let us begin our day with God on our mind, in our hearts, and His name in our mouth.  We can arise as His children expecting, believing, and staying in position to receive the 'daily bread' that He has for us and our family.  
Today's Declaration:  Lord, we stand firm trusting in you and expecting your best for this day and every day in the name of Christ Jesus!
Wait for God's Best and Don't Settle for Less!
---