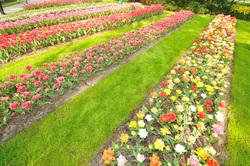 BIBLE READING: Genesis 24:52-26:16, Matthew 8:18-34
Psalm 10:1-15, and Proverbs 3:7-8
How big is your faith?  Well, the good news is, we don't need much faith to move mountains?  Your faith level even if its as small as a mustard seed can do great things for your life and the Kingdom of God.  The key to us having
mountain moving
faith is watering our faith with the word and starving the weed of doubts.  It's a powerful prayer that I found in the bible and whenever I feel like I'm wavering, I simply pray: 'Lord, help my unbelief' (Mark 9:24).   
Today, I declare that we will believe all of what God says to us and refuse to receive any lies the enemy tries to send our way.  In fact, we will just declare the opposite!  If that enemy says, we are weak, then we will declare that we are strong. If the enemy says we are poor and will never have anything, then we will declare that we are rich and lack nothing.  We declare what God says about us!  So go ahead and water your garden of faith today by reading the powerful and living word of God!
Wait For God's Best and Never Settle for Less!
---