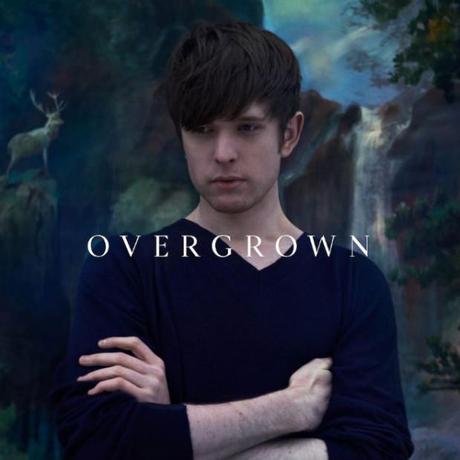 James Blake has come a long way since peppering the underground with jittery beats and R&B samples bent into a variety of shapes. His initial EPs got his name out there and gave us insight as to what he could do, and his self-titled debut built upon this, gaining him both critical acclaim and a broadened appeal with the music-consuming public. Two years later, the experimental singer-songwriter has returned with his sophomore record, an evolved body of work which shows us that the rabbit hole goes deeper than we first thought.
Although some of the icy aesthetic that dominated much of his debut is still present within his musical wheelhouse, Overgrown is the product of an artist who is becoming more versatile. The compositions that make up the album aren't as spaced out and as sparse as those of its predecessor, there's more interplay between the separate segments, and the various sounds bridge and intertwine with more fluidity and strength. Where previously Blake's work populated seperate ends of the spectrum, pitting a skimmed minimalism against a dense, heavily-layered style, album number two sees his work move further towards the center of the tonal scale, although it still stretches out and touches base at both ends.
Although it doesn't undergo a complete overhaul, Overgrown definitely begins to melt the isolated shell Blake's work had previously encased itself in. This not only draws listeners in closer to both the music and the musician, but sees the young musician add a more colorful and cosmic overcoat to his sound. However, there are still strong traces of Blake's signature spectral and frosty style scattered throughout the album, evidenced especially in the strikingly sombre piano and manipulated vocals of the haunting and beautifully melancholic "Dim."
The experimental musician finds himself opening up and embracing a different set of influences. The masterful "Digital Lion" (produced by Brian Eno) is not only one of Blake's best tracks to date, but his mix of dub roots and glitchy, mechanized industrial music carves out a door of pure opportunity for further exploration moving forward. His colloboration with Wu Tang Clan legend RZA not only provides another of the albums highlights, but is another example of the interesting places Blake's music can travel to when allowed to breathe and stylistically mutate.
Essentially, that's what makes Overgrown feel like a step forward for Blake. Not only has he once again captured and mastered an authentically emotive style of music, but he's also managed to add more definition and depth than before. If Overgrown is an improvement on a striking and effective first effort, then I for one cant wait to see where this young pioneer goes from here.