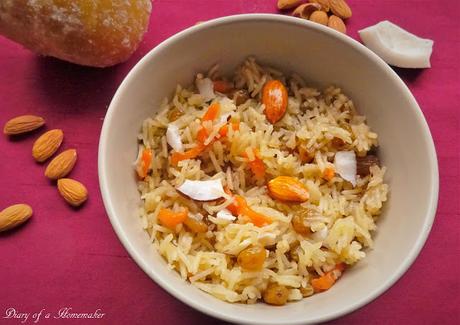 There are some of my favorite winter recipes that are rotated as a part of my weekly dessert menu. One of them is Gajar Ka Halwa and the second one is Jaggery and Carrot Rice aka Gur Walay Chawal. Sweetened with jaggery and studded with nuts and dried fruit this rustic Punjabi dish is my go to dessert throughout the cold winter months.
Spring is just around the corner so this is a farewell post for winter dessert recipe. I had carrot and jaggery rice for the first time at my friend's house. My mother never made Gur Walay Chawal so I had to ask dear friend for the recipe, Unlike some people who don't want to share their recipes with anyone, she gladly passed the recipe over to me.
 Wholesome and decadent Carrot and Jaggery rice is infused with jaggery(gur) and fragrant spices. Carrots add an interesting element of flavor and color to the gur walay chawal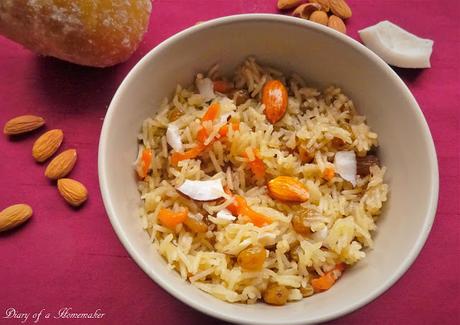 You can add your favorite dried fruit and nuts for extra flavor and nutrition. I like to add coconut flakes, almonds, raisins and a splash of rose water, these ingredients  combined together create a multisensory reward for the taste buds.
Prep Time:10 minutes☻     Cooking Time: 1 hr☻     Serves:8☻     Cuisine: Pakistani Dessert
IngredientsQuantity
banaspati rice400g
jaggery350g
ghee or vegetable oil3 tbsp
green cardamom split open1 tsp
fennel seeds1 tsp
cloves 1 tsp 
grated nutmeg1/4 tsp 
rose water (optional)few drops
almond slivers, coconut flakes, raisinsas needed
To 3 tbsp of oil add cloves, fennel, nutmeg and cardamom. Cook till the spices release their aroma.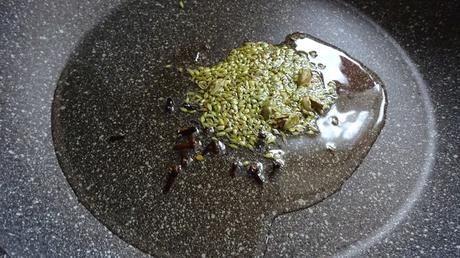 Add  about 1 liter of water and gur pieces as soon s the spices release their aroma. The jaggery, water and spice mixture should be cooked until a thick syrup is formed.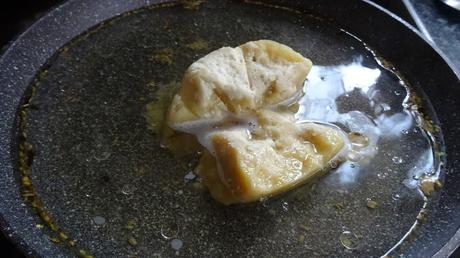 Boil the rice according to package directions and leave to drain.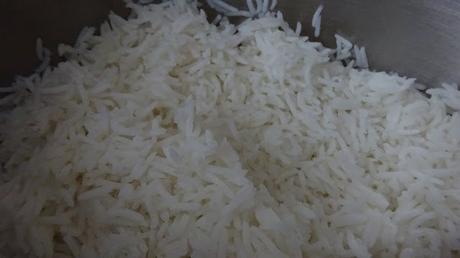 Cut the carrots in matchstick style, blanch or saute in some ghee, the choice is your's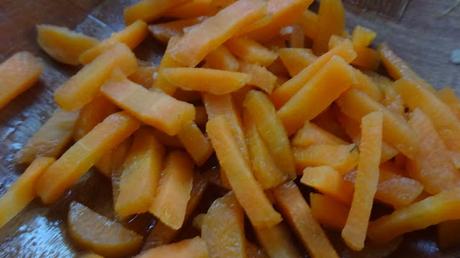 Add the cooked rice into the syrup and leave to cook on low heat. Mix so that the rice is fully coated with the mixture.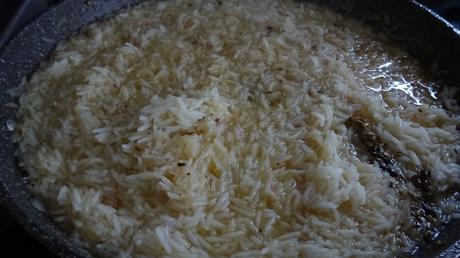 As the rice cooks in the gur syrup it will get drier, absorbing all the flavours of the jaggery and spice
syrup. Now add the cooked carrots and mix.
Mix in the nuts and coconut flakes and  rose water if you are using it. Leave to cook another 2 minutes on low heat before serving.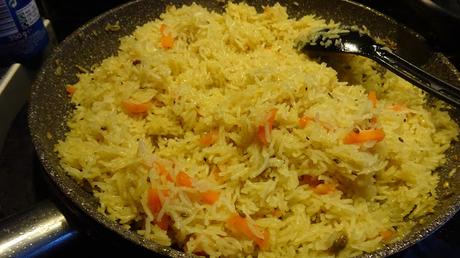 The carrot and jaggery rice appears yellow because the picture was taken at night. It will be a beautiful light amber color when ready.  Garnish with nuts and coconut flakes and serve hot.I Hope you will make gur walay chawal in your kitchen and share the recipe with your friends and family.
Happy cooking!