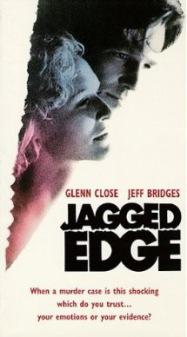 Director: Richard Marquand
Writer: Joe Eszterhas (Screenplay)
Starring: Glenn Close, Jeff Bridges, Lance Henriksen, Peter Coyote, Robert Loggia, John Dehner
Plot: San Francisco heiress Page Forrester is brutally murdered in her remote beach house. Her husband Jack is devastated by the crime but soon finds himself accused of her murder. He hires lawyer Teddy Barnes to defend him, despite the fact she hasn't handled a criminal case for many years. There's a certain chemistry between them and Teddy soon finds herself defending the man she loves.
There may be spoilers the rest of the review
Verdict: Crime Thriller with Clear Twist
Story: Jagged Edge starts with a stormy night in San Francisco and inside a posh house overlooking the bay a killer lurks and kills heiress Page Forrester (Mayenzet). District Attorney Thomas Krasny (Coyote) leads the investigation and instantly looking into the husband Jack (Bridges). Thomas becomes determined to prove that Jack isn't an innocent as his head injury during the attack lets on finds evidence that proves that he could have had a motive and after finding the murder weapon in a locker in his name he gets charged with the murder and has to find himself a lawyer to defend him.
Teddy Barnes (Close) a former employee that worked with Krasny who is out of the game becomes first choice to defend Jack. Teddy gives it a chance to hear about what could be his defence and she decides to take the case along as Jack promises that he is not guilty and if he is she will drop out.  It becomes clear that Thomas is using this to get some revenge because of how he got slanged off in Jack's newspaper and Teddy is using it as redemption for a case that went through clean but the person set to jail kills themselves.
Jack and Teddy start to become emotional involved and what started out as a professional relationship soon starts turning into a physical one. As the case starts we see that Jack has been keeping secrets from Teddy and Jack might well be using her to get off the crime. Teddy sticks with the case along with her private detective Sam Ransom (Loggia) search for answers from other people involved in the case. The truth will be uncovered but it isn't always as it seems.
Jagged Edge is a thriller that really keeps you guessing, it manages to spend a large portion of the film inside the courtroom where we see twists and turns happen almost with every witness possible. I do think the biggest problems with the film is that it doesn't give you enough investigating the actual crime or give you enough potential suspects. The story tries to question the morals and ethics of Teddy with her getting romantically involved with Jack as well as the way the district attorney takes on cases. This is a good thriller with plenty to try and keep you guessing but really does feel similar to other films in the genre. (7/10)
Actor Review
Jeff Bridges: Jack Forrester number one suspect in the case who may have killed his wife, he manages to seduce Teddy into believe he is in fact innocent until the case starts showing he isn't as clean as he once was. Jeff gives a solid charming performance which we have come to expect from him really. (7/10)
Glenn Close: Teddy Barnes lawyer who ends up taking the case against her better judgment only to end up falling for his charm and finding out the truth about Jack's methods. Glenn gives the best performance of the film keeping you following her every move in the case. (8/10)
Peter Coyote: Thomas Krasny district attorney who is out to pout Jack away partly because he thinks he is guilty and the other is that he has a personal vendetta against him for publishing stories against him in the newspaper. Peter plays the typical villain of the peace. (7/10)
Robert Loggia: Sam Ransom a private detective who helps Teddy uncover the truth about people involved in the case. Robert does a good job in the supporting role and almost gets the laughs in the film. (7/10)
Support Cast: Jagged Edge has a supporting cast that includes most of the people involved in the case, fellow lawyers, judge and witnesses all trying to work out the truth.
Director Review: Richard Marquand – Richard does a solid job directing this thriller that tries to keep you guessing throughout. (7/10)
Crime: Jagged Edge takes us into a courtroom for the crime side of the story as we try to figure out who the killer is. (8/10)
Mystery: Jagged Edge keeps us guess about who the killer is as we try to piece together the stories to uncover the truth. (7/10)
Romance: Jagged Edge has a romantic side that sometimes feels out of place in the story and like Teddy falls for the charm to easily. (5/10)
Thriller: Jagged Edge keeps you guessing about who the real killer is without giving you too many suspects. (6/10)
Settings: Jagged Edge is set in San Francisco but doesn't really shine too much by not using too many landmarks. (6/10)
Suggestion: Jagged Edge is one to try for all the fans of courtroom thrillers as well as the fans of the who done it style films, but it isn't anything special for the genre. (Try It)
Best Part: Judge trying to keep order between the friction Thomas and Teddy have.
Worst Part: Not enough potential suspects.
Believability: No (0/10)
Chances of Tears: No (0/10)
Chances of Sequel: No
Post Credits Scene: No
Oscar Chances: Nominated for Best Supporting Actor.
Box Office: $40 Million
Budget: $15 Million
Runtime: 1 Hour 43 Minutes
Tagline: There are two sides of this mystery. Murder…And Passion.
Overall: Jagged Edge comes off trying to mix one too many genres into the film which ends up making it lose out on the tension it could have had, the mystery it should have had and the romance it would have had.
Rating