Jade Eagleson gave everyone a Wednesday morning surprise when he released his debut EP.
The smalltown Ontario country singer is an emerging star in country music. He's been making waves since his Boots & Hearts Emerging Artist Showcase in 2017. And he's put in a lot of work to earn fans, learn the ropes of the business, and become the artist that he is.
We've had the chance to see Jade live three times in the last few months ( CCMA Fan Village, Boots & Hearts, Budweiser Country Throwdown), and every single time he has shown us that he's getting stronger and more comfortable on stage.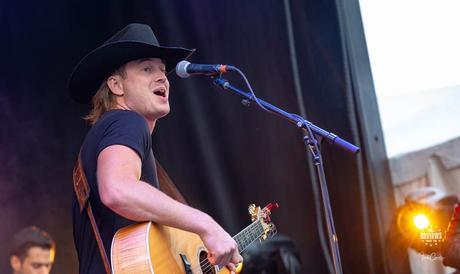 One of the most exciting things about this EP release from Jade Eagleson isn't the surprise, it's that we already know and love these songs.
Got Your Name On It is a bonafide smash with more than 5 million combined plays on Spotify and YouTube. It's currently sitting at #14 on the Canadian Country National Airplay chart (fifth among Canadian singles), and we've seen and heard the amazing reaction that it gets from a live crowd. But here's the thing, Count The Ways and Still Gonna Be Yo u are also fantastic country songs.
We've been hearing these songs in Jade's live set for a while, talked to him about them to make sure we were tracking them properly, and now they've been recorded and released to the world. It's great to see. And not just great because these are good country songs and Eagleson's voice sounds excellent singing them. But great because after five months of only having one song officially available to the world, country fans can now dig a little deeper and learn what we know, this dude is a star in the making.
Note: The only thing we'd wish for on this EP would be a cover of Shania Twain's Any Man Of Mine, which has also become one of our favourite things about Jade Eagleson's live shows.
Here's another thing to love about this EP, there's some balance. If we look at the two new songs, we have a breakup song and a love song. It's awesome. To hear a young artist immediately release songs on both sides of that line is fantastic. It's almost like invisible country music to do list items that Jade Eagleson has crossed off.
To Do
✔️ Record a love song
✔️ Record a breakup song
Millbrook, Ontario's Jade Eagleson should be very proud of the four tracks on this debut EP. He can already say that one of them is a hit, and we'd be very surprised if we don't hear Still Gonna Be You at country radio the moment that Got Your Name On It 's run winds down.
Before we wrap, we also need to shout out the acoustic version of Got Your Name On It. Eagleson's voice is strong and sweet as the track behind him is stripped down. That traditional, country soul, deep, rolling voice is already his calling card. Country music fans in Canada should be ready to hear a lot more of it in the future.
For now, hit play on Jade Eagleson's debut EP and catch him live on the Honky Tonks & Dive Bar Tour with Gord Bamford and Jojo Mason!
Jade Eagleson EP Tracklist
1. Got Your Name On It
2. Count The Ways
3. Still Gonna Be You
4. Got Your Name On It - Acoustic