TAKEAWAY: It is lunch with dear friend and Poynter colleague Dr. Roy Peter Clark, and catching up on things and perhaps planning to collaborate on another WED (Writing-Editing-Design) presentation.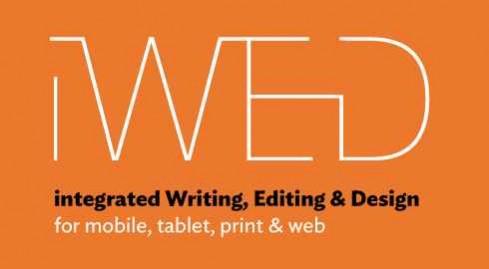 Image by Reed Reibstein for TheMarioBlog
This time around it is more like iWED as the philosophy that Roy Peter Clark and I introduced to many Poynter seminarians in the late 80s and early 90s adapts to the needs of storytelling in a multi platform media world.
WED stands for Writing/Editing/Design, but it is also a deliciously applicable play on words, as in marriage, the marriage of words and visual images.
The WED philosophy was born out of necessity: too many newspapers in the 1980s where headlines did not match stories, or photo captions did not amplify stories, or worse, tone of illustration and that of story not synchronized.
Roy reminisces as to the origins of WED:
One of the great slanders against newspapers is that they never change.  In fact, they are always changing and those changes result in great benefits, but also seismic disruptions.  When Mario and I began working together in the 1980s, great gray newspapers (gray in color, gray in design, gray in writing and editing) were undergoing tumultuous changes.
Mario was the "visual" person; I was the "word" guy, but the more we talked the more we realized what we had in common.  We were unconventional thinkers. We liked working with white space.  We could work on the grid and off of it.  Marginalia could delight us. Content was king. And, most of all, we recognized the rich variety of ways to tell a story.
Today, as we apply the iWED concept, it means storytelling that recognizes the specific uniqueness of each platform: we don't write for the smartphone the way we may write for the tablet, for example.  Smartphones are going to be lean forward platforms, used repeatedly during the day, as we seek to get headlines and short takes on stories, while the tablet, a lean back platform, is where long narratives, more documentary type of stories find a home.  Not to mention that online and print, too, are part of the platforms available to our users today.
Roy and I are revisiting the original concept—-as valid today as it was when created—hoping to perhaps update it for presentations in the months ahead (stay tuned).  At its core, WED is about creating a common language for writers/designers, but also one that bridges the nexus of storytelling and technology.
"Because of Mario, I gained the ability to speak about the visual aspects of the craft without an accent.  When I wrote a long series for the St. Pete Times, I was able to work in close collaboration with all the key players, leading to productive conversations with photographers, designers, headline writers, copy editors but also online editors, illustrators, and folks from marketing and advertising," Roy said.
This sense of collaboration and communication is even more important today, and we hope that our lunch meeting will yield some positive steps to take iWED to a new generation of journalists, designers and technical people in the newsroom.
Roy says it best:
Maybe because of our roots in the industrial revolution, there is always a danger of falling back into the news routines of the assembly line.  What Mario and I created with WED was a sense of the power of creative collaboration, the ways that movies are made or operas constructed. A governing intelligence was at the heart of the process.  With iWED, we will take that creativity to a new level, understanding that new technologies bring with them new opportunities to reach new audiences in new ways, but still in the interest of community, democracy, and the public good. 
Previously in the blog about the
WED

 philosophy:

Redefining the WED concept for today's multi platform media world

http://garciamedia.com/blog/articles/predefining_the_wed_concept_for_todays_multi_platform_media_world_p
TheMarioBlog post #1280