0 Flares
0 Flares
×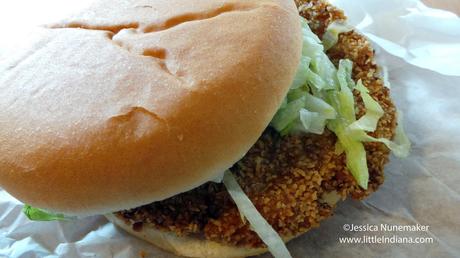 Ivanhoe's Ice Cream and Sandwich Shoppe in Upland, Indiana
Whenever anyone mentions Upland, Indiana, it's a sure thing that they will mention Ivanhoe's Ice Cream and Sandwich Shoppe in the same breath.
This Grant County establishment that's part restaurant and part ice cream parlor is all amazing!
Ivanhoe's Ice Cream and Sandwich Shoppe in Upland, Indiana
Just down the street from Taylor University, Ivanhoe's certainly sees its fair share of traffic from students. Even so, this is the local hangout for students and residents alike!
This small Indiana town restaurant was bustling! There was a very steady stream of people in and out.
Folks make it a point to stop at Ivanhoe's for a couple of very good reasons: great food and the extensive ice cream sundae and milk shake selection.
Would you believe that there are 100 sundaes and 100 milkshakes on the Ivanhoe's menu?
Upland, Indiana Restaurant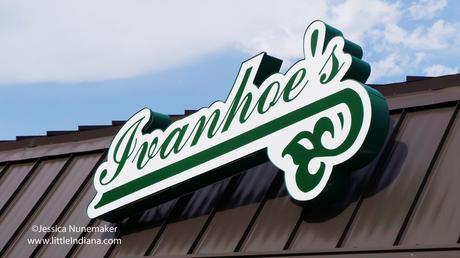 Ivanhoe's Ice Cream and Sandwich Shoppe in Upland, Indiana
Choose from  a Chocolate Covered Cherry, Creamsicle, Peppermint, Pineapple Whipped, S'mores, or Peanut Butter Milkshake. In the mood for a sundae? Dancing Bear, Raspberry Red, Strawberry Patch, and German Chocolate Cake are a few of the unique flavors offered at this unique Indiana ice cream parlor.
Try all 100 shakes or 100 sundaes, get a punch on your card, and become a part of Ivanhoe's Ice Cream and Sandwich Shoppe 100 club, snagging a free Ivanhoe's 100 Club t-shirt and your name added to the plaque on the wall!
For my time at Ivanhoe's, I went with the Peaches and Cream milkshake in a mini size–it's the perfect size to go with a meal! I also ordered the pork tenderloin sandwich. You know me, I can't resist a good pork tenderloin sandwich! And, yes, this one was fantastic!
Go There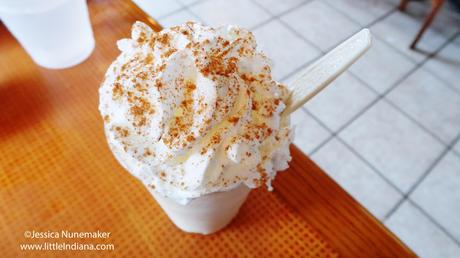 Ivanhoe's Ice Cream and Sandwich Shoppe in Upland, Indiana
When you step inside, you will place your order at the counter. You may order food and ice cream at one counter or choose the ice cream only counter. Pay and then have a seat. They will call your  name when it is ready.
Ivanhoe's Ice Cream and Sandwich  Shoppe has been in business since 1965 for a reason! Make the trip and see why!
I'm Jessica Nunemaker and THIS is little Indiana!
Find pictures in Indiana on my Flickr photostream or on the new little Indiana Tumblr blog.
Just don't forget to tell 'em that  little Indiana sent you!
Ivanhoe's Ice Cream and Sandwich Shoppe
979 S Main Street
Upland, Indiana 46989
765.998.7261

View Larger Map
Don't miss a moment. Subscribe to little Indiana and receive instant updates to stay on top of everything "little."
little Indiana: Where to Stay, Play, and Eat in Small Towns in Indiana. Discovering Indiana's best small towns! Now get little Indiana on your Kindle.
Targeted. Relevant. Affordable! little Indiana advertising.