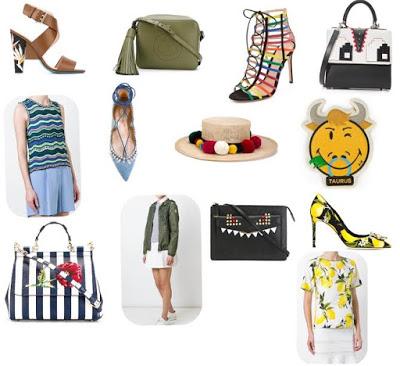 This season's hottest trends, and how to rock them.  Featuring Farfetch 
I know what you're thinking; "Another trend piece bla bla bla". I know every blogger and fashion site has posted a trend round up of some sorts, and they've probably told you that "Fringe is in". Or that you should get yourself a pair of culottes this spring. Am I right? Well I'm not going to waste your time by going over what you probably already know, and you definitely don't have to worry about me saying "florals are big for spring". Instead I want to share my thoughts on how you can incorporate the legit hottest ss16 trends into your existing wardrobe.
Oh and its not just me you will be hearing from. Do you want to know what the ACTUAL experts have to say? I'm also sharing the latest trends interpreted by a stylist, a fashion editor and the fashion director of Glamour Magazine Germany.
But first, check out what lil ol me has to say. Fashion bloggers are experts too, aren't we?


Top Trends : #Lemonade. Need I say More? Actually I had noticed well before Beyonce dropped her latest hit maker that my favourite citrus fruit was popping up everywhere from t-shirts to shoes. I want to get my hands on this t-shirt pictured above oh so badly! When life gives you lemons, I guess just wear Dolce & Gabbana...
Brand To Invest  In: My favourite designer M Missoni of course! One of the few brands where every piece is an investment piece, but everything is also so wearable. Missoni never really qualifies as a "trend" though, since you will wear these items over and over, and then pass them down to your daughter, I promise.
Must have Shoes: Literally every style of shoe is currently trending. Im serious! Espadrilles, platforms, FLATFORMS, wedges, pointy toe stilettos. Even architecturally creative sandals like this pair from Fendi pictured above You cant go wrong this season, just pick your favourites and enjoy!
Trend I'm Dying To Try: There's actually more than one this season. But I'm going to try out off the shoulder tops, and perhaps invest in some designer athletic wear. Trainers have been sneaking their way into my wardrobe as of late and I'm eying embellished wind breakers like this lace one from Moncler. 
My Styling Tip: I don't get hung up on certain colour schemes each season. I focus more on the cuts, fabrics and textures that are trending. Everyone knows what colours suit them best, if I told you yellow was trending I wouldn't expect you to only buy yellow this Spring.
Now check out what the experts have to say about spring/summer 2016. Will you be trying any of these trends on for yourself? Are there any other trends you've recognized that you want to share? Feel free to comment below.
P.S thank you to Farfetch for the infographic!


Source: Farfetch Insiders Guide to SS16