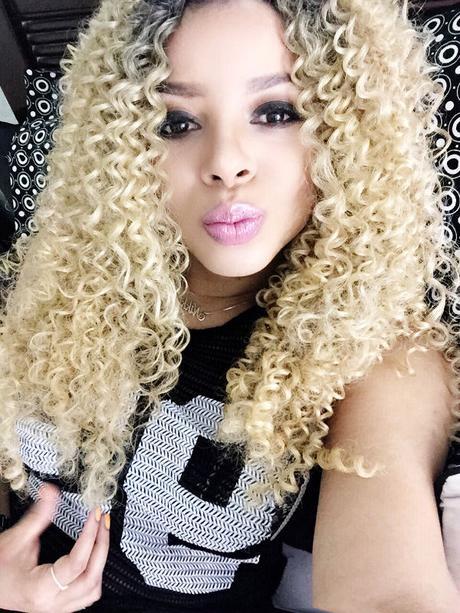 The Baden unit by It's A Wig is full-tiful!!! It's a synthetic unit that mimics natural, curly hair that has not been chemically treated. It's a #beautiful unit that is perfect for the summer. Just imagine the possibilities: Great for the pool. Pretty at the beach. So Bohemian on an exotic vacation.
It's A Wig Baden Wig Review – Video
I have the Baden wig in color TT27/613. Although she is super full and long, the unit is surprisingly lightweight. It didn't feel heavy or hot on my nape area. The hair texture makes this unit prone to tangling. I also has to do some trimming while styling this unit. Be sure to check out more of my hair reviews on youtube!
Baden Wig Construction
Baden is between 22 and 24 inches long. She is a synthetic, swiss lace front unit (which is why she is a bit more expensive). Swiss lace wigs are gentler on your natural hair and there is less breakage to your hairline. She also has about 2 1/2 to 3 inches of J-parting (a parting that's shape like the letter 'J'). It is really easy to blend Baden in with your natural hair because of its realistic texture. The cap was a perfect fit – not too big or too small. Baden comes with 3 combs: 2 at the temples and a larger comb in the back. It also has adjustable strap for more security.
A photo posted by ‼️girlratesworld‼️ (@girlratesworld) on Apr 30, 2015 at 6:10pm PDT
Get Social, Sally!
Show your support by following @GirlRatesWorld on all social media outlets. I post weekly and even daily on instagram, youtube and facebook. Follow and Like so you don't miss the next update or review. Don't forget to let me know what you think of Baden in the comment section below. I think she is a very fun and cute unit!