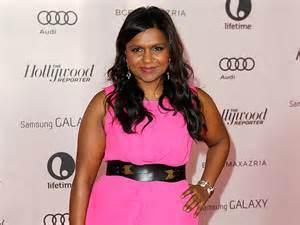 An enlightened Hollyweird actor
'Marriage is serious business, but kissing is not': Mindy Kaling on why it  should be OK to lock lips with others after saying 'I do'
Daily Mail: Mindy Kaling has voiced her opinion that one should still be able to kiss other people after they get married.
In a New Yorker article, the comedienne and author, 33, who is single, says kissing new people is 'one of the greatest joys of life,' which married people should be able to enjoy, too. 'Why should saying "I do" necessarily mean "I will not kiss another human for the rest of my life"?' she asks.
The actress and director, who writes and  stars in Fox's The Mindy Project, said one of the perks of acting is getting to kiss men, often married ones, with 'zero repercussions for anyone  involved.' She goes on to explain that she is by no  means advocating open marriage. 'Marriage is a serious business,' she writes.  '[But] kissing is not.
'Just because I want to kiss someone doesn't mean I want to love that person, share a bed with him . . . tell him not to use  so much salt, or share one AOL e-mail account,' she adds. The problem with kissing, she says, is that  it has been 'cheapened', and is now perceived as a gateway gesture to sex.
'Kissing is to sexual intercourse as the  phrase "Can I talk to you for a second?" is to a full-blown screaming fight,'  she writes.
She admits that kissing does not come without  its complications, but insists it just needs to be treated as an enjoyable legal vice akin to drinking alcohol or gambling. In other words, it just needs to be regulated.
To prevent a kiss from leading to something more, Ms. Kaling came up with a hypothetical invention called the Kiss Monitor™,  an electric device inserted into the lip.
The gadget would allow a person to kiss a non-spouse for 90 seconds, before it would begin sending electroconvulsive  shocks to the lips. 'If the kissing continues, the shocks increase in frequency and intensity until the patient passes out,' writes Ms.  Kaling. 'This can be very embarrassing.'
According to Ms. Kaling, this device would resolve the issue people have with kissing others after getting married. She imagines that the Kiss Monitor™ will be a means of demonstrating marital fidelity in the future.
'I am a romantic at heart, and. . . I look  forward to the day when [a man] and I find each other, fall in love, and solemnize our relationship by exchanging Kiss Monitors,' she  wrote.
So if a kiss is just a kiss and doesn't lead to sex, why invent something to make a kiss unpleasant?
I'm not married, yet I doubt seriously my boyfriend would want me kissing other guys – and I certainly don't want him kissing any women! Let's see what Mandy has to say about this free-for-all kissing after she does say "I do".
DCG