I spent a wonderful morning reading my book,
How Do You Sleep, Baby Dolphin?
to all of the classes at Sweet Rose's school today! Why? Because it is World Book Day!!!
To celebrate, all of the children (and teachers) were invited to dress up as their favorite characters from books. There were little ones dressed as The Very Hungry Caterpillar as well as the butterfly it became, plenty of Princesses, Harry Potter, Winnie the Pooh, Super Heroes and even one of the Dalmatian Dogs!
It was very special to see the school putting such an emphasis on reading and, moreover, an emphasis on the
fun
 and the
joy
of reading! As part of the celebration, the children got to meet a real author (me!) and ask their questions.
Now, to be honest, "Author" still feels a bit weird, but as I already have a second book in the works, I suppose I'll just have to get used to it! What I am, in my own words, is a lover of words! A lover of books and reading and telling of stories; a lover of information and imagination. That's what I am!
So, to help you encourage your children to become as passionate about reading and books as my children and I are, I offer these three tips: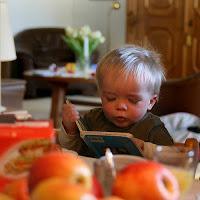 Start Young! Photo Credit
1. Read Often
- Starting early and reading often is the best way to develop a love for books. If you start reading with them when they are small, reading becomes a part of their lives and they'll naturally take an interest. I use the phrase, "
reading with them
" deliberately. Reading is an interactive process with children. You don't just read
to
them, you engage them and bring them into the experience by talking about the pictures and asking questions about the story as you go along. Let them do the same!
A few of the kids today told me they weren't good readers. My response to them was, "Then keep reading until you are!"
2. Follow Your Children's Interests
- Children are curious! No one wants to read a book about a subject that have zero interest in! So, if your daughter loves horses, find books about horses. If you son loves to draw, find books about drawing and how to draw. Mix it up and read both fiction and non-fiction books.
Unicorns are what got my Nature Girl reading. She loved to be read to, but she didn't want to do any reading herself until we found a book (a 7-book series, actually) that she loved so much she couldn't wait for me! Then, I supplemented this new found passion of hers with non-fiction books about myths and legends including unicorns. Dinosaurs, insects and fairies have all been hot topics in our house!
3. Get Cozy at the Library
- I love bookstores (I often dream of living in one), but it's the library that I've made my second home since having kids. Today, most libraries have bright, colorful children's areas with comfortable seats and a warm, welcoming feel to them. Many even offer developmental toys to keep really little ones entertained and most have free early learning programs each week!
Get your library card and visit frequently. Spend an hour just letting your kids explore. Sit and read right then and there and then bring a few (or many) books home. We take a tote bag with us and I tell each of my kids to choose a handful of books. When the bag is full, it's time to go! Sometimes we'll have 30 books out at once! I could never buy that many books just to browse through, but I can borrow them for weeks at a time from my library.
Now that my girls are in school full-time, I often go with just The Boy. I ask the girls the day before what sort of books they'd like me to look for and then I bring them myriad choices! This method also works well if it's time to have a discussion about something you're not sure how to bring up (like sex!). Get a few books on the topic and leave them out for your child to discover. It's a great conversation starter.
Inspired? Great! Go read and read and read some more!