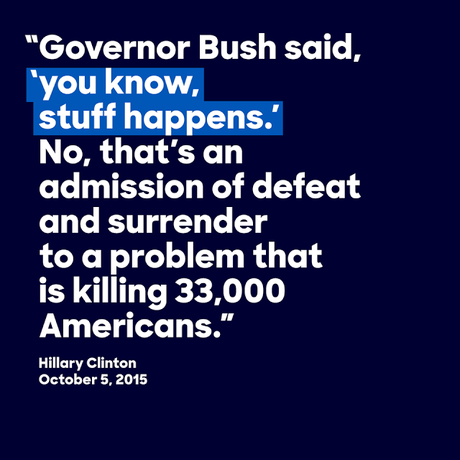 I have to agree with the words of Hillary Clinton above. It seems that the Republicans, all of them have surrendered on the issue of trying to save American lives by passing some reasonable (and constitutional) gun laws. They have decided that the profits of gun manufacturers, and the campaign money they get from the NRA and those manufacturers, are more important than saving the lives of Americans -- even children.
I understand that "gun control" is a hot-button issue in this country, and many Americans have been frightened by the propaganda of the right claiming the government (i.e., the Black President) wants to take away all their guns. It's not true, but they believe it.
But their is one gun issue that is popular with almost all Americans (including gun owners and Republicans) -- that we should close the loopholes in our background check law for those wanting to legally purchase a gun. Americans want EVERYONE trying to buy a gun to have to pass a background check. They don't think terrorists, criminals, and other dangerous people should be able to legally purchase any firearm.
But currently those dangerous individual can legally buy any kind of gun they desire. They can do it at a gun show, over the internet, or from an individual. And currently, about 40% of all gun sales are done this way -- without any kind of background check. Why do we allow this to happen? Closing these loopholes wouldn't affect any decent and law-abiding individual. They could still purchase a gun. It would just make it much harder for those dangerous individuals to buy a gun.
This is an issue whose time has come -- and the beauty of it is that there would be no political price to pay for any politicians voting for it. I posted last week about a Quinnipiac University Poll that showed slightly more than 90% of Americans would support closing the loopholes in the background check law. Now there is a new survey (by Public Policy Polling) that shows virtually the same thing -- that 88% of Americans want anyone buying a gun to have a background check done.
We must start putting more pressure on our elected officials (of both parties) to close the background check loopholes. It wouldn't completely eliminate gun deaths, but it would save many American lives -- and that is definitely worth doing. We must not surrender!