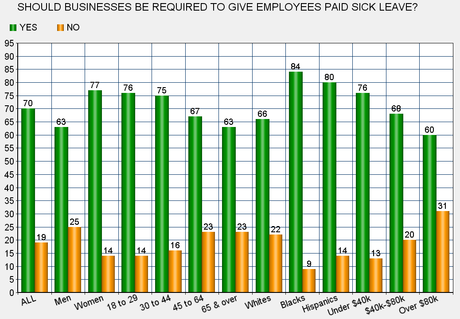 It is a sign of the power that business and corporate interests have over the United States government that this country does not guarantee any amount of paid sick leave for any worker (or paid annual leave or paid maternity leave). In fact, out of the 22 most developed nations of the world, the United States is the only one that doesn't require businesses to provide at least some paid sick leave.
You may be saying to yourself -- Don't most businesses provide paid sick leave for workers anyway? Some do. According to the Labor Department, about 61% of American workers receive at least some amount of paid sick leave. But that means there are 39% who do not get any paid sick leave benefit. And since the latest Labor Department statistics say there are 148,201,000 employed workers at this time, that means there are around 57,798,000 workers who do not get a paid sick leave benefit.
That 57-58 million workers must go to work when they are sick, or they will get their pay cut for that week (and could lose their job). Many of them are in low-wage jobs (at or near the minimum wage) and having a hard time making ends meet anyway. They simply cannot afford to miss any pay at all. This means they have to go to work sick -- even if it means they are endangering their own health, or the health or fellow employees or customers who could contract a disease from them.
It is inexcusable that the richest nation in the world has so little care for its workers. It is time for this government to show it cares as much about workers as it does about corporations, and require all businesses to provide some paid sick leave for all workers.
The corporate-owned congressional Republicans oppose requiring paid sick leave -- but that just makes one more issue on which they oppose the majority of Americans. The charts in this post are from a recent YouGov Poll -- done between January 29th and February 1st of a random national sample of 1,000 adults, with a margin of error of about 4 points. It shows that a whopping 70% of the public thinks businesses should be required to provide paid sick leave -- and that extends across all demographic groups.
And that's not all. About 67% also think businesses should be required to provide paid maternity leave -- and a smaller, but still significant majority (55%) think businesses should also be required to provide paid paternity leave.