One-Sided Growth 
The percentage of women by party in the House and Senate since 1917. 
%
30
20
10
0
Democrats
Republicans
1920
1930
1940
1950
1960
1970
1980
1990
2000
2015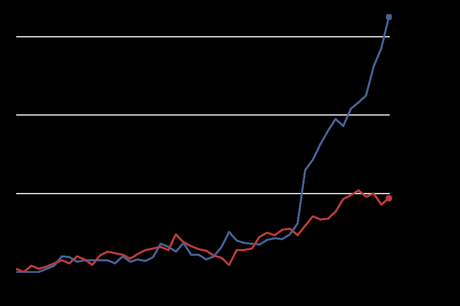 Does not include nonvoting delegates and resident commissioners.  Source: Brookings Institution, The New York Times Congress API
If you had any doubt as to which political party cares about women and including them in the corridors of party and government power, then the chart above should;d clear that up for you. Note that while the Republican Party has allowed only 10% of their House and Senate positions to be occupied by women, the Democratic Party has done much better. Women occupy about a third of all their positions in the House and Senate, and there is no reason to believe that won't grow even larger.
And this year, in just a very few days, the Democratic Party is poised to nominate a woman to hold the highest office in this country -- the office of President of the United States. Republicans may still believe a woman's place is to be lorded over by a man, but Democrats believe in true equality.
The graph above is from the New York Times.