Hi there! 
I know I haven't been able to do a new post since long but I will try and keep up with atleast 1 post every 2 days:-)..
I recently got into the craze of doing DIY fix-it's and these are my newest creations ( I will be posting a couple of posts on them)! Let me know if you like them...!
This first one is my attempt at saving my favorite pair of flats. I bought these from a really expensive shop in Gurgaon, Haryana called Bella...the shoes even with a discount cost me 1500 INR two years back and I must have only worn them twice...
Now since I live in a place that has high humidity all year round, I guess my flats failed to adapt and the faux leather started peeling off at places and basically it became unwearable...I had almost made up my mind to throw it out when inspiration struck me:) and here I am doing a post about my attempts at resuscitating my dying shoes!!! Successful or not - I will let you guys decide:)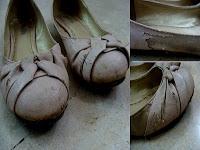 So this is how the pair looked before I got started - pretty pathetic I know...even now I think its an awful waste for a good shoe!
So to make them re-usable, I had to change the color obviously. If you have something similar, you  can chose the fabric color as per your liking but it always is better to match or keep the fabric color close to the color of the sole...in my case it was black so I chose to use a black lacy cloth (salvaged from an old shrug - also something I was planning to throw away!).
What you will need is a pair of scissors, some fabric glue and some thread in the some color as the fabric and a big sowing needle. The rest of the steps are below..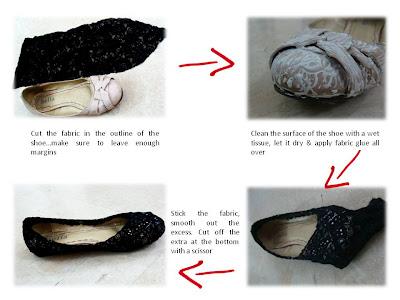 Once the glue sets a little, sow along the inner edges of the shoe to keep it in place. Use a big needle for best results and ease of maneuverability...I fashioned little black bows from the excess fabric that I cut off along the edges and voila!!!