TAKEAWAY: We talk to Steve Dorsey, 2011 President of the Society of News Design, about this year's SND contest, currently taking place at Syracuse University. SND 33 has attracted 10,236 entries from 39 countries.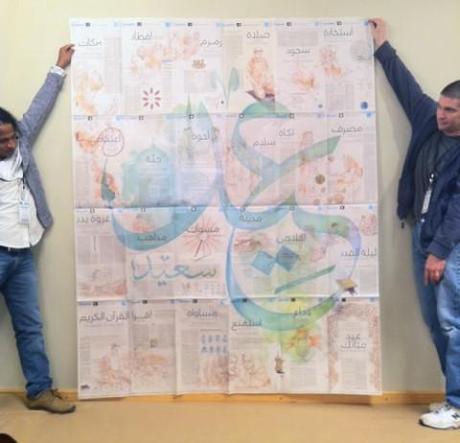 Times of Oman won a Gold Medal for this tiled poster creation about Ramadan. (Adonis Durado, design director)
It is an annual event that I know editors and designers worldwide prepare for and then look forward to following: the Society of News Design contest.  My good friend and former Syracuse University colleague,  Marshall Matlock, performs his annual miracle work to make it all happen, with an army of volunteers, and SU students, who assemble and process thousands of entries to make the job easier for the judges.  Believe me, as a former judge I can attest to how much work it is, but also fun, and a learning experience.  So much wonderful work does not make it to the finals. 
You will be able to see the unofficial results and the top winners.
We at Garcia Media take pride in the fact that four of our recent projects have made it into the list of the top 24 winners.  They are Times of Oman, The Washington Post, South China Morning Post and Die Zeit..
I am always curious to see what trends emerge from the many entries in the contest, so I turned to SND President, Steve Dorsey, who sent me some of his comments:

"With 10,236 entries it was a very tough year overall as the total number of awards was only 712—just under 7% awarded. I saw some papers that historically have gotten many, or perhaps even double digit awards, get one or maybe two. So first, know that an award of excellence has always been a big deal, but this year getting even one Award of Excellence is significant," he said.
According to Dorsey, he has seen more international entries this year. "In fact, there were entries from 39 total countries. It follows then that those that won multiples—a rare few even claimed dozens—were absolute standouts. And the judges seemed to like them as I saw more international papers on the overall awards tally than U.S. papers," Dorsey said.
The year of the Middle East
I asked Dorsey if he observed a highlight or standout in the contest this year.
"I think it was a standout year for Middle Eastern papers. The Times of Oman claimed the first-ever gold for papers from that region (they went on to win two golds and many awards overall). But I saw impressive work on the judging tables from the Gulf News, Khaleej Times, The National, Al Bayan and others," he said.
How about other standouts?
Some rising stars include the Cleveland Plainer Dealer and The Buffalo News—solid performers in past years but their work really stood out this year. They make you see what it's like when things are really clicking across an entire organization—you know it's not a fluke that they just had a good page or two.
Historic powerhouses the Los Angeles Times and Toronto's National Post dominated by delivering very smart, highly disciplined work.
Dorsey reminds everyone to keep returning to SND.org for updates and commentary. "We have some great follow-up pieces planned. We had great support this year on the SND IWD and delivered more on-deadline video than ever before,"
Coming up:

WORLD'S BEST: Come back Feb. 11-13 for live coverage from the World's Best-Designed judging in Syracuse.
DIGITAL DESIGN: Live coverage of the SND Best of Digital Design Competition, hosted by Ball State University in Muncie, Ind., Feb. 24-27.
DATABASE OF WINNERS: The searchable database of print competition winners will be posted for review on http://www.SND.org as soon as it can be officially confirmed. Winners will then be contacted by the SND office.
SNDCLE: There's still time to register for the annual workshop (Oct. 11-13, 2012 in Cleveland) at a discount rate. Stay tuned to http://cle.snd.org/ for more announcements coming soon about the speakers and schedule.
For more information about this year's event, please turn to the official SND website: http://www.snd.org/2012/02/snd33-tallying-the-winner/
Steve Dorsey  @Dorsey is the vice president for R+D at the Detroit Media Partnership. He was the 2011 president of the Society for News Design and has been assisting at the annual competition in Syracuse since 1992.
For more information on Times of Oman Gold Medal:  http://www.snd.org/2012/02/second-gold-medal-times-of-omans-ramadan-tiled-poster/
TheMarioBlog post #945