Happy Thursday!
I know, I've done a sort of disappearing act in the last couple of weeks, but quite honestly, I haven't had the time or motivation to post much. After the 'Growing Up Alex' series was completed, I wasn't quite sure how I could back to my own posting. I was so honored to have her story on here that I didn't want to cover it up by my own silly posts.
So I took a breather, except for the Boston Strong post last week.
But I'm back, and trying to brainstorm some new posts for y'all. Telling Alex's story has inspired me to tell me own story as well, except mine has to do with anxiety and depression. That will be coming.
As for today – see below for my latest obsession.
We bought a NutriBullet over the weekend and I'm obsessed. I love making new concoctions and healthy smoothies. I'm definitely jumpstarting my mornings with these delicious drinks and I know I'm giving my body plenty of good vitamins and nutrients it needs. This morning I created one that I'm lovingly calling 'Everything But the Kitchen Sink' because I literally threw like 8 different things into it.
2 handfuls of baby spinach
1 banana
8 baby carrots
8 cherry tomatos
2 broccoli florets
3 slices of pineapple
4 raspberries
4 slices of cucumber
1 tsp of xanthum gum (for thickening)
Water
I was pleasantly surprised at how delicious this was. And super filling.
My favorite one that I've made so far was a Peanut Butter Banana Smoothie.
2 handfuls of spinach
1 banana
1 heaping tablespoon of Teddie Peanut Butter
8 oz of almond milk
2 tsp of cinnamon
ice (to make it nice and cold!)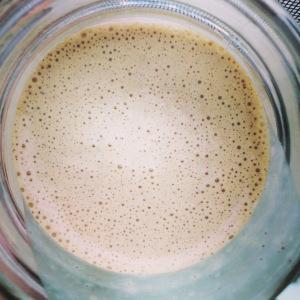 In other news, I've decided to stop tracking everything I'm eating and just focus on eating clean and good portions. I feel like I'm starting to focus to heavily on calorie intake and calorie burn, and instead just want to focus on being healthy. I know what makes me feel good when I eat and I know what makes me feel crappy, so we're going to stick with that for now.
Anyways, I hope you all have a fabulous Thursday!